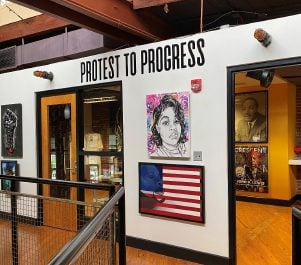 Travel doesn't have to be expensive, and it does not have to be far away. My husband and I were in a conundrum as our twin sons' spring break approached. In kindergarten, we took them to Washington D.C. One of my sons learned about the Dr. King monument that school year and asked to see it in person. We got on a plane and flew to D.C.
However, every year, it is not feasible for us, both my husband and I, to get days off during their spring break. Spring break dates are popular request times. Most jobs rotate time off, so the same employees don't have the same breaks off.
This year, for 6th grade, we set our sights on Louisville, KY. At a minimum, we knew we could drive back home on the same day if necessary. I was born in Jeffersonville, IN, a small city that many people don't know about. Normally, I say, "I was born in Jeffersonville, IN, which is across the bridge from Louisville." Due to the Kentucky Derby, most folks know where Louisville is, which gives them an idea of where I was born.
However, I was raised in Indy. When you have family who lives so close to Louisville, many times, they aren't interested in exploring the city. At 39 years old, I decided that it was about time to do so.
As a former English teacher and current college professor, I like to ask students, "Where are the Black people?" or "What is the Black history in this place?" Black people are everywhere. This country was built on our backs through forced and unpaid labor. When we were in Louisville, I asked these same questions. This landed us at the Roots 101 African-American Museum. This museum was named USA Today's Top 10 Best New attractions of 2021.
When we entered, we were greeted by Lamont Collins, the museum's founder. He told us that he named the museum Roots 101 because he wanted Black people, especially children, to learn their roots and to know we have a rich history in Africa that did not begin with African enslavement. The 101 part of the name is based on the fact that foundational college courses are typically labeled 101. He sees the museum as a starting place that will hopefully spark continued education.
The museum journey starts in Africa and weaves its way to the last exhibit, Black Future. Since the museum is in Louisville, local history is interwoven throughout the national Black history captured in the museum. Local highlights include Muhammad Ali, The Allen Hotel, a hotel listed in the Green Book that let Black people know which places were safe for them when traveling, and the tragic murder of Breonna Taylor, an injustice that captured national attention.
My boys enjoyed the experience. Their favorite part is that you could touch items in the museum. This is not always the case in other museums.
Hoosiers, fill up the tank and head down the highway to the Roots-101 African-American Museum. You won't regret it.
Contact Indy Kids Winning reporter Educator Barnes at 317-721-2181 or shawntab@indyrecorder.com. Follow her on Facebook, Instagram, Twitter, & TikTok @educatorbarnes.
Educator Barnes' work is supported through a partnership between Indy Kids Winning and the Indianapolis Recorder. Visit indykidswinning.com to learn more.