When it comes to the opioid crisis in America, Black people are being left out of the conversation.
The Centers for Disease Control and Prevention (CDC) found 20% of opioid-related overdoses are people of color. However, the number of Black people who overdose is unknown — further illustrating the exclusion of Black people.
Roughly 130 Americans die every day from an opioid overdose, according to the CDC. Opioids, which include illicit drugs such as heroin and prescribed painkillers such as oxycodone, have led to the deaths of nearly 400,000 people from 1999 to 2017. The epidemic, which started in white, middle class neighborhoods, is largely portrayed with compassion in the media. The same compassion isn't afforded to Black people who use opioids.  
Natasha Cheatham is looking to change that. 
Cheatham's addiction to alcohol and drugs began in 2006, when she was just 15 years old. By that time, she had been the caretaker for her mother, who struggles with both addiction and schizoaffective disorder, for nearly five years. After nearly a decade of substance abuse, Cheatham, 29, worked to get sober. She was often the only Black person in recovery spaces, and typically the youngest person in the room. This experience led her to create the Minority Recovery Collective Inc. (MRCI) in November 2018. 
MRCI aims to "provide mental health education and recovery support services for minority youth and young adults overcoming addiction, mental illness and trauma," according to its website. 
The nonprofit offers several programs, including "sober socials," where recovering addicts and individuals looking to get sober can gather, as well as educational programs to talk about addiction as it relates to the Black community. 
"I wanted to provide the support that I never had," Cheatham said. 
In her Jan. 6 presentation, "It's Just Pills: Opioids in the Black Community," Cheatham discussed "lean," an often-overlooked form of opioid abuse that is popular predominantly among Black youth. 
"It was an easy choice to focus on lean," Cheatham said in an interview after her presentation. "I'm a Black, queer woman, so representation is important to me period." While she grew up in Indianapolis, Cheatham was born in Houston and was familiar with lean. "I wanted our story to be heard. A lot of people talk about and do lean, but they don't know that lean is directly correlated with opioids."
Lean is a combination of cough syrup — which contains both codeine and promethazine — and soda. Users typically add candy to mask the flavor of the cough syrup, and alcohol to make it more potent.
Codeine has an almost identical chemical compound to heroin, leading lean to be dubbed "liquid heroin." Like heroin, lean creates a sense of euphoria in users, and has many similar side effects, including respiratory and central nervous system depression, decreased pulse and blood pressure, and death. Codeine, like other opioids, is highly addictive. 
Lean, sometimes referred to as "Texas Tea," "sizzurp" or "purple drank" was popularized by Houston rapper DJ Screw, born Robert Davis Jr. Davis died of a codeine overdose in 2000 at the age of 29. Rappers such as Future and Lil Wayne often refer to the drug in their songs, leading to what Cheatham believes is a dangerous form of social acceptance. 
"A lot of times, kids don't even realize they're using opioids," Cheatham said in her presentation. "Some artists and people on social media are perpetuating a lifestyle, and kids and young adults are following the example." 
With the high prices of cough syrup containing codeine  — the Drug Enforcement Agency reports that an eight-ounce bottle can range from $200 to $300 — lean has become an indicator of social status. 
"Only ballers can afford it," Cheatham said of the mindset surrounding lean. "A lot of people associate lean with status, they want clout or want to go viral."
The CDC found that the number of hospital visits for codeine-related illness spiked 286% from 2004 to 2011.  
And while teenagers can search "#sizzurp" on Instragram and yield over 500 results, no treatment specifically for codeine addiction exists, despite the impact the drug is having on communities. 
Cheatham believes that people need to have conversations about addiction and mental health to fully understand their experiences, and to begin healing. 
"We can no longer say Uncle Johnny drinks too much. Uncle Johnny's an alcoholic, and he needs to go to rehab," Cheatham said. "It's the same with mental illness. We can't sweep it under the rug. … We have to have honest conversations about it, and understand that the resources available, while they may not be what we want, they are what we have."
Cheatham acknowledges that the lack of representation in addiction recovery services did affect her own recovery journey. After being shuffled around from therapist to therapist, she got discouraged and stopped going. 
"It's easy for people of color to say, 'My therapist doesn't look like me, so I'm not going to go,' and the same goes for doctors," Cheatham said. "I absolutely understand the importance of representation and having someone who looks like you in your recovery, but you have to do something until you can get to that."
Contact staff writer Breanna Cooper at 317-762-7848. Follow her on Twitter @BreannaNCooper.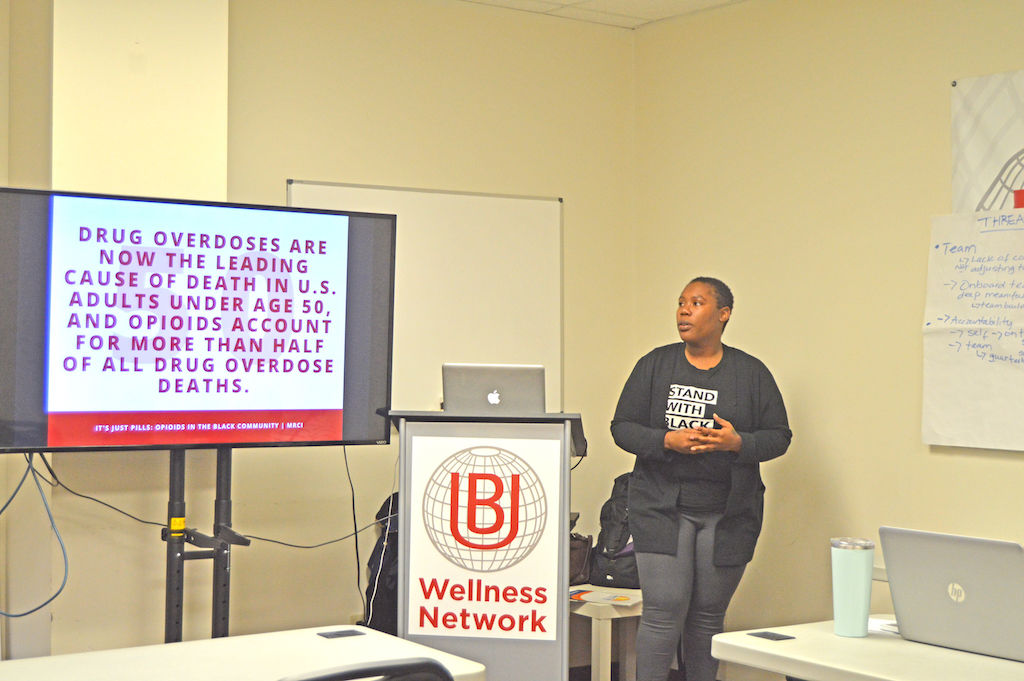 Natasha Cheatham, CEO of the Minority Recovery Collective Inc., gave a presentation on opioids in the Black community. (Photo/Breanna Cooper)
">

Natasha Cheatham, CEO of the Minority Recovery Collective Inc., gave a presentation on opioids in the Black community. (Photo/Breanna Cooper)