Celebrities such as Madonna, Brad Pitt and Angelina Jolie and Charlize Theron have adopted children that were of a different race. However, experts say the reality of transracial adoption is not glamorous nor is it an easy feat. It can also be compounded by issues of racism and discrimination.
Here is a glimpse into transracial adoption.
Inside adoption
Children whose parents have died or had their parental rights legally terminated are generally those adopted.
There is little data about the numbers of transracial adoptions, however it is a fact that there are plenty of children that need good homes and according to a report by the U.S. Department of Health and Human Services, adoption isn't abundant in the U.S.
Stephanie McFarland, a spokesperson for the Indiana Department of Child Services said that the agency currently has approximately 150 children with a case plan goal of adoption. Approximately 100 more children are or will be available for adoption, but do not have a case plan goal of adoption at this time due to possibly not having an identified family or "Termination of Parental Right" is in progress. 
Of those available for adoption, approximately 25 percent are African-American and/or bi-racial. Regardless of race, there are more boys available for adoption and the average estimated age of kids available for adoption right now is 12-years-old. 
The report also stated that women seeking to adopt generally prefer to adopt a child younger than 2-years-old, without a disability, and a single child rather than two or more siblings.
McFarland echoes the Health and Human services report. "Many times adoptive parents are more interested in younger children, so the older a child gets, the less likely they will be adopted. In addition, as a child continues in care and possibly has placement changes and disruptions, their behaviors increase, which adoptive parents may not be willing to or capable of handling."
Getting prepared
Adoption is rewarding for some, but transracial adoption is difficult on many levels for others.
McFarland said that through the state, adoptions are open to children and parents of any race. Consideration is given on a case-by-case basis as well as the ability of the parents to meet the cultural needs of the child.
Parents are required to take a course called RAPT (Resource Adoptive Parent Training) that provides cultural competency within the training module. Additionally, adoptive parents are required to provide a plan for keeping the child's cultural identity intact. This involves developing a plan throughout the child's life that includes grooming and self-care. 
Katrina Carlisle, adoption search specialist at St. Elizabeth/Coleman, a local pregnancy and adoption service agency, said that prior to having the child in the home, it's important for parents of any race to not simply take a class, but to truly and deeply understand the cultural differences of their adopted child and most importantly be prepared for the inevitable difficulties families will face.
Carlisle, who is white, said she made the mistake of assuming adopting a child of a different race would be "no big deal." Today she works to help parents be wiser.
"When I was young and adopted our children, I assumed that everyone would oh and ah that they were cute Asian babies and maybe somewhere down the road no one would notice. Not many people were doing transracial adoptions in the 70s so I was not well prepared for a different race entering our family and how I'd accommodate that. My children taught me that it's a very big issue even if it's a non-issue in your family. As soon as you walk outside your door, it's an issue in the community. People notice you don't match and they voice their opinions."
At St. Elizabeth/Coleman, when parents state they are open to adopting a child of a different race, they are required to take classes. There, Carlisle takes them through rigorous exercises interspersed with her personal mistakes and triumphs.
She said that many people come to training believing that prejudice does not exist in today's society. To dispel this myth, she begins class by showing a YouTube video of a college girl ranting about how at UCLA, they "started letting in hoards of Asians. They're lazy, talk on the phone loud…" The purpose of the video is to show how racism defies education and demographics.
Other exercises include a "diversity necklace" that uses red (Native American), yellow (Asian), Black (African-American, African, Hatian etc.), orange (Latino) and white (caucasian) beads to illustrate the current world adoptive parents live in, which race their child represents and what race of people their adoptive child may encounter, among other instances where race differences can occur.
"I ask them to think about things like their friends, the movie they last attended or what color are the angels on their Christmas tree. The idea is that the necklace should be multicolored, but frequently it's not very multicolored. Some are shocked just how 'white' they are," said Carlisle. "Some people get mad and say they don't acknowledge race. That's ignorant. They may not feel it makes a difference in their home, but other people are going to relate to that child in a certain way when you're not with them."
Another exercise Carlisle uses is being prepared to handle overt racism from family members.
"What are you going to do when grandfather makes a racist joke at Thanksgiving dinner? It's easier to stand up to a stranger, but how are you going to stand up to your family? Some families have had to distance themselves from relatives so parents have to be prepared to do that if necessary," said Carlisle. "Some people have even had to move or change churches.
"If you're adopting a child of a different race, you're asking for trouble. If you stay in your same race family in your same race community and don't branch out you're not going to encounter these things. When you bring in a child of a different race, you upset the dynamics," she continued.
The class ends with a panel of adults who were adopted by white parents. They speak candidly about the pros and cons of growing up in a transracial home. Mary Jane Evers is one of several speakers on the panel.
An inside perspective
As an infant, Evers was adopted from Kenya, Africa in the late 60s by a family of missionaries. Once in the U.S., she spent her childhood and teen years living in Plainfield, Ind.
Inside her home, Evers had love and care. Her family worked to connect her with other Black families in town and connect her to her African roots. She knew she was different but didn't dwell on the fact that she was adopted nor that she had a family that was a different race. It was when she stepped outside of her home that she was reminded of her situation.
"It was very obvious that I was different. People would ask my parents if I was adopted and kids don't have filters so they'd ask 'why is your skin black,' or say 'your hair is curly,'" said Evers.
She also recalls instances where she'd be with friends' parents, and they'd introduce her as "Dr. David Hadley's adopted daughter."
"Heaven forbid they were friends with a Black family," laughed Evers.
She said that her experience is interesting because due to her uniqueness, people inquired about her and once they found out she was "OK" she was able to flourish socially. In fact, Evers tied as "most popular" in her 1985 high school graduating class. Despite this, she still faced discrimination and racism.
"It made me feel very uncomfortable. I was a funny person, but I felt I had to work twice as hard to be likable and fun to be around. It was stressful trying to make everybody like you," said Evers. "I never dated regularly though. Its hard dealing with the fact that you're likable, but hear comments like 'my dad would kill me (if we dated)."
Subtle racism was difficult, but Evers also faced it overtly.
She recalls a family trip to North Carolina where she was asked to leave a community pool.
She went on to say, "anytime (my school) went to a Mooresville or a Martinsville football game there'd always be somebody yelling 'nigger go home.'"
Although Evers experienced difficulties growing up, she says she values her experiences and believes her childhood has made her a better adult – one who is open and accepting of a diverse range of people.
"I wouldn't trade my family for the world. Any issues I had was never because of my family," said Evers.
There is one thing she wishes her parents could have done differently – moved to a more racially diverse city.
Evers successfully survived her teen years and came into her own while in college. Unfortunately, she faced issues when she chose to marry a white man. Initially his parents did not accept their relationship.
Today, Evers and her husband John have two teenagers.
The affects of transracial adoption
While there are many people who adopt transracially, there are also people who disagree and discourage the practice.
While kids face social issues, Carlisle recognizes Black adopted children may have it worse due to the racial issues Blacks face in general. She also says that issues of interracial dating play a part as well. She uses the example of how in the 80s, she was the foster parent of Black children and was treated badly because it was assumed she "slept with a Black man." She adopted two Asian children and although they faced racism, it was clear they were adopted.
There have also been movements to end transracial adoptions.
According to Dr. Jacqualyn Green, a local therapist, consultant and author, the National Association of Black Social Workers (NABSW), has taken a firm stance regarding the adoption of African-American children by caucasians. There is a belief that if African-American children are waiting to be adopted and white families are applying for children, at least they have a home."
She said that many Black social workers, however, are aware that the availability of African-American families to formally adopt children is diminished by the often-rigorous adoption standards, including finances, that may discourage or eliminate numerous Black families from seeking adoption. NABSW cites the lack of identity formation and lack of preparation for dealing with racism and discrimination that may occur in Black children in transracial adoptions as cultural genocide.
"In my practice, often when children get to be about 13 or 14, they wonder what happened to their real parents. Depending on how the adoptive parent handles it, they become sullen, rebellious and argumentative," said Green. "There are advantages of Black kids being in homes with Black parents. The bottom line is, how culturally sensitive are (non-Black) parents."
There is also the issue that Black people do not adopt therefore it's up to other races to adopt Black children. Green states that Blacks do adopt, but it's more informal. She said according to the U.S. Census Bureau, African-American families tend to informally adopt at larger rates than other groups. The NABSW found that there are approximately 2 million Black children being reared by relatives. Eighty percent of these children have been informally adopted, while 20 percent are in kinship (foster) care.
"I've found that Black folks are taking care of cousins, nieces and nephews – their best friend's child. We do have that capacity and we do it even more. It's the formal adoption that's a blockage," said Green, who is also adopted.
To encourage more African-American parents to participate in the "formal" adoption process, NABSW has an annual Exchange program to recruit Black families and to mentor them throughout the process. The Multiethnic Placement Act of 1994 was an effort to reduce discrimination among adoptions and encourage transcultural adoptions.
Does it really matter?
Some people feel that at the end of the day, racism permeates all areas of our culture and that while adopted children face hardships, all kids experience awkwardness and have the desire to be accepted. They also feel that with today's global society, transracial adoption should be expected and not shunned.
"I'm hoping that day will come in the future where we'll all just blend, but we have not reached that yet – we have not yet arrived," said Carlisle.
Green concurs.
"We think we're at a point of acceptance, until something comes up. There have been horrendous cases where children were adopted and sent back. We have a false perception of where we are cross culturally."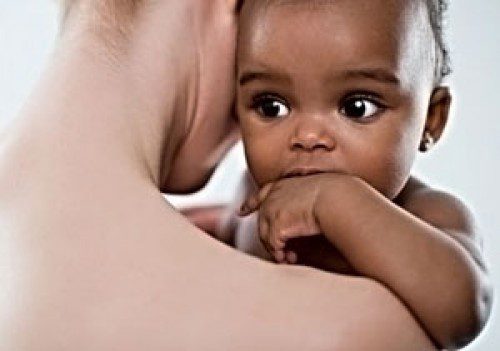 Experts say the reality of transracial adoption is not glamorous nor is it an easy feat. It can also be compounded by issues of racism and discrimination.