Indianapolis found itself in the middle of a country-wide reckoning with racism and police violence in May when Dreasjon Reed livestreamed his car chase with police and the moment an officer shot and killed him.
It took six months to piece together what happened May 6, and Reed's shaky Facebook Live video — which didn't get the shooting in frame — was the only widely available piece of evidence for much of that time.
The night Reed was killed, police said he was driving recklessly on I-65 around 6 p.m., which is when two Indianapolis Metropolitan Police Department officers — one of whom was Chief Randal Taylor — pursued him in unmarked cars. Police said supervisors from the Northwest District called off the pursuit near 56th Street and Lafayette Road 10 minutes later because the driver was being too reckless to safely chase. An officer, later identified as De Joure Mercer, saw Reed park his car behind a business at the corner of North Michigan Road and East 62nd Street and chased Reed on foot.
Then came the most disputed part of the incident: Police said Reed fired at Mercer, who returned shots and killed Reed.
A crowd of people quickly gathered near where the shooting happened.
"They trynna kill us," Ron Gee, from Indy Cease Fire, yelled into a megaphone at the scene, "and they don't want us to do nothin' about it."
Adding to people's anger was another officer, later identified as Steven Scott, who was heard on the Facebook Live video saying, "I think it's going to be a closed casket, homie," after Reed was shot. Plus, shortly after Reed was killed, IMPD officers also shot and killed 19-year-old McHale Rose. Police said Rose lured and tried to ambush them, and they returned fire.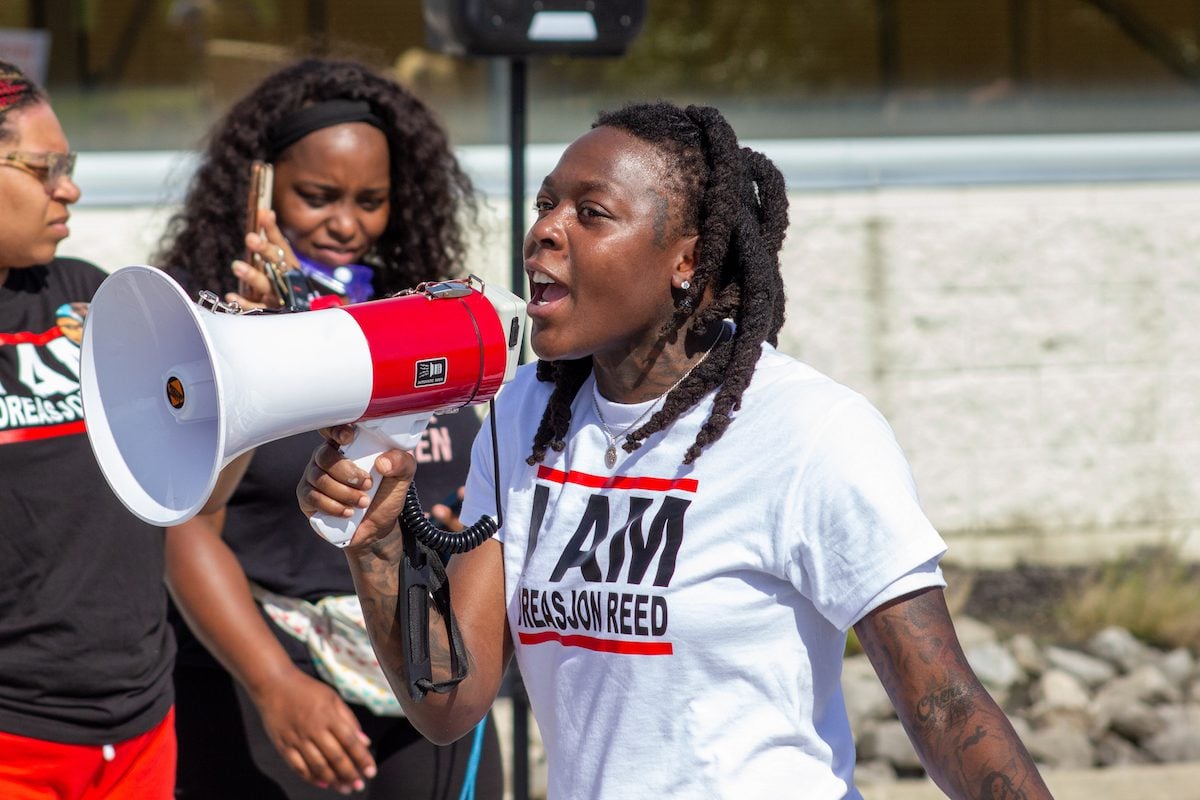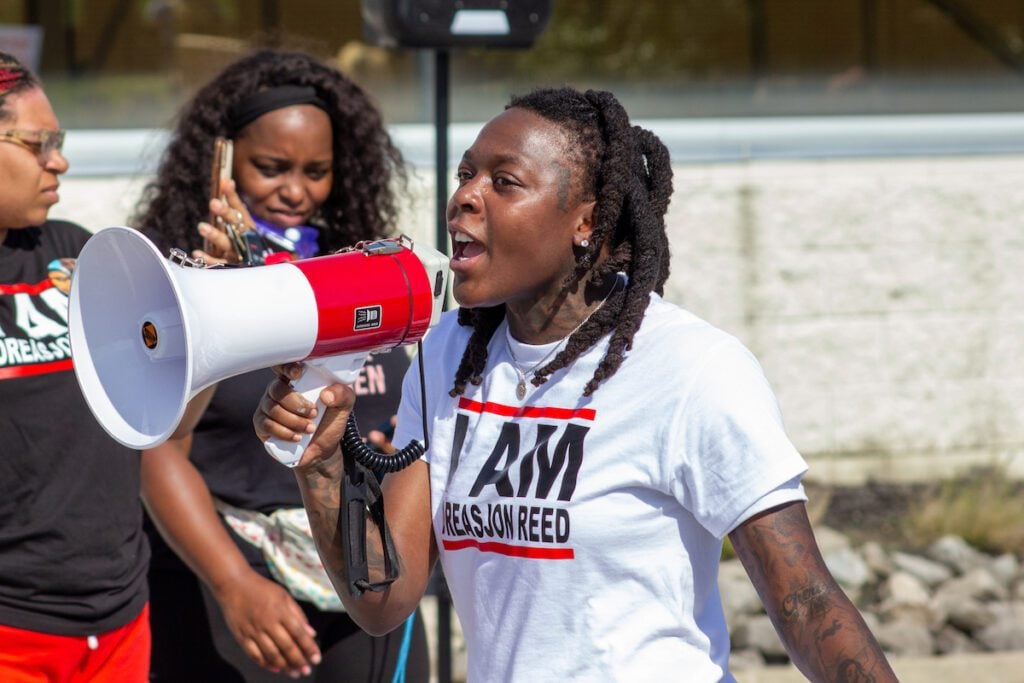 Reed's mother, Demetree Wynn, and the family's attorneys spoke regularly at press conferences, including after the coroner released Reed's body about a month after he was killed.
"They couldn't fix his face," Wynn said through tears near a makeshift memorial where Reed was killed. "They tried. He had one eyebrow that was almost at his nose and the other was on his forehead. That's how much damage was done to his face alone."
Marion County Prosecutor Ryan Mears quickly requested a special prosecutor, but it took nearly a month for the Marion County Superior Court to appoint Rosemary Khoury, a deputy prosecutor in Madison County.
Khoury requested a grand jury in August, and the grand jury delivered its decision — no charges against Mercer — on Nov. 10.
"No one wins here," Khoury said at the announcement.
It's rare for the public to see a significant amount of evidence from a grand jury case, but Indiana State Police presented its evidence, including that Reed's gun was fired twice. State police also showed a slow-motion clip from Reed's Facebook video, which shows two bullet shell casings cross each other, suggesting shots came from both directions.
The evidence state police presented, along with anything IMPD said, never meant much to those who already didn't trust police because of their history of violence against Black and poor people.
"They gonna always say we got a gun," Terrance Hood, CEO of HOOD2HOOD, said at a protest outside of the City-County Building the day after Reed was killed.
People gathered at the corner of North Michigan Road and 62nd Street multiple days to stop traffic and mourn at the memorial, but widespread protests in Indianapolis didn't pick up until May 29, the Friday following George Floyd's death in Minneapolis.
Police used tear gas against protesters downtown, which turned into a chaotic scene at night with looting and violence. Two people were killed May 30 amid the disarray.
Mayor Joe Hogsett instituted a curfew during the weekend, and police used tear gas again when people wouldn't go home.
For many in Indianapolis, protests during the summer offered a chance to get involved with a movement that took hold in most of the country.
"I've been excited," Timothy Parker Bay told the Recorder May 29 at a protest on 38th Street. "I've been running from my destiny my whole life. God wants me to do something. My prayer's been answered."
NiSean Jones, who formed the group Black Out for Black Lives after attending protests, talked to the Recorder about how many of the people at protests were young adults in their late teens and 20s.
"In our lives, we've witnessed horrific events that have happened between Black people and police, where George Zimmerman walked off scot-free, and those injustices we're seeing are only magnified due to social media," Jones told the Recorder in July. "… So, our generation knows what's morally wrong, and we're trying to change those things."
Those who attended and organized protests usually had a list of demands for the city and police department. Some of the demands — such as "tell the truth" — were based on beliefs about what happened to Reed and Rose, but other demands included concrete steps toward transparency and accountability.
There is a new Use of Force Review Board, which doesn't have the authority to recommend punishment but can advise the chief on whether an officer's use of force was in line with department policy. Discussion about the board, which has a civilian majority, started in 2017 but got renewed attention because of protests.
IMPD updated its use-of-force policy, which now starts with an emphasis on de-escalation and prohibits chokeholds and other methods that restrict breathing or circulation.
The Indianapolis City-County Council also passed an ordinance to create the IMPD General Orders Board, which has a civilian majority and sets department policy. The board replaced the General Orders Committee, which only had three members from law enforcement.
One demand not met: defund the police. The city's 2021 budget includes about $261 million for IMPD, a $7.3 million increase from 2020.
Contact staff writer Tyler Fenwick at 317-762-7853. Follow him on Twitter @Ty_Fenwick.