The NBA All-Star 2024 Host Committee announced that the State Farm All-Star Saturday Night will be held at Lucas Oil Stadium on Saturday, Feb. 17.
The event is one of the most anticipated during NBA All-Star and features the league's brightest stars showcasing their skills in various contests. These events include the Three-point contest, dunk contest, and various concerts.
The 73rd NBA All-Star Game will be held on Sunday, Feb. 18 at Gainbridge Fieldhouse.
Secondly, tickets will go on sale to the public for $24, $49 and $79 on July 24, with approximately 10,000 tickets available.
Fans in Indiana will have the first opportunity to buy tickets.
Additionally, The Host Committee will distribute nearly 2,500 tickets free of charge to local partners, community groups and nonprofits.
Next, the committee announced that IndyGo buses will be free for all riders for the duration of NBA All-Star 2024 from Feb. 15 – 18.
Pacers Bike Share, operated by the Indianapolis Cultural Trail, will also be free during the four days of NBA All-Star 2024.
2024 NBA All-Star Weekend invades Lucas Oil Stadium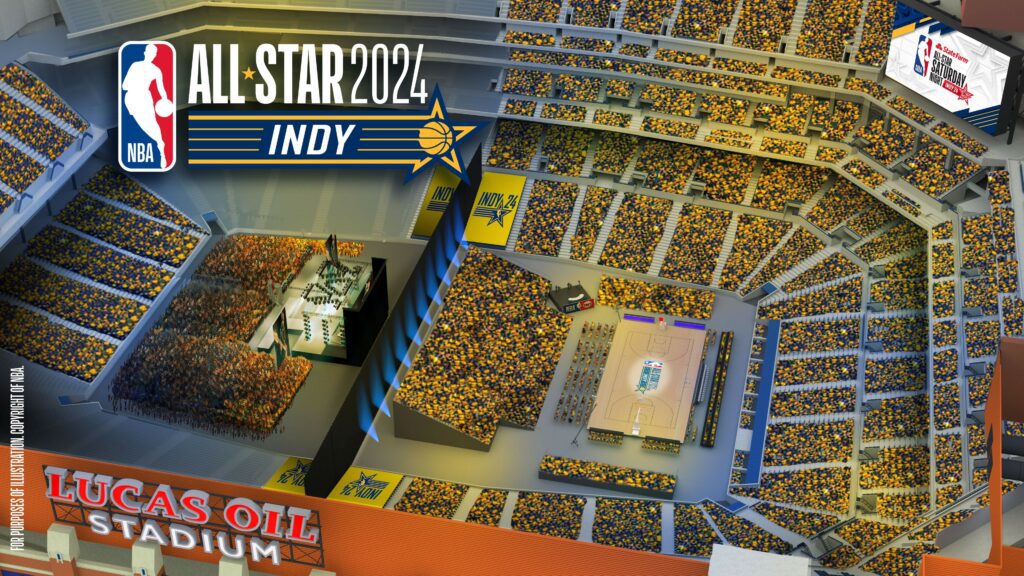 "We are excited to bring State Farm All-Star Saturday Night to Lucas Oil Stadium, which is an iconic venue for football and thoughtfully designed for basketball events. This will make the event more accessible than ever to our community," said Rick Fuson, CEO of Pacers Sports & Entertainment.
The walkability of Downtown Indianapolis makes it ideal for hosting large events such as the 2024 NBA All-Star Weekend. City and state leaders have invested in downtown sports amenities that are both world-class and convenient for fans and visitors.
Moreover, the proximity of Lucas Oil Stadium to Gainbridge Fieldhouse, the Indiana Convention Center and other key locations will make the NBA All-Star 2024 experience as fan-friendly and community-centric as possible.
"We can't wait to welcome fans to Lucas Oil Stadium for the activities we're hosting," said CIB Executive Director Andy Mallon. "For those who haven't visited the Stadium in a long time or who are ready to make their first visit, NBA All-Star Saturday Night is the perfect time to check it out."
For more information, visit Ticketmaster.
Contact multi-media staff writer Noral Parham III at (317)-762-7846 or e-mail at noralp@indyrecorder.com. Follow him on Twitter @NoralParham.