Single-game tickets for the Indiana Pacers 50th season are now on sale, and the team has announced plans for several special 50th Season Celebration events, including six "decade games," six "Hickory" games and the always-popular Fan Jam.
"This by no means is the complete show," said Pacers Sr. Vice President/Chief Sales and Marketing Officer Todd Taylor. "We have many activities and programs yet to come as we celebrate this very special season."
First up, Fan Jam will take place at Bankers Life Fieldhouse on Oct. 23 at 2 p.m. The event is free and open to the public.
The first 4,000 guests will receive a complimentary hot dog, chips and a Pepsi product in addition to a voucher for a free T-shirt. Autograph sessions will be held with the Pacemates, Boomer, Pacers personalities and alumni players; games, prizes and giveaways will be ongoing throughout the event; the Pacers team will scrimmage, the Pacemates will perform and Boomer will put on one of his famous Dunk Shows; and at 4 p.m., players will be available for a limited time to sign autographs.
The Pacers 50th Season — which begins with a special Opening Night presented by Kroger on Oct. 26 — will include six "Decade Games" (one home game per month) celebrating each decade of the franchise history. All fans attending Opening Night or any of the Decade Games will receive a bobblehead doll featuring a Pacers star from the decade being celebrated. Along with the bobbleheads, Bankers Life Fieldhouse will transform for each Decade Game and include halftime ceremonies featuring players, coaches and staff who represented the Pacers during each decade.
Each Decade Game will feature era-specific in-game entertainment, including videos, music and other fun elements. Current Pacers players will join the celebration by donning official shooting shirts inspired by Pacers uniforms from each decade, and their jerseys will feature a commemorative 50th Season patch for all games during the season.
After last season's successful debut of the Hickory Pacers jerseys, the Pacers will once again pay tribute to the rich tradition of basketball in Indiana and the movie "Hoosiers" by wearing the popular Hickory uniforms in six games this season — all at home at Bankers Life Fieldhouse. Like last season, at each Hickory game during 2016-17, the Pacers will pay tribute and honor teams or individuals from the state of Indiana who have embodied the spirit of Hickory and the sport of basketball.
In addition to the celebrations inside Bankers Life Fieldhouse, Pacers fans from across the country and around the world will be able to join in the season-long anniversary celebration through special interactive features on Pacers.com and Pacers social media channels. Fans will be able to vote for their favorite Pacers players and teams, and also share their favorite Pacers memories.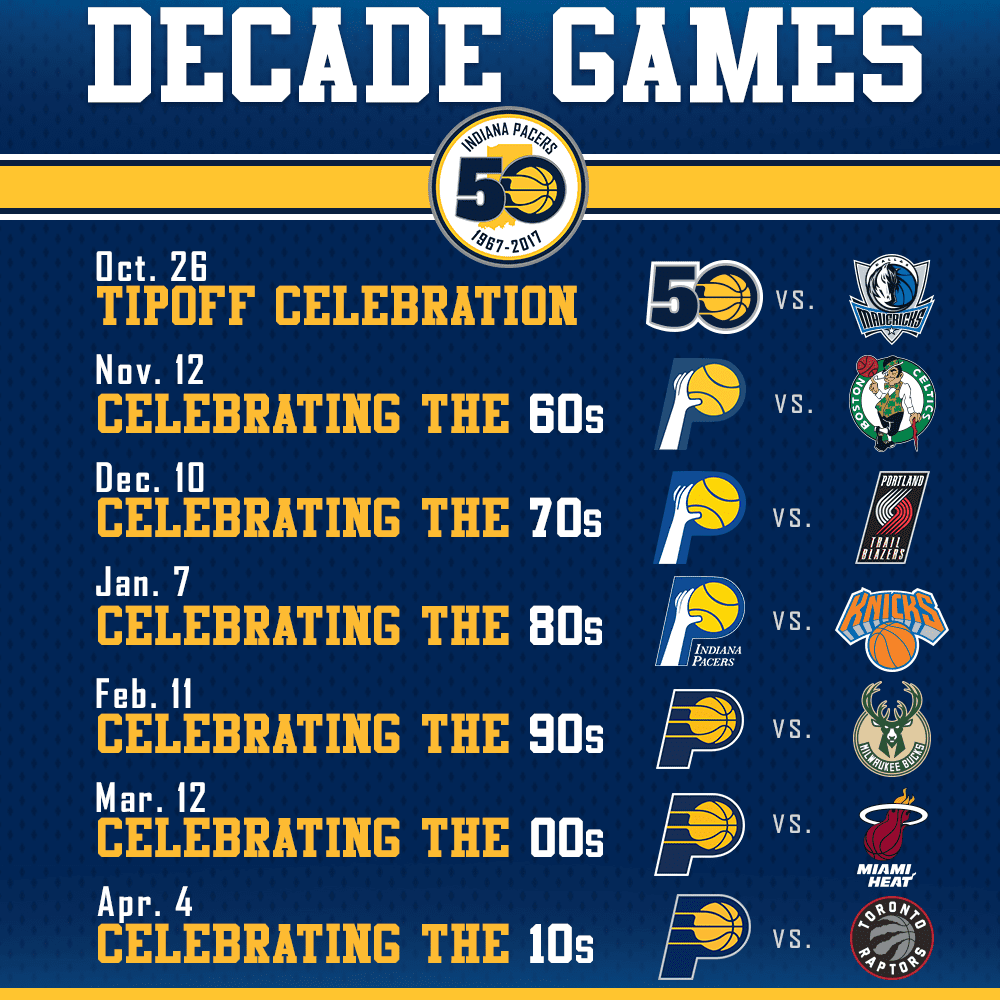 Decade Games