On May 13, 1876, five African-American men were selected by the public safety board of Indianapolis to be appointed to the police force.
This was a pilot program of sorts, to see how African-Americans could integrate into the police department. These men did well on the Indianapolis Police Department and paved the way for more minority hiring.
During Black History Month February 2015, the Indianapolis Metropolitan Police Department unveiled its first historical exhibit dedicated to the achievements of the African-Americans who have worn its uniform proudly. The exhibit which highlights these pioneers was dedicated by Chief Rick Hite in a special ceremony.
This exhibit is now on display through the end of March, from 9 a.m. to 5:00 p.m., free to the public, on the first floor of the east wing of the City-County Building, 200 E. Washington Street. A plaque dedicated to Officer Carter Temple Jr., one of those first five men hired in 1876, was unveiled during the ceremony, which was attended by his great-grandchildren, Cecelia Ann Boler and Reginald Temple.
Boler gave a moving speech about her ancestor's life as a freed slave, a Union Army Corporal and as an IPD officer. Officer Temple walked a beat for many years with a partner, Benjamin Thornton. In 1885, Benjamin Thornton was promoted to Detective, the only African-American detective the Indianapolis Police Department had until 1918. He became a legend, not just in Indianapolis, but throughout the United States. He solved several murders and numerous other crimes through his detective work. He was credited with sending over 400 criminals to the penitentiary. Another officer honored in the exhibit was the late Maria (Legg) McElroy (1929-1989). In 1953 she was the first African-American woman to attend the School Sisters of Notre Dame in Milwaukee, Wisconsin. She was a novice Nun but gave up her habit to join the Indianapolis Police Department in 1956. She left the department in 1969 to use her college degree to teach disabled children.
Among the visitors to the Black History Month exhibit was her daughter Marianna Fall, who drove from Cincinnati, Ohio with her son Khadim. Marianna, a school teacher herself, knew very little about her mother's police career and found the exhibit educational and also moving. There are over 30 police officers honored in the exhibit, such as "Jack" Hadley (1895-1969), a 40-year veteran, who walked a beat in the toughest neighborhoods in town, Spurgeon Davenport (1911-2003), a fine detective who rose through the ranks to Inspector in 1966 and Deborah L. Saunders, who became Assistant Chief in 1999, the highest ranking African-American policewoman in IPD history. This exhibit is sponsored by the Indianapolis Police Foundation, an organization dedicated to the preservation of the history of IPD, IMPD and MCSD.
IMPD tweets at: @IMPD_News and is on Facebook at Facebook.com/IMPDNews. For information about Crimestoppers, visit Crimetips.org.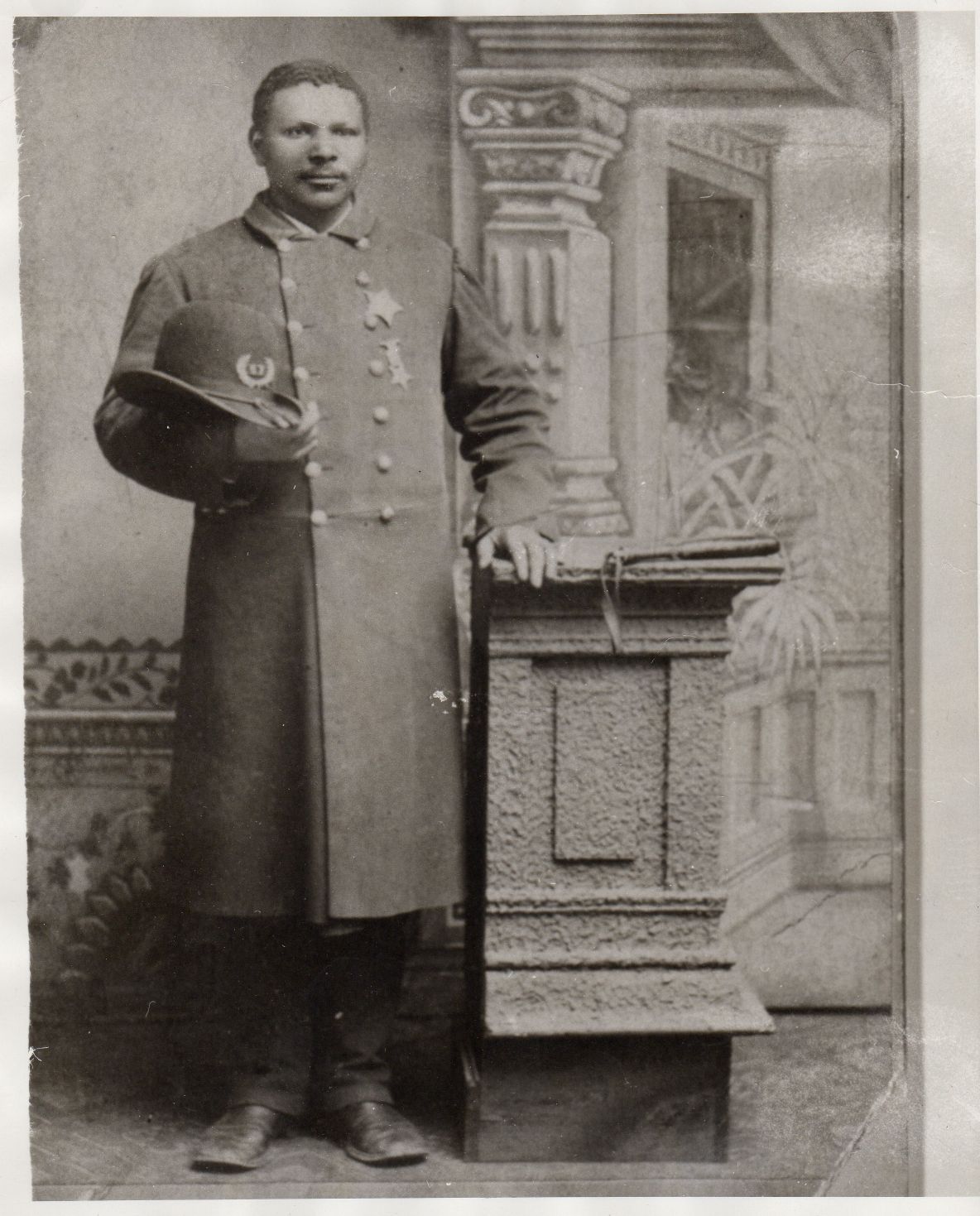 Officer Carter Temple, circa 1876