There are literally hundreds of emojis,derived from the Japanese culture, embedded into smartphone systems now days, as well as into other mobile devices such as tablets. Holiday, hearts, food, vehicles and animal emojis are available on practically all systems, but when searching through the ones that represent people, those of color are missing.
Since the popularity of emoji usage has skyrocketed over the past few years, several celebrities have expressed their feelings toward the lack of emojis depicting ethnic backgrounds.
Earlier this year, Katie Cotton, Apple's vice president of worldwide corporate communications said the company is looking to expand their variety.
"Our emoji characters are based on the Unicode standard, which is necessary for them to be displayed properly across many platforms," said Cotton. "Their needs to be more diversity in the emoji character set, and we have been working closely with the Unicode Consortium in an effort to update the standard."
In Unicode's recent diversity report states "People all over the world want to have emoji that reflect more human diversity, especially for skin tone. The Unicode emoji characters for people and body parts are meant to be generic, yet following the precedents set by the original Japanese carrier images, they are often shown with a light skin tone instead of a more generic (inhuman) appearance, such as a yellow/orange color or a silhouette."
Avid users do not have to wait until Apple's release, which hasn't been stated yet, since an iPhone only application called Emoji: Cultures was developed mid October.
The developer, Todd Yarberry, stated in a release "We reimagined the classic emojis to depict African-Americans and Asians. We have also included over 200 world flags. We are currently developing the first ever third party keyboard that supports various ethnic emojis."
For more information on Emoji: Cultures, visit emojicultures.com.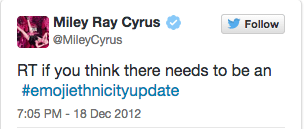 Miley Cyrus tweet

Emojis from Unicode Consortium diversity report