Indiana has been known to have embarrassingly low voter turnout in recent years, especially in primaries, which are typically done deals on the presidential level by the time May rolls around.
Only 37 percent of registered Marion County voters cast ballots in the 2008 presidential primary. That number dropped to 21 percent in 2012, when President Barack Obama ran for his second term.
But with a still-contested primary face-off in both major political parties, the Hoosier state could wield an unusual amount of impact this time around. That's one factor that could be contributing to a boost in early voting turnout in Marion County.
After two weeks of early voting at the Marion County Clerk's Office, turnout was almost double what it was at the same point in the 2012 primary.
Early voting began on April 5, a Tuesday, so the first week of voting only had four days, compared to five full days in the first week in 2012.
In 2012, 605 ballots were cast in the first 10 days of early voting in Marion County. As of April 15 this year, 1,157 early ballots had been cast over nine days, an increase of 91 percent over 2012. This year's numbers are 28 percent higher than in 2008 — the last time no incumbent was running for the nation's highest office. The first week of 2008 early voting also had five full days, compared to 2016's four days.
Whether the momentum continues remains to be seen, but early voting runs through May 2.
How to vote early
When
Every day, now through May 2
8 a.m.–5 p.m. weekdays (except May 2, when it's 8 a.m.-noon)
10 a.m.–5 p.m. Saturdays and Sundays
Where
Marion County Clerk's
Office
City-County Building
200 E. Washington St., W122
Indianapolis, IN 46204
How
You do not need a reason to vote early, but you must have a valid photo ID issued by the State of Indiana or federal government.
You will be asked to complete an application to vote absentee.
You will be handed a ballot to complete on-site. You will seal your completed ballot in a security envelope, and it is safely stored until it's counted on Election Day.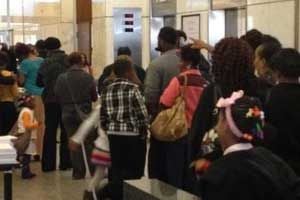 Voting