Weaving through a crowd of his fifth and sixth grade classmates, Richard Hands lugged a white trash bag that carried his two newest Christmas toys, a Nerf gun and Captain America action figure.
He and hundreds of other students crowded into the gym at Charles Warren Fairbanks School 105 on Dec. 19 to get their pick at some free Christmas toys, thanks to the nonprofit Fight for Life, which was founded by former Colts cornerback Marlin Jackson.
Jackson stood in front of the students with a microphone and offered them a peak into some of the aspects of his personal life that led him to take up a massive toy collection and then give it all away.
He talked about his mother, who struggled with addiction, selling Christmas presents after they were already under the tree.
"We've all had some days where we don't feel good," Jackson told the fifth and sixth graders as they sat on the gym floor, "but we have to remember those positive days."
Tables in the gym were packed with toys, and more toys were on the floor. Each student got to choose two or three, and they also got to pick a board game or craft and received a winter hat and pair of gloves.
"I get presents at home," Hands said, "but not like this."
That's why Jackson and his team of volunteers were there that day.
"Today is all about providing an experience that makes them feel good inside, something that was memorable, so that we can have them hope for better days," Jackson said in an interview. "But hope for better days starts with having those positive days."
Fight for Life has been doing something like this for about a decade now, and Jackson said this is the seventh or eighth year for doing it on this large of a scale.
Toy donations came from Orangetheory Fitness locations and Toys for Tots. Jackson estimated there were between 3,000 and 5,000 toys.
Paula Peterson has been principal at Charles Warren Fairbanks for 11 years and said she's never seen a Christmas giveaway event that large at the school.
"A lot of our students probably don't really get to celebrate too much Christmas," she said. "Not by any fault of their own or their parents. It's just hard times for everybody."
Fight for Life also took its Christmas giveaway event to Arlington Woods School 99.
The schools were chosen because they finished in the top two of a Fight for Life contest that's supposed to incentivize positive behavior. Basically, good behavior results in positive yardage and first downs; 15 yards is a touchdown. Negative behavior results in sacks.
Leftover toys went to the school shops, where students can use badges from the program as currency. 
"People that don't even know you care about you and want the best for you," Jackson told the students.
Contact staff writer Tyler Fenwick at 317-762-7853. Follow him on Twitter @Ty_Fenwick.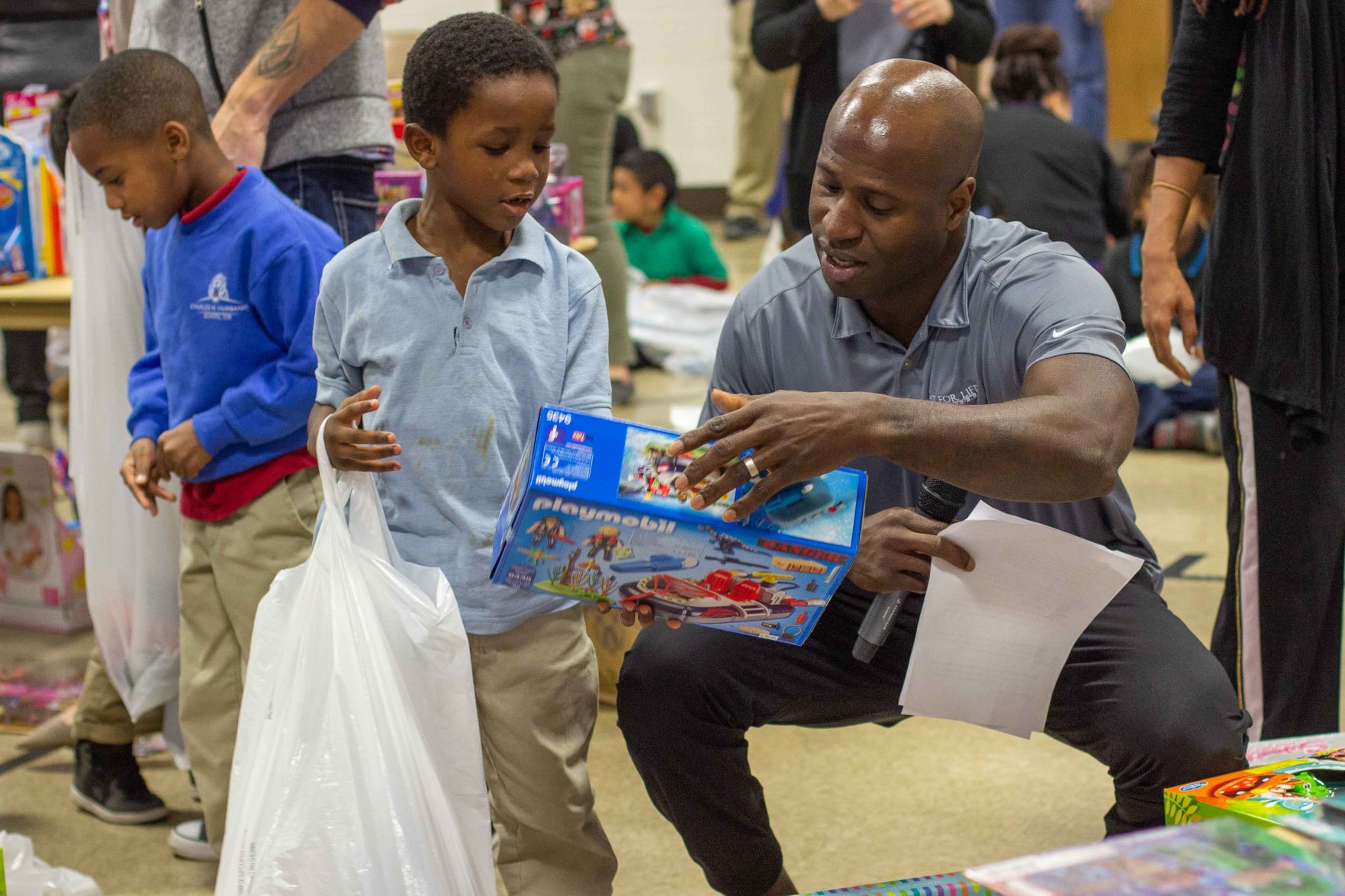 Former Colts cornerback Marlin Jackson helps a student at Charles Warren Fairbanks School 105 pick a Christmas gift. Jackson's nonprofit, Fight for Life, collected donations of Christmas toys for students to choose from. (Photo/Tyler Fenwick)
">

Former Colts cornerback Marlin Jackson helps a student at Charles Warren Fairbanks School 105 pick a Christmas gift. Jackson's nonprofit, Fight for Life, collected donations of Christmas toys for students to choose from. (Photo/Tyler Fenwick)