This past Friday a growing organization for African-American Muslims made Indianapolis the first city on a national tour to promote its goals.
Representatives from the Coalition of African-American Muslims (CAAM) visited the Mosjid Almu'Mineen mosque to introduce the organization to the local community.
Abdul Jailil Muhammad, the president of CAAM, discussed its mission following Salatul Jumua,' or Friday prayers.
"Our purpose is to empower Muslims and empower the underserved," Muhammad said. "We need manpower and sisterhood to help us in striving to make this coalition strong and vibrant."
Muhammad added that CAAM will seek Islamic unity, a greater voice for Black Muslims, and the development of concrete ways to assist underserved segments of the country, including the homeless and people in the prison population who are trying to turn their lives around.
Based in Chicago, CAAM was formed last year, and is currently conducting a kick off tour of 10 major cities to ask Muslims around the nation for their expertise and knowledge to build the organization.
Some people may remember the press conference CAAM members held at the National Press Club in Washington in September, saying that the unique perspective of African-American Muslims had been left out of the national discussion about a proposed Islamic center near the site of terrorist attacks at the World Trade Center.
Before discussing CAAM, Muhammad thanked everyone for attending, and then offered a general assessment of the state of the international Islamic community.
"While we are here worshipping Allah and praising his holy name, confusion and turmoil is reigning supreme in the Middle Eastern countries," he stated, citing recent uprisings in Tunisia, Egypt and other places in the region. "What it shows, brothers and sisters, is a lack of faith, and that Satan is sowing discord."
Muhammad then delivered an impassioned plea, stating that in order to overcome that discord and challenges facing all people, Muslims must work together.
"Muslims are suffering all over the world," he said. "We have the fastest growing religion in the world, but we are suffering because we are not unified. Together, we must obey Allah and obey his messenger."
Muhammad asked his fellow Muslims to look out for each other and those in need, and for husbands and wives to be kind to each other to keep their families strong. He also encouraged more outreach to unbelievers.
"How many Qurans have you given away to your cousin Ray Ray or Shaniqua," Muhammad asked as listeners grinned. "My brothers from overseas who own stores, give people chicken and fries, but also give them the Quran. The Lord will pull them out of darkness and into light. We have many social ills in America, and the only thing that can erase them is Islam; you know it and I know it."
Many of those who attended the local kickoff for CAAM were inspired by Muhammad's message, and are looking forward to positive contributions from the organization.
"I think many who joined us today were inspired to strengthen their faith, and remember that we are not just one individual in Islam, but we are one," said Emir Amin, spiritual leader of Mosjid Almu'Mineen, which was formed in 2002 to provide a place of worship for all Muslims, free of sectarian dogma, political persuasions and racial or gender prejudice.
"It is time for us, as Muslims, to come together with unity amongst each other, and get past these cultural and social differences," said Haatim Adi Shakur Abdulla, who came to hear Muhammad's message. "When it comes to Islam, no single person is surpreme. We are all equal as humanity."
For more information about the Coalition of African-American Muslims (CAAM), call (415) 559-2473. For more information about Masjid Al Mumineen, call (317) 545-4252 or visit masjidalmumineen.org.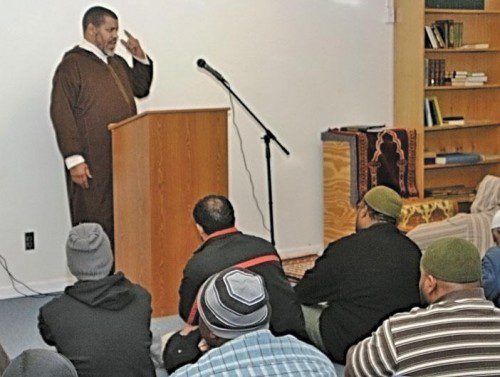 Abdul Jalil Muhammad, president of the Coalition of African-American Muslims, discusses the organization's goals during his visit to Mosjid Almu' Mineen.