November 5th is the anniversary of the infamous Gunpowder Plot, a conspiracy by Guy Fawkes and company to blow up Parliament with barrels of gunpowder. In a move I'm sure is far from coincidental, rapper Tech N9ne's EP Therapy Sessions with Ross Robinson was released Monday as well. Therapy is no conspiracy, but it is the rock project many Technicians have been anxiously anticipating. Tech, who has been on quite a roll this year (Something Else, seemingly endless touring, a feature in Forbes , etc.) sat down with the Recorder before a show in Indianapolis to discuss birthday plans, his hatred for flies, and plans to expand his Strange empire.  
The House That Rap Built
Rap is almost as synonymous with excess as rain is with water but for Tech, realness supersedes the need for pomp. The 41 year old underground king clad in bball shorts and 3D glasses (He says he looks like a shar pei in the mornings. He also added that he likes these way better than his Gucci's and Prada's), beamed when he spoke about Strange Music's angelic beginnings to becoming the unpretentious power house that hip hop built.
"It's a blessing to still be on the incline this late in life" says Tech. "Me and Travis (O'Guin) put out our first record on Strange Music in '01 called Anghellic and it's just been going up ever since. This is the second year on the Forbes list and man… that's crazy".
The amount of success Tech N9ne has been able to enjoy as a result of doing it his way without any mainstream influence via radio spins and music video rotation is nothing short of extraordinary. His last album Something Else battled Jay Z's Magna Carta for the top spot on the rap charts.
In his recent Forbes feature, Tech gave fans a close up into Strange Music's headquarters in Kansas City. The $4 million building features a massive Amazon.com style merchandise warehouse and full-fledged recording studio.
"We're building new buildings… I think we're probably gonna buy the whole block soon" he says on the future of Strangeland.
"By the grace of God baby. I'm so lucky, but I wouldn't even say lucky… I'd say blessed. Blessed to have my fans that keep coming back and keep bringing friends. So blessed to have something that has such longevity and to have a business partner that's so business savvy as Travis".
Technicians
My first encounter with a Technician was back in 2010 when I worked as a hostess at a local chicken wing chain. My favorite people worked in the kitchen and we'd spend hours chatting about any and everything on company time. Music was by far our favorite topic. One afternoon while discussing hip-hop, Jake a young white guy who loved mythology and had a kitten named Anubis went on and on about this Tech N9ne guy. "Ebony he's so amazing!" Quite obviously, Tech N9ne fans are a special breed. Dedicated, energetic… some may even say hardcore.
When I mentioned the hardcore thing to Tech he couldn't help but to chuckle. "Yea, they are" he says. "I give my life. I write my life. I tapped into something a long time ago when I was signed to Quincy (Jones) in 1997. He said to me 'Tech, rap what you know and people will forever feel you'. And I was like 'What is that? What do I know? I don't know anything'" he reflects with a smile. "I was like… well, I know myself, so I started writing my life and what that did is it connected with other people".
Tech N9ne's dedication to remaining authentic has solidified him in fans hearts and… on their skin. Tech gets very serious when he speaks on his fans. He shared that he understands and appreciates the connection and their acts of fandom are something he would never take for granted.
"My fans feel so close to me because they feel my emotions seep through the music and they feel like they should get my face on their skin, my logos, or whatever and I tell them 'I would never do anything to make you regret that because I know how serious that is'".
In return, Tech works relentlessly putting out quality projects and touring the world incessantly. Therapy, his latest offering is the great rock album Tech has wanted to share. Not one to shy from digging deep when it comes to putting it all on wax, Tech has shared how difficult the process for Therapy was.  He literally left his comfort zone in Kansas City and instead traveled to Venice Beach and Ross Robinson for what is sure to be an epic offering of pure expression.
"I actually started work on it (Therapy Sessions with Ross Robinson) weeks after Something Else was released, which is a humongous LP, so why would I get right back in the studio? Because I have to continue to get music out of me. There's so much inside of me and I always wanted to give my fans the rock EP and this was the chance to do it".
In a recent interview with XXL Magazine Tech spoke on Tupac's influence on the music industry. Tech says that "Pac is the reason why we have songs about women". I asked Tech if there were any songs about women on Therapy. "Yes! I had to stop myself from writing more but there is one called Ill, it stands for 'I like ladies'. That's how ill I am".
Public School  
The first single off Therapy is Tech's angsty ode to years spent in the public education system.
 "I knew people were gonna ask me about that" he laughs. "I know teachers won't like this but I said… 'Most of my teachers didn't teach me '… he trails off before sharing the expletive at the end of that phrase in true gentleman like fashion. He went on to share how the track was him shredding bitter thoughts of his time in school as a youngster. "It's just me reflecting like; I just breezed through it (school). If teachers would've pushed me, this is me being mad at most of my teachers not all, and I didn't say all my teachers… it's just frustration".  He went on to say that despite his vent, he understands that the plight of teachers is a "double-edged sword" as children need guidance and direction from home as well. "It's a hard job I'm sure" he says. "I don't wanna take that for granted either… I just wanna urge youngsters to learn as much as you can because it counts when you're older and it can work for you."
Tech, who unarguably has a mind worth appreciating for all its complexities, spit a few rhymes in Arabic, and Dutch as he shared that the education he "stole" is the reason behind his major success stateside and abroad. "The foreign things that I learned over the years I learned on my own and put in my rhymes" he said.
Expanding the Empire
When asked about future plans for Strange Music, Tech shared that they are looking to expand musically. "We're attempting to expand into different genres because Tech N9ne is like every genre almost. Krizz Kaliko is even that much more – we might tap into electronic dance." Says Tech. "We just love music and whatever is beautiful I'm gonna gravitate towards it. I'm really hyped on a couple of artists that are not rappers. Liz Suwandi is one of them. I don't know what to classify her as… I don't think anybody can put a finger on it. It's strange, that's all I know", says a proud grinning Tech.
I mentioned another female artist, Snow the Product, and Tech regrettably shared his sentiments on the potential of signing Snow who is currently under contract with Atlantic. "Yes. If it didn't take me two years to check her out like Travis was telling me to before she had a deal. Yes. If I didn't drag my (points to posterior) yes… I would've. She's totally it but we'll still work with her and love her the same".
Touring
In 2012 Tech and company broke the record for the longest continuous tour in rap history with Hostile Takeover 2012 Tour. They performed 90 shows in 99 days. On average Tech does about 200 shows a year. I asked him how he managed to keep himself from falling out. "I think the Lord is preparing me for something great" he says stroking his beard in deep contemplation. "This…" he says with wide outstretched arms "is great! Don't get me wrong, but something greater maybe. I'm 41 and I'll be 42 soon (Tech's B Day is 11/8) and I feel 21".
I asked Tech about birthday plans; he didn't have any but thought my idea to have a couple cupcakes was a decent start. He mentioned that he may have a couple beverages as well. KCT, Caribou Lou, Cadillac margaritas, and Bud Light "all together!" he said with a hearty chuckle.
I asked him if he had any special diet structure while on tour and he shared his love for Italian food and the fact that he eats and drinks what he wants. "Krizz Kaliko is the health nut" says Tech. "I was supposed to lose weight on this tour but I actually gained some".  
When it comes to the tour bus Tech says it's his least favorite place to write. "I need to be like this when it comes to writing" as he forms his hands into a box shape. Tech says his dictionary and Google search is a necessity for good writing mojo in addition to good old fashioned peace and comfort. "I need to be somewhere where I'm free to spew and this ain't it". At that point, a fly which had been a vibe killer for the entire visit zipped around in Tech's direction. Swatting at it he told us his secret for getting rid of them. "You just spray Febreeze and they can't get away from it so when ya'll leave I'll be in here with my can like this" he says laughing.
Tech's seemingly never ending flow of raw energy comes from the music he says. "The music inspires me to keep going and keep pushing. I could be tired all day but then when it's time to get on that stage and that music comes on, I come alive. Stuff could be hurting and everything but it's just in my bones, music is in my blood. It would be hard to not move on Einstein. It would be hard to not move on He's a Mental Giant. It would be hard to not move on So Dope or Fragile. You have to move!" He went on break out a few robotic style pop locks as he described the stage as a "music box. A Strange music box".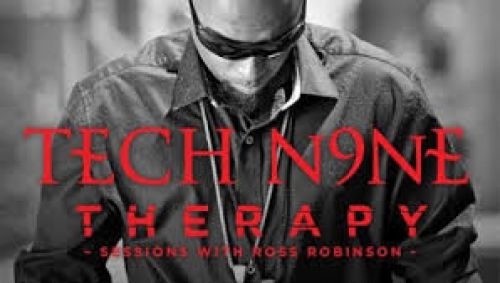 Therapy Sessions with Ross Robinson is the latest EP from Strange Music star Tech N9ne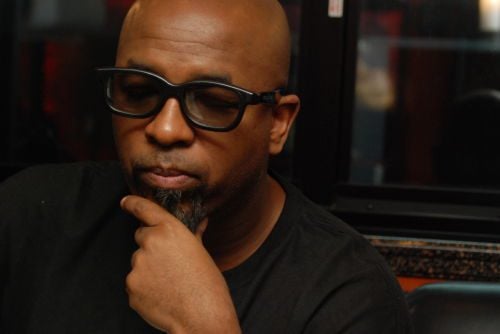 Tech N9ne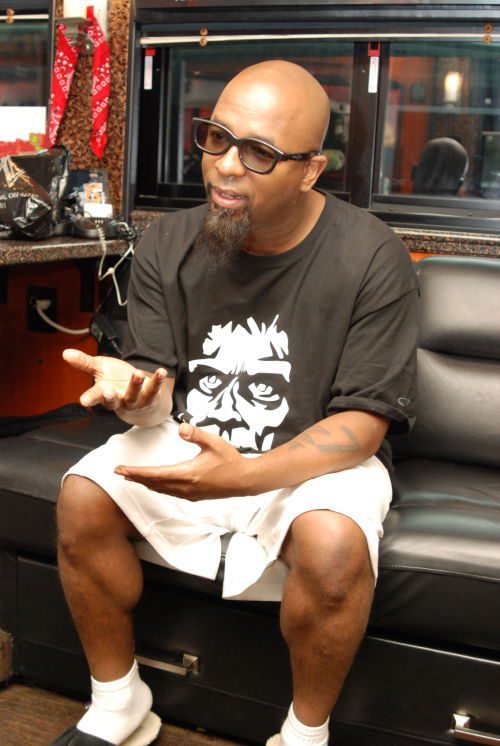 Tech N9ne