"A whole lotta' folks from this town wish me dead, did you know that?" James asks Marie. "They think that when I die, everything that they don't wanna think about, including the past, is gonna die with me."
Those lines from the play "The Gospel According to James" were spoken by James Cameron, who was well-known in those parts as the 16-year-old Black boy that miraculously survived a double lynching in Marion, Ind., on Aug. 7, 1930.
Cameron's two African-American teenage companions, Thomas Shipp, 18, and Abram Smith, 19, were not so fortunate as they were hanged in the city's town square by a mob, allegedly for the murder of a young white man, Claude Deeter, and the rape of Deeter's girlfriend, Mary Ball (a charge that was later dropped).
"Other folks, they send me notes asking to meet with me, always in private, 'cause they wanna talk," Cameron, who is played by two-time Tony-nominated actor Andre De Shields, tells Marie (Linda Kimbrough) in the play. "They wanna tell me what they remember. They need to confess. So I listen. I take it all in and when I go away, they feel better and I end up with another story, another piece of thread that gets added to the tapestry."
The world premiere play opens in Indianapolis at the Indiana Repertory Theatre on March 25. Written by Charles Smith and directed by Chuck Smith (no relation), the play was commissioned by the IRT.
In the production, Cameron and Mary Ball (Kelsey Brennan) emerge as the sole survivors of that fateful night in Marion. Teenagers when the crimes occurred, they look back on those events and their lives through a series of flashbacks.
De Shields explained that the play is a single story told by everyone who has experienced it. "All these perspectives are given, and the audience has to decide with all of the information presented what to do with it," he said. "Cameron says the answer is to heal."
Marie (Kimbrough) is Mary as a young white woman who is in love with a Black man, Smith, in rural Indiana 50 years ago – a difficult predicament indeed.
According to an IRT press release, "Cameron and Ball discover that their remembrances of that day differ even if their experiences were the same – challenging us all to wrestle with the tensions between memory, history and redemption." Cameron said a noose was put around his neck and the mob was preparing to hang him alongside Shipp and Smith, when he heard a loud voice from heaven say loudly that he was not involved and should be released, which they did.
Cameron was still convicted as an accessory in the case and went to prison for four years. He was later granted a full pardon by former Indiana Gov. Evan Bayh and moved to Milwaukee, Wis., where he opened the National Black Holocaust Museum. He died in 2006 at age 92.
"Right now, because this is the world premiere, Indianapolis is the center of the universe in terms of the possibility of healing," said De Shields. "Once we close in Indianapolis on April 10, Chicago becomes the center of the universe," where the play goes next. "It's because of James Cameron's initiative that we must not forget. He was a prophet about healing."
In the play, James tells Marie: "For a long time, I asked myself why God saved me and not Tommy or Abe. Then, I went to Europe, went to Israel and I realized that the reason God saved me was to tell folks what happened. They don't forget, and we can't forget either."
The play is set in 1930 and the early 1980s in various locations in and around Marion. Promoters have cast it as a fictional account inspired by actual events.
"This is very, very exciting," said Brennan, who plays the young Mary Ball. "It's also great to be doing it in Indiana, where it still touches the lives of the people here."
If you go
What:
"The Gospel According to James" – A World Premiere: a story told by survivors of racial crimes in Marion, Ind.
Where:
Indiana Repertory Theatre Mainstage, 140 W. Washington St.
When:
March 25 through April 10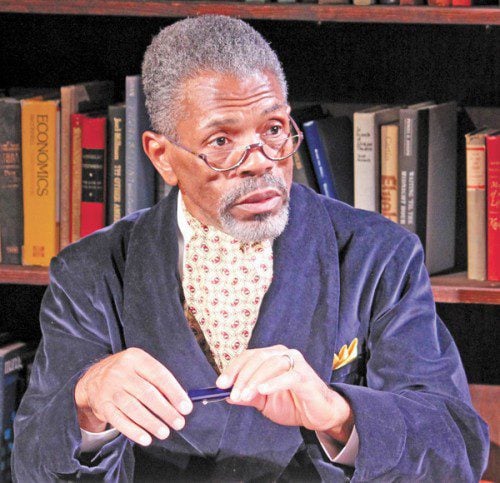 Starring twice Tony-award nominated Andre De Shieldsß, and film and stage actor Linda Kimbrough. The play is written by Charles Smith ("Knock Me a Kiss"), directed by Chuck Smith ("Knock Me a Kiss"), and is presented by Bingham McHale.