The raw, quiet ache of grief isolates. The flowers start arriving before you completely grasp the inevitable: losing a loved one. The busyness of planning the final arrangements keeps the somber mind occupied. You spend the moments between counting cards, reading messages, and answering phone calls. Prayers and sorrows hollow the eardrum, you smile until you can no longer feel your mouth, and then you nod. Time acts as a chameleon changing its face with the faces before you, slowly blurring winks of steadiness—some people, like parents, you want to hold onto forever.

The simple act of talking every day becomes disoriented when the habit is disrupted. How do you move forward in this fast-paced environment that relegates grief to five days or says days are enough and, at the same time, stays put in the softening of the truth that is today?
What do you do? What do you turn to something to busy yourself in other ways? There were enough plants to start a nursery: eleven Peace Lilies, seven Prayer Plants, six Moth Orchids, four Gardenias, four Fiddle Leaf's, and two White Calla Lilies when the counting stopped. When the tears come, whenever they come, you learn how to be gentle with yourself while you start to notice new surroundings. A hush in the air, the crisp morning leaping into spring, or children buzzing for summer. And the rose bush, how she tangoes with the weeds, feels just about right; it is slightly off and the perfect time to bloom. It has been twenty days and thirteen minutes since the last total day takeover—and grief has bullied its way into normalcy. Random acts of tears have become routine. Nothing prepares you for after the funeral; when the guests leave, the condolences cease, phone calls lessen, and the people you assumed you would hear forever have transitioned this life for the next.
Being the daughter of a King means guiding a route to integrate the legacy while finding a meaningful way to carry the Reginald L. Jones Senior memory forward. Grappling with both can be overwhelming; losing a giant is not easy.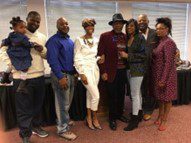 The journey of grief is deeply personal. There is no one-size-fits- all approach to navigating life after the funeral—to find your way through the myriad of emotions is a patient walk that requires compassion and support to garner healing. Seeking help turned the compass toward good grief. "Good Grief Now!" A little piece of joy tucked in the folds of Facebook messages and quirky quips about laughing out loud while grieving well.
Rae Karim, the founder of Good Grief Now! and facilitating Grief Coach, meets with those who welcome support or a community while transversing complex grief terrain. Her methodology is inviting, both in part being learned in her craft and experienced in loss. She has found ways to help celebrate while living and remembering the transition.
In a sit-down talk, she explained how she started Good Grief Now! as a day party so a community facing grief alone could approach the journey with aid. Giving people a place and permission to dance, sit, cry, connect, and not have to explain, perform, censor, or fix [anyone]. It became a signal of shared humanity—a powerful component of healing through joy while grieving.
The idea of rejoicing at death makes one think of culture and tradition. African traditions are generally practiced everywhere, namely in countries like Jamacia (Nine Night), states like Louisiana (Second Line), or biblically, with over 100 verses exclaiming you to rejoice at death.
Engaging in grief coaching/therapy could be a vital step toward healing, especially in the Black community, because everything and everyone cannot be fixed in five days. Everything does not have to be rushed to get over or get through. Sitting in the discomfort of loss with a neutral, unbiased container (grief coach or therapist) ready to receive your "heavy" tears and silence is okay. It is healthy.
Wednesday is National Grief Awareness Day; if you know someone who needs and wants to grieve well and be well or may need additional support, contact Rae Karim at https://www.raekarim.com/goodgriefnow.
Healing Hibernation
I listened for your voice today,
to hail from the kitchen.
I wanted to see you standing over the stove,
cooking to live…
View week 12 podcast here.
---
This was the last week as the Reginald L. Jones Fellow at the Indianapolis Recorder. Thank you for the opportunity. Stay close, I will continue to write for IR with at least two posts monthly. For more local news from the Indianapolis Recorder, click here.