Three times a week, an Uber ride on Indianapolis' east side helps to save the life of bright-eyed, 11-year-old Jay'Shawn Roberson.
Every other weekday, Jay'Shawn and his snaggletooth smile take a ride from his Brightwood apartment to Riley Hospital for Children to get the dialysis he needs to live. His dad, James Roberson, currently carless, uses a lunch break to take his son to outpatient care, where he leaves Jay'Shawn for hours alone, afraid to lose the job that is the lifeline for his formerly homeless family.
"I was pretty much stable," the 33-year-old father says. "I had a home [last year] and everything was going good and it all went downhill out of the blue. It takes a lot to be able to able to handle the situation. Times are hard."
The father of five is part of a growing number of families Hoosier housing experts say have seen options to live with relatives reduced amid the coronavirus pandemic, leaving more parents and children without a permanent residence.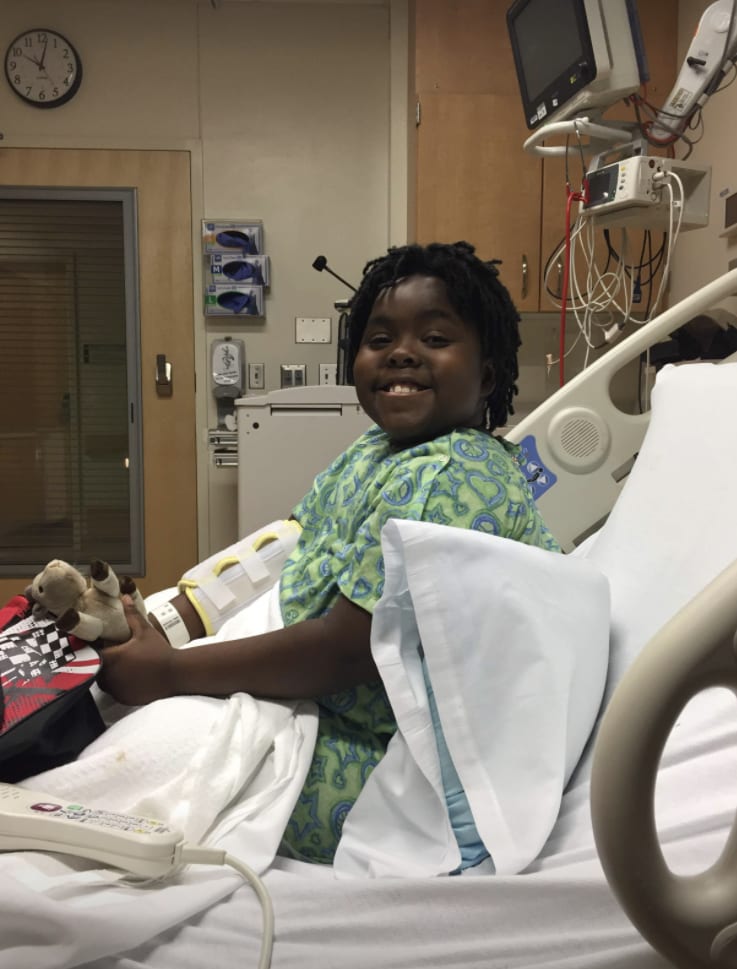 "If a family is experiencing homelessness and does not have a safe place to shelter, they risk losing their kids," says Chelsea Haring-Cozzi, executive director of the Coalition for Homelessness Intervention and Prevention (CHIP).
"That's huge. [They] risk, that whole family being broken up."
Two-thirds of families in family shelters in the state are Black, she says. The factors of unemployment, income loss and housing loss exacerbated by the pandemic have led to a growing need around family homelessness.
Throughout last year, James hotel-hopped with his family to keep them out of shelters, where he feared he may be split up from his two daughters, struggling to use the $250 he received in unemployment to pay for weekly stays at almost twice that amount.
"It's often Black heads of households that have multiple children that are most at risk of eviction, which can lead to homelessness," she says about Marion County disparity trends. "We must focus on the whole family and families of all types."
In December, CHIP received a $1.25 million grant from the Day 1 Families Fund launched in 2018 by Amazon founder and CEO Jeff Bezos to provide shelter and hunger support to address immediate needs.
The kidney failure Jay'Shawn experiences is what brought single dad James and his family of five from Chicago to Indianapolis last year. After living with a relative who died last January, he and his children moved to Indianapolis to seek medical treatment for Jay'Shawn.
James, a certified plumber, works maintenance at the apartment complex where he's lived for a month — an apartment paid for by nonprofit Family Promise of Greater Indianapolis. He says he's thankful for their support.
"Times is hard now, and a lot of people are just worried about self-love so there are not too many people out there sincere about helping others," he says.
Every day, Family Promise gets 10 calls from families that staff has to turn away because the shelter program is at maximum capacity. Organizers say other family shelters in Central Indiana report similar call rates.
IUPUI housing policy expert Kelsie Stringham-Marquis says the issue comes down to Marion County shelters that don't always have beds considering a demographic of a father with children.
"[There's] a chaotic outside factor there's not always going to be a bed available that matches my family dynamic and my family structure," she says. "That creates a lot of tension and complication for individual families who are navigating housing instability."
The latest Marion County Point-in-Time Count shows the number of people experiencing homelessness in Indianapolis increased by 1% to 1,588. Fifty-four percent of people counted identified as Black or African American, which Stringham-Marquis says shows there's a disproportionate rate of Black Hoosiers experiencing homelessness.
Advocates hope the next count, set to begin later this month, brings a more accurate count of Hoosiers without a home.
In a year full of challenges, CHIP has responded to the pandemic by establishing non-congregate shelters throughout the city and expanding outreach to unsheltered, homeless families at high-risk for contracting the virus for rapid rehousing.
Jay'Shawn, who also suffers from asthma and high blood pressure, has siblings who are also battling health disparities including strokes and autism. James says he is proud he's able to keep his family together during their health challenges. He'll still spend "most of" his check to pay the $30 roundtrip for his son to get to dialysis.
February is also a time for hope for the Robersons. The single father says he's hoping he'll be able to take over the lease by next month and keep providing for his family with his new job.
"I am grateful to have [Family Promise] as a part of my life," he says. "It's starting to get a little better."
This story was reported as part of a partnership between WFYI, Side Effects Public Media and the Indianapolis Recorder. Contact Hilary Powell at hpowell@wfyi.org. Follow her on Twitter @mshilary.