The story of Arnold Mickens will almost certainly start with the things he could do on a football field. It was special, first at Broad Ripple High School and then Butler University and even for a short time with the Colts, but it wasn't everything. Not even close.
Because Mickens was a proud father of four and grandfather of three who loved being in the stands at games to support his family. He chose a career in education so he could influence the lives of young people.
It's why Mickens' oldest son, Allen Mickens, is having a difficult time making sense of his father's death at 49 years old.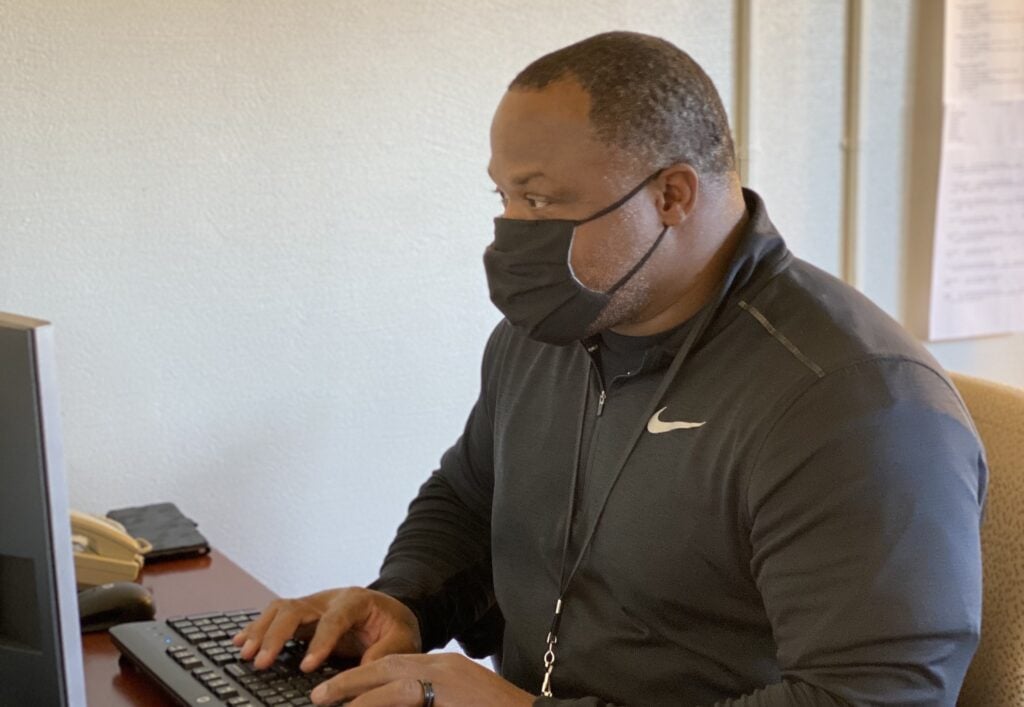 "His calling was to love, serve and support anybody who he came into contact with," Allen said.
It feels like the best people are taken too soon, he said, and if the universe's pitiless indifference blindly picks who stays and who goes, it's Allen and everyone else Mickens served whose task it is to assign meaning.
"He was the best man I've ever had the pleasure of knowing," Allen said.
Mickens died Jan. 18. He was a ninth grade counselor at Crispus Attucks High School, where he worked with the same cohort of students through their graduation. His first cohort was the class of 2021, so this school year was his first with new ninth graders.
"He had a very calm approach with students," Crispus Attucks principal Lauren Franklin said. "Very optimistic, very positive. But he was also pretty matter of fact, no nonsense. He had a way to inspire and motivate kids."
Franklin said the school has a crisis team working with students and staff.
Mickens passed a love for education to his children, including Allen, who is a principal in Indianapolis Public Schools. Allen's twin brother, Aaron, is an assistant principal in the district. Allen said one of his favorite memories of his father was working together almost 10 years ago at Indiana Math and Science, where Mickens was a dean and Allen was a teacher out of college.
"To be able to work with your lifelong mentor, I'll never forget that," Allen said. "I learned so much from him."
Mickens on the gridiron: 'He's a very mature young man'
Mickens wasn't a household name like fellow running backs Barry Sanders at Oklahoma State or Marcus Allen at USC, but the college football record books show Mickens among some of the most prolific players to touch the field.
He led the country in 1994 with an NCAA-record 2,255 rushing yards and easily led Butler with 18 touchdowns in 10 games. His record stood for four seasons at the Division I-AA level (now Football Championship Subdivision), and he currently ranks fifth in single-season rushing, made all the more impressive by the fact that teams play more games now.
Mickens rushed for at least 200 yards in eight consecutive games that season and finished with 10 such games in his two-year career. He once rushed for 203 yards in one half against Valparaiso.
In all, Mickens set 18 Division I-AA records.
Before he went to Butler, Mickens enrolled at Indiana University to play football. According to a Washington Post article in 1994, then-Indiana coach Bill Mallory convinced Mickens to switch to linebacker, a position he also played in high school, and said Mickens "wasn't good enough to run the ball in his program."
"I hear it all the time in my head," Mickens told the Post. "'You're not good enough. You're not good enough.'"
Mickens transferred to Butler and was inducted into the school's Hall of Fame in 2009.
Mickens was first a star at the now-closed Broad Ripple, playing both running back and linebacker. He was selected to the Recorder All-Stars team as a senior in 1990 and told the paper his goal was to play football at a Division I school.
Mickens also briefly played professionally with the Colts, which signed him as an undrafted free agent in 1996. Mickens played in three games that season. It took a lot of patience to get to those three games after the Colts cut him twice and brought him back as a backup fullback. He primarily played on special teams.
"He's a very mature young man," Colts running backs coach Gene Huey told the Recorder in August 1996. "I can see through my conversations with him he carefully thinks out things."
After the team brought him back a second time, Mickens admitted he was tired of the "roller coaster" of being on the roster and then not being on the roster.
"I am just trying to take things day-by-day and learn the offense," he told the Recorder later that season, "so that when I get a chance to get in there I plan to make the best of it."
By 1998, Mickens was an assistant athletic director at Brebeuf Jesuit Preparatory School.
"I bring to Brebeuf an excitement for knowledge of athletics and along with a willingness to learn," he said at the time.
Contact staff writer Tyler Fenwick at 317-762-7853 or email at tylerf@indyrecorder.com. Follow him on Twitter @Ty_Fenwick.