Black workers at the Indianapolis Public Library (IndyPL) continue to come forward to discuss their experiences with racism throughout the system. Staff members from various levels of leadership say they've experienced racism, and Black women seem to face the brunt of the issue.
While the library told the employees of plans to make changes — including an internal climate study — Bree Flannelly, whose address to the board May 24 inspired the outpouring of allegations from other workers, believes more needs to be done.
"I'm glad action is being taken, but I still believe [IndyPL CEO Jackie Nytes] should step down because she's been so dismissive and disrespectful," Flannelly wrote in a text message to the Recorder. "She owes me and all the Black women she's terrorized, disrespected and gaslit an apology."
Nytes previously told the Recorder she doesn't plan to step down.
Even IndyPL board members aren't immune to perceived experiences of racism.
'It's a very political atmosphere'
Dr. Terri Jett served on the board of trustees for four years after being appointed by the city-county council in 2016. During that time, Jett was the liaison between the library and the library board foundation, chair of the library board finance committee and chair of the library board facilities committee.
Jett ran for president of the board and during a board meeting Jan. 27, 2020, she emphasized her contributions to IndyPL, describing herself as a "very active and engaged library trustee."
Her opponent, Judge Jose Salinas, was on the board for eight months before winning the election by a vote of 4-3. Jett and board members Drs. Patricia Payne and Khaula Murtadha — all Black women — voted for Jett.
Despite her tenure, Jett wasn't surprised by the outcome of the election.
"It's a very political atmosphere, and there were also two people that were brand new to the board," Jett said. "I felt that perhaps they would be reasonable people and go by merit as presented."
Before being elected, Salinas hadn't chaired any committees. Both Jett and Payne feel there was a concerted effort to keep Jett from becoming board president because she was frequently outspoken about her concerns with the library, often butting heads with Nytes. Specifically, Jett voted against three resolutions concerning CEO raises and contract extensions. According to Jett, Salinas "rarely challenges [Nytes] in any decisions."
Jett described finishing her last year on the board under Salinas as "difficult."
According to Jett, Salinas was antagonistic toward her and "positioned himself as if he was watching me closely." Further, she said Salinas limited her ability to work as the chair of the strategic planning committee and threatened to remove her from the position.
"We didn't agree on some issues, but she was the chair," Salinas said. "But we both agreed that we needed to forward our library system. … I would dispute [those claims]."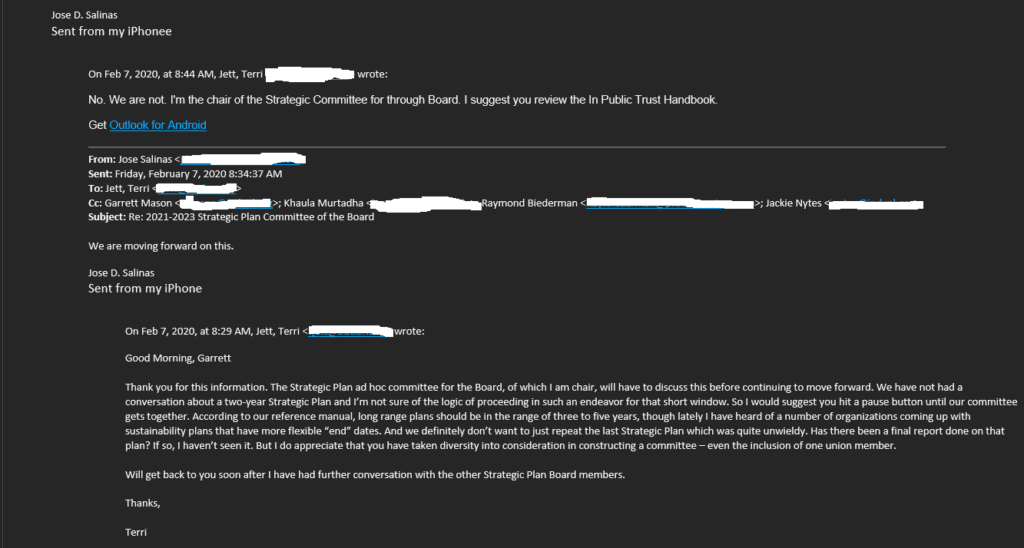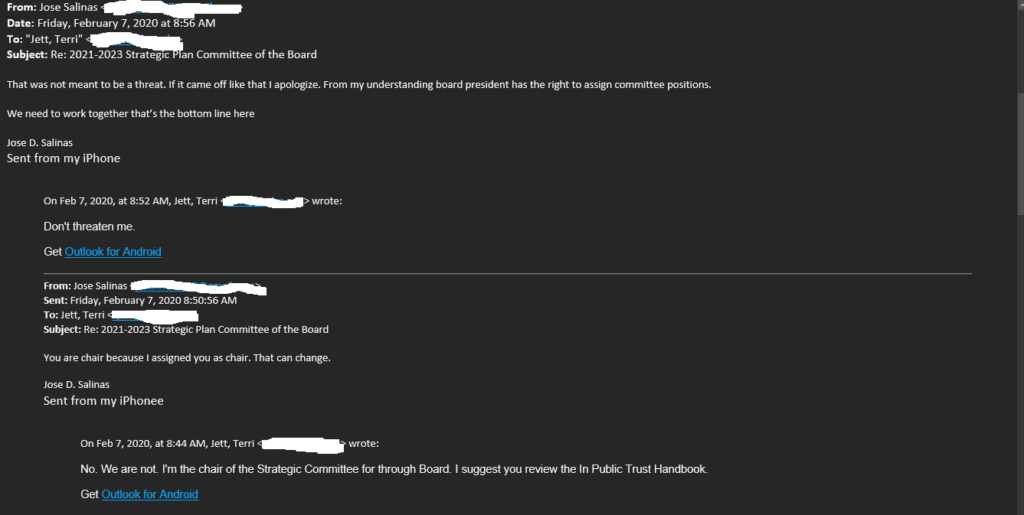 Salinas was appointed to the board by Indianapolis Public Schools.
"There were no Latinos on the board, and they wanted some representation," Salinas said. "I was asked, and I thought it was time for me personally to get back into the community. … I'm disheartened if anyone thinks I'm not sensitive to diversity issues. Diversity is so important in how I run my personal life and my public life."
Jett also claimed Black employees at IndyPL were "quick to be fired" and it was the board that recommended a chief diversity officer be hired because "we saw a lot of Black people having to appeal their punishments, and it went right to the top," she said.
Michael Torres, president of the Library Workers Union's local chapter, concurred with Jett's assessment.
"As union president, I sit in grievance meetings," Torres said. "I can name two meetings where [Nytes] has said 'fire these people,' on the spot, and those decisions have been overturned by the board. In one instance, she wanted to have these two guys who worked in security fired. Come to find out, they weren't trained properly, but she wanted to fire them immediately. They were both Black."
IndyPL leadership said they can't address personnel issues but offered a statement:
"The library takes all personnel issues seriously and deeply regrets if anyone ever felt unsupported in their role with the library. Our CEO, Jackie Nytes, is committed to the DEI work and has been a driver of the equity work taking place throughout the library."
Promising changes
Following the allegations, Nytes sent an email to staff, obtained by the Recorder, promising change within the system.
"I am heartbroken to read some of the statements included in the Recorder article, including from board members," Nytes wrote. "We value our staff above all else and are deeply sorry for the troubling experiences that some have had."
Nytes, who has served as CEO since 2012, promised to bring in an outside expert to assist with personnel issues, and a third-party consultant to conduct an internal climate study to "provide a roadmap for improving the employee experience."
Board member Murtadha will oversee the climate study. More information will be released following the board meeting June 28.
"Any public serving institution has to hold itself accountable for the way it works with the public," Murtadha said in an interview. "That's our responsibility as a board … and this is not something we're going to shy away from. We've been talking about it, and clearly a change is needed."
Increase in diverse hires, disparities in pay
In 2020, 19% of new hires in IndyPL were Black. However, an increase in diverse hires doesn't always mean equal pay.
According to a former member of the executive committee, whose name is withheld for professional concerns, Black employees were frequently paid significantly less than their white counterparts.
The source, who was a department director, said a Black woman hired to replace a white man who was moved into another position was paid $11,000 less. The woman had the same job title, credentials and work experience as the man she replaced. IndyPL did not respond to this matter, citing personnel concerns.
'Black women are targeted'
The anonymous source also said she faced retaliation after voicing complaints to the board, including Nytes questioning her use of library funds, accusations of being incompetent and trying to remove her from her post by creating a "mob mentality."
In one instance, the source said Nytes told another employee to search her office for anything indicating she was lying about her travels, paid for by IndyPL.
"The allegations are inaccurate, incomplete, or lack appropriate context," Nytes said in a statement. "More context cannot be provided for accusations regarding confidential personnel matters."
A party familiar with the incident confirmed the situation in a text chain seen by the Recorder.
"Black women are targeted within IndyPL," the source said. "Before I went to the board, my job performance review was stellar to being six pages long about all the ways that people don't enjoy working with me, how I'm inadequate in my job. It was a witch hunt."
Jett said, for Black women specifically, the climate of the library is taxing.
"I think that we pose a threat to [Nytes] because of her perception of who we are, which I think is misguided," Jett said. "She relates to Black women as if she has to control us. Black women are perceived as these strong, aggressive women, especially by people who have no real understanding of Black history, and so they stereotype us and then engage with us as if we're difficult to work with. It's challenging and extremely traumatizing."
Contact staff writer Breanna Cooper at 317-762-7848. Follow her on Twitter @BreannaNCooper.