The Butler Men's Basketball Team tipped off its 127th season of college hoops in historic Hinkle Fieldhouse on an unseasonably warm Monday night in November. Eastern Michigan Head Coach Stan Heath brought his squad south to play a Butler team that didn't resemble a typical BU group. This edition of the Bulldogs is different.
The school that built a national reputation on "The Butler Way," a style & philosophy that most accurately embodies the essence (teamwork, intelligence and mastering the fundamentals) of what has given Indiana an international reputation as the pre-eminent basketball culture in the world, has only two native Hoosiers on its roster. Fifth-year senior John-Michael Mulloy and freshman walk-on Ethan McComb will be the only Indiana kids wearing blue and white this season, and neither will see meaningful minutes.
Butler University men's basketball coach Thad Matta is betting on six transfers from schools like UC Irvine, Michigan State, St. Johns, Northeastern and Bucknell to help him in his quest to get Butler basketball back to the mountaintop of the college game.

On Monday night, the faithful trekked to W. 49th St. to get their first taste of this gumbo that Matta has been cooking since April.
Opposing coach Stan Heath has had success in Indianapolis before. He was on Tom Izzo's Michigan State staff the last time a Big Ten team won a National Championship. It was the year 2000. That game was six miles south of Hinkle at the old RCA Dome, and Heath's Spartans were running with Mateen Cleaves, Morris Peterson and Jason Richardson. Twenty-three years later, the game is on a smaller stage, and Heath's personnel is a little different as his Eagles were picked pre-season to finish second to last in the MAC.
Early on, the action was typical of an opener: sloppy. Seven of the ten starters were transfers playing in their first college game at their new school. The Dawgs and the Eagles went back and forth, trading turnovers and missed shots. Butler was up 5-4 at the first, under 16:00 minute television timeout, with all 5 points coming from 2021 Michigan Mr. Basketball and Michigan State transfer Pierre Brooks II. Brooks showed he might be the player Matta can build a team around. At 6'6 and 240 pounds, he made it clear early on that he has a chance to be special, going up high, with two hands, to snatch rebounds against EMU's big front line.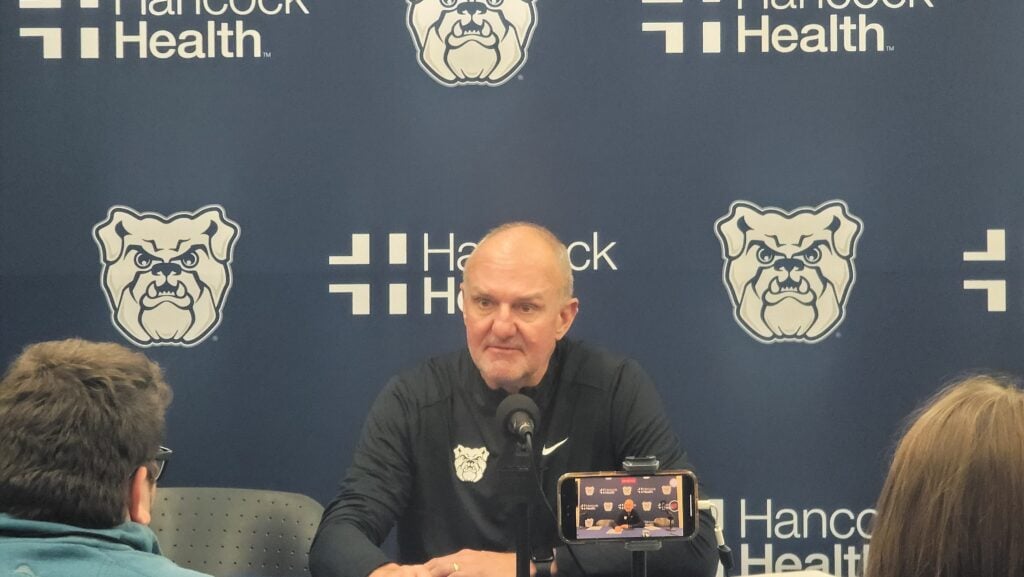 Butler came through the ten-minute markup 15-13. The following seven minutes saw the Dawgs finally settle into a rhythm, scoring on seven straight possessions to push the lead to double digits. One of two returning players for Butler, 6'10 Sophomore Connor Turnbull, hit a driving layup and was fouled, followed by a shot made by Jahmyl Telfort jumper. Then Brooks, Jalen Thomas and UC Irvine transfer DJ Davis joined the fun. Brooks went to the bench with his second foul late in the half, allowing Eastern Michigan to go on a quick 7-0 run that got them within eight points at halftime.
The second half was all Butler. Eastern Michigan cut the lead to 36-31 at the 18:00 minute mark, but the Eagles could not get any closer. St. Johns transfer Posh Alexander, Bucknell transplant 7'1 Center Andre Screen and Northeastern newcomer Telfort played big in a ten-minute stretch that pushed a five-point Butler lead out to 68-47 with 8:00 left in the contest. It was clear that the Eagles were done as Butler grew the lead to 40 points in the last few minutes of garbage time.
The Bulldogs ended up shooting 61% from the field in the second half and 85.7% from the line. They put six players in double figures, led by the chiseled, 6'7 Jahmyl Telfort. If Game one is a good indication, the depth of this team will be a strength moving forward. Coach Matta said after the game, "We've got to learn each other in terms of [who has the] hot hand. I thought we did a good job of finding Pierre, I thought we did a really good job of finding Jahmyl. We just got to keep building."
Butler is back in action on Friday night at Hinkle Fieldhouse versus Southeast Missouri State. Tip-off is at 8:30 p.m.
---
Austin Taylor is the Executive Director of The City League and can be reached at austin@thecityleague.org.
Multi-media staff writer Noral Parham III contributed to this report. For more news courtesy of the Indianapolis Recorder, click here. You can also visit the Indiana Minority Business Magazine by clicking here.