When Kelsey Speigner and Adam Datema were starting their coffee roasting business, it was Datema who typically took the lead as the more public-facing half of the ownership duo for Circadian Coffee.
Datema is a white man, and that's by and large who runs the coffee business in the U.S. — at least, after the beans get here from Central America, South America and Africa. Speigner, a Black woman and majority owner, knew that's just how it had to be.
Take financing as an example. They had a hard time getting Circadian going because business loans weren't easy to come by outside of loan sharks who wanted to charge exorbitantly high interest rates. The two strikes, Speigner said, were her being a Black woman and both of them being in their 20s.
It's difficult for Speigner to recall specifics, but there have been other times where she asked Datema to take the lead, knowing he would fare better as a white man.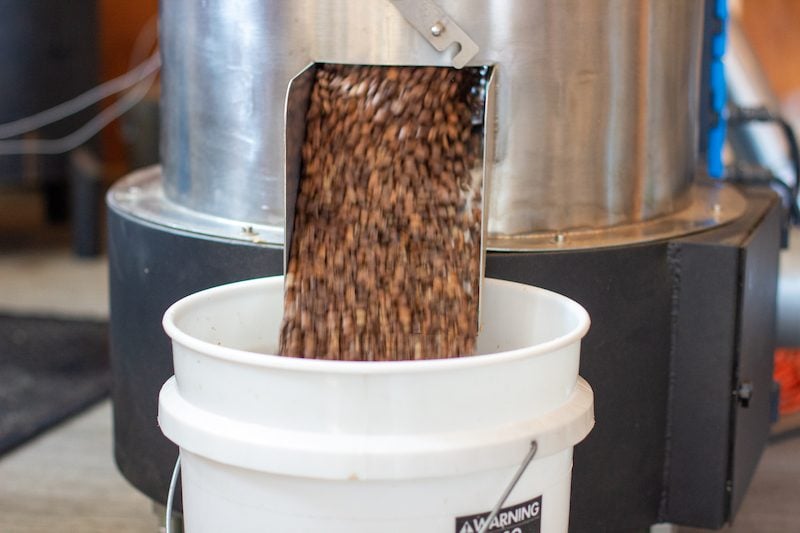 "And I know it, and it's not a great feeling to know it," she said.
That was then. Circadian started in 2016, and things have changed. It's fashionable to be a Black-owned business after the Black Lives Matter protests in 2020.
People started emailing to verify Circadian is Black owned. There are more interview requests now. Some customers pull up to the pickup window and, upon seeing Datema standing there, ask if the business is actually Black owned.
"So I have to come wave and be like, 'I'm here,'" Speigner said with a laugh.
CIRCADIAN COFFEE
Circadian Coffee, which started in 2016, is a Black-owned coffee roastery. It is not a cafe, but you can buy bags of beans, along with cold brew by the gallon and 96-ounce to-go boxes of hot coffee.
• Location: 2045 E. 46th St.
• Where to get coffee: Circadian Coffee is in multiple cafes. Find a full list at circadiancoffee.com.
It wasn't until last year that the company website even mentioned Circadian is a minority woman-owned business.
The shift has been uncomfortable in some ways. Speigner and Datema don't always know who to trust. They've turned down opportunities to appear at events because it seems like some organizers have only selfish reasons for inviting them — wanting to say, "Look, we know Black people," as Speigner said.
The two are more skeptical now.
"Are you interested in us because we're Black-owned, or are you interested in us because we do good work?" Datema said. "We want to be known for doing good work, you know?"
If not for some bad luck, Circadian Coffee wouldn't be in Indianapolis; it would be in Detroit. Speigner and Datema tried for a year and a half to make that work, but it never did. They knew they wanted to be in the Midwest, so they tried Indianapolis and had their location on East 46th Street within a week of contacting the landlord.
Circadian isn't a cafe, so you can't go and buy a cup of coffee. The company is primarily a wholesale roastery selling bags of beans, along with cold brew by the gallon and 96-ounce to-go boxes of hot coffee.
Speigner is from Maryland. She graduated from High Point University in North Carolina with an entrepreneurship degree and got into the coffee business shortly after. She was working for a roaster in Boston when she met Datema, who is from Fort Wayne. They decided to go into business together because of their similar outlook on what coffee should be.
The philosophy at Circadian is coffee can be good without all of the over-the-top aesthetics that have come into vogue.
Some people want to know everything about how the bean got from the farm to the cafe — right down to knowing the name of the farmer's dog, Speigner joked — but most everyone else just wants that basic cup of coffee in the morning to get their day going.
"Our whole thing is coffee doesn't need to be super expensive or complicated to be good or to fit your functional needs," Speigner said.
Datema is the head roaster and said Circadian puts out 200-300 pounds of coffee in a normal week. Their busiest time of the year is fall and winter.
Circadian's coffee is in eight cafes full time and another few on a rotating basis. See a list of where Circadian Coffee is sold online.
Contact staff writer Tyler Fenwick at 317-762-7853. Follow him on Twitter @Ty_Fenwick.