A coalition of clergy groups is calling for local Democrats to elect an African American as the next county party chairperson following the resignation of Kate Sweeney Bell, who stepped down from the position sooner than expected as part of a campaign promise as she runs for office.
The coalition — made up of the Concerned Clergy of Indianapolis, Baptist Minister's Alliance and and National Action Network of Indiana — said in a statement the next chairperson, aside from being African American, should not already be an elected official.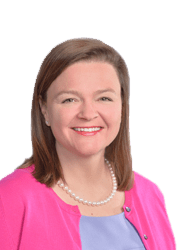 Ashley Hogue, a spokesperson for Concerned Clergy, said the group's understanding is there are four people interested in the position, but she would not say who the four people are.
Sweeney Bell had said she would resign her position with the Marion County Democratic Party should she win the county clerk election in November. Sweeney Bell resigned Aug. 29, party spokesperson Jeff Harris confirmed. IndyStar was the first to report her resignation.
Though Sweeney Bell's exit came sooner than expected, county clerk is likely a safe seat for Democrats. The current clerk, Democrat Myla Eldridge, won with 64.5% of the vote in 2018.
Harris said there will be a meeting of precinct committee chairs and vice chairs within 30 days to elect a new party chairperson. Per party rules, candidates have to be a party member, qualified voter and county resident. The current vice chair, David Bride, is now acting chair until a replacement is elected.
Earlier this year, members of the Marion County Black Elected Officials and Indiana Black Legislative Caucus called for Sweeney Bell to resign. They said she "abused her power" because, as party chair, she had the power to appoint people to vacant precinct committee party positions. Sweeney Bell has also been county recorder since 2015.
Other calls for her to resign came in later months, and criticism extended to Mayor Joe Hogsett and Rep. Andre Carson, who critics said weren't taking complaints seriously.
Black legislators and political activists have said the local Democratic Party is an insider game that discourages potential Black candidates from seeking the party's formal endorsement in a process known as slating. In May, Hogsett said it's time for the Marion County Democratic Party to end slating, a decision that would have to be made by the county party's central committee.
Contact staff writer Tyler Fenwick at 317-762-7853 or email tylerf@indyrecorder.com. Follow him on Twitter @Ty_Fenwick.