The delta variant of COVID-19 now accounts for almost all new cases in Indiana and across the country, prompting renewed calls for masking and social distancing — even for those who have been vaccinated.
Gov. Eric Holcomb and State Health Commissioner Dr. Kristina Box said there won't be a new mask mandate from the state. Box said at a recent press conference she is "strongly urging" people to follow updated guidance from the Centers for Disease Control and Prevention (CDC), which says people who are fully vaccinated should wear a mask indoors if they are in an area with substantial or high transmission of the virus.
According to CDC metrics, most of Indiana, including Marion County, is experiencing substantial or high transmission, meaning there have been at least 50 new cases per 100,000 people in the last seven days.
Why are scientists worried about the delta variant?
The delta variant is more contagious than other known strands of the SARS-CoV-2 virus, and it's more likely to break through the barriers set up by vaccines, hence the term "breakthrough" cases or infections.
An internal CDC document, obtained by The Washington Post after the agency issued its new guidance, shows the delta variant is more transmissible than Ebola and smallpox. Studies have shown people infected with the variant have as much as a thousandfold more of the amount of virus than people infected with the original version.
Viruses, like all other living things, mutate when they reproduce. Many times, mutations are inconsequential, but sometimes they create a genetic advantage for the virus.
The extent to which the delta variant is able to break through vaccine barriers is becoming clearer. In Indiana, where 94% of new COVID-19 cases are of the delta variant, the likelihood of someone who's fully vaccinated contracting COVID-19 is still low: There have been about 3,700 cases, or 0.126% of everyone fully vaccinated, according to the state.
CDC data has shown vaccinated people can carry just as much of the virus in their nose and throat as unvaccinated people and may spread it just as easily, although less often.
Did we miss an opportunity to get ahead?
Dr. Curtis Wright, president and CEO of Eskenazi Medical Group, felt this coming. Many states still haven't fully vaccinated half of their adult population, which has allowed the virus to continue to spread while mutating and causing illness and death.
"I think that there was an opportunity lost," Wright said.
He doesn't think it's impossible to get back on track, but that will take more time. Short of renewed mask mandates — or vaccine mandates — from local and state governments, Wright said the short-term solution could be businesses setting those requirements.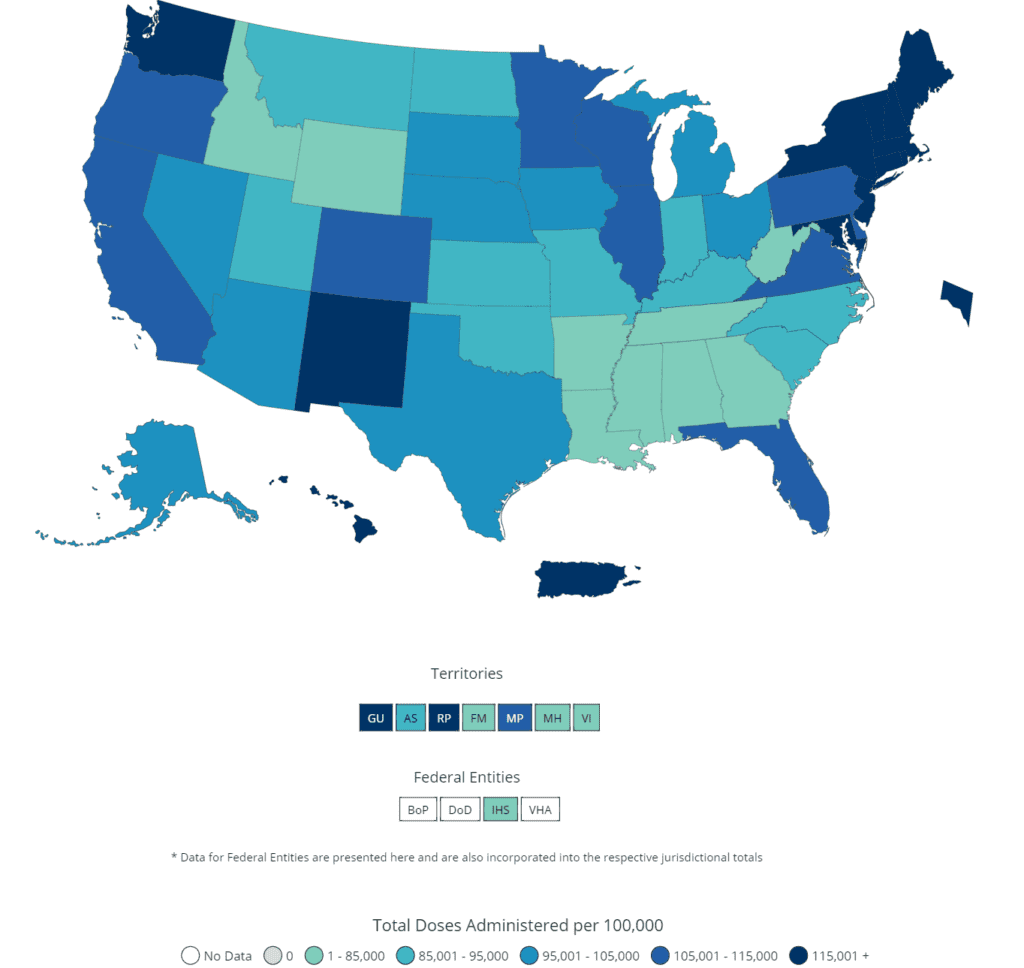 Dr. Nico Barros, who specializes in infectious disease at IU Health, said official data has likely captured a small portion of the actual number of breakthrough cases, since people are only likely to get tested if they've had a close contact or are symptomatic.
It's clear vaccines work, Barros said. For example, more than 99.99% of people who are fully vaccinated haven't had a breakthrough case that resulted in death or hospitalization, according to the CDC. Still, he agrees with the CDC's new mask guidance.
"If a big group of the society doesn't do what they're supposed to do, then we'll all struggle," Barros said.
Where is Indiana with vaccinations?
About 2.9 million people have been fully vaccinated in Indiana. That's about 55% of the adult population and just over half of the population that's 12 and older (the youngest Americans eligible for a vaccine). About 58% of the entire U.S. population has been fully vaccinated.
Marion County is ahead of many other counties with a vaccination rate of 52,226 per 100,000 people, although that's still behind most neighboring doughnut counties.
Box warned that if Indiana doesn't increase its rate of vaccinations — preferably to 80%, where most scientists agree is the mark for herd immunity — the virus will continue to mutate.
"What I hope is that we all share a personal responsibility to do no harm," she said.
Contact staff writer Tyler Fenwick at 317-762-7853. Follow him on Twitter @Ty_Fenwick.