Doris Shaw has had diabetes longer than there have been footprints on the moon. It's been 55 years of managing symptoms, battling side effects — some minor, some more serious — and learning everything she can to battle a chronic disease some call a silent killer.
Shaw, 82, lives in Pike Township with her 80-year-old husband, Dan. They've been married for 53 years.
Dan doesn't have diabetes — though he was "knockin' on the door" and has had to pay closer attention to his diet and exercise habits — but more than a half century of being married to someone with diabetes has made him knowledgeable. He knows how to read the continuous glucose monitoring system in Doris' left arm and is quick to chime in with any obscure medical term that Doris can't think of.
The two go to diabetes seminars and have attended classes at the Marion County Public Health Department for years. Doris had a lot of catching up to do after her diagnosis, when doctors put her on medication and only told her to eat healthier. She went on insulin shortly after.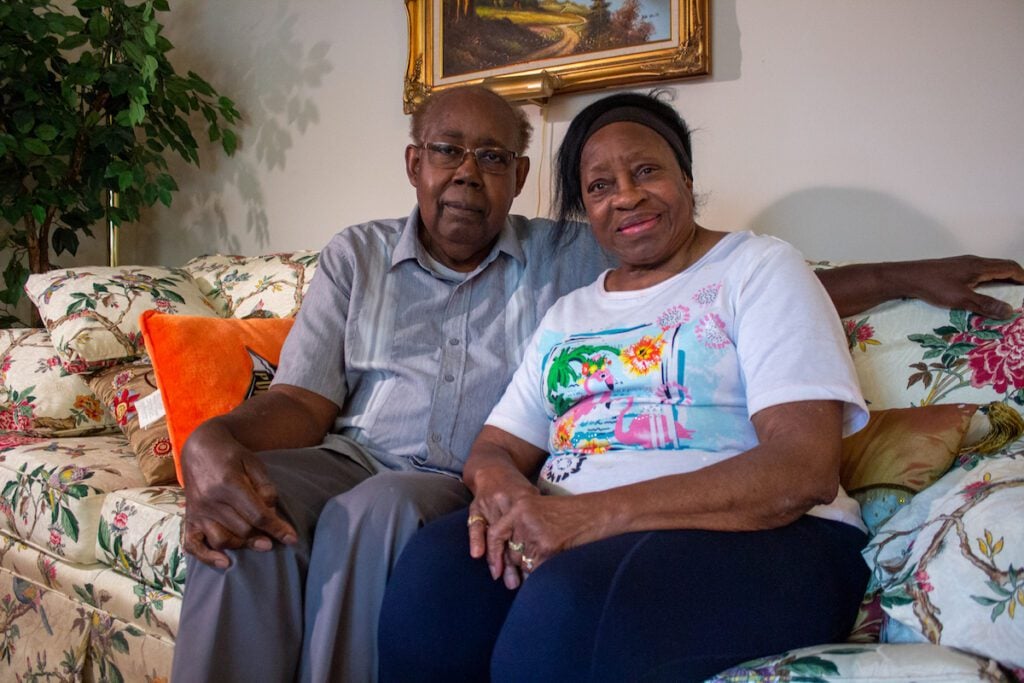 "Learn as much as you can about diabetes because you are the person that's really in control," she said.
Doris is not unscathed. She needed a kidney transplant in 2001 and has lost vision in her right eye, which gets an injection every eight to 10 weeks.
"It hasn't been easy," she said, "but I've managed it pretty well."
Diabetes is at 'critical levels'
More than 738,000 people in Indiana have diabetes, including Type 1, Type 2 and gestational, according to the American Diabetes Association. An estimated 160,000 of those people have diabetes but don't know it, and another third of the general population have prediabetes.
The Centers for Disease Control and Prevention (CDC) estimates 1 in 3 people born in 2000 will become diabetic. The odds are more like 50% for African Americans and Hispanics.
The numbers are at "critical levels," said Dr. Cameual Wright, vice president and market chief medical officer at CareSource, a nonprofit health plan.
INSULIN: Millions of people need it. Why is it so expensive?
Diabetes has become so prevalent that it seems many have adopted a mindset of inevitability — that diabetes is everywhere and will eventually take its toll.
Lisa Staten, an associate professor in the Fairbanks School of Public Health at IUPUI, is the principal investigator for the Diabetes Impact Project Indianapolis Neighborhoods (DIP-IN). She said it can be difficult to get people to participate because of that mindset.
"They think it's a natural progression that's gonna happen no matter what," she said.
Another part of the problem could be how much more common it has become for younger people to be diagnosed with diabetes. The CDC estimates roughly 5.7% of new diabetes cases are diagnosed in people between the ages of 18 to 29.
Dy'Ann Jones was diagnosed with Type 2 diabetes when she was 27, and her diagnosis came by chance. During a routine doctor's appointment while living in Georgia, Jones mentioned she was struggling with dry, itchy skin that wasn't improving. After asking a few questions, her doctor ordered a blood glucose test. After two tests came back with blood sugar levels above normal range after fasting, Jones was diagnosed with diabetes.
"I had to change my life," Jones said. By following a diet plan created for her by her doctor, exercising and taking medication, Jones' diabetes is now well-controlled.
Disparities in access, care
African Americans are more likely than whites to have diabetes, largely because they are more likely to have risk factors and because, once diagnosed, they are less likely to have adequate access to care. The CDC reports diet and environmental factors directly correlate to one's risk of developing Type 2 diabetes.
For example, people struggling with food insecurity — either due to living in poverty, living in a food desert or both — are more likely to have diabetes, according to the National Center for Biotechnology Information. This issue is two-fold; a person who can't afford healthy food options is more likely to eat food lacking in nutrients and vitamins, leading to obesity and cardiovascular issues, which increases one's chances of developing diabetes.
Further, for people with diabetes, a lack of access to healthy food options makes managing their disease more difficult. "When people find it difficult to access sufficient food, tailoring their food selection to a diabetes regimen is even more difficult," researcher Enza Gucciardi wrote.
In Indiana, 33% of residents lack adequate access to healthy foods, and Black Hoosiers are more likely than any other demographic to experience food insecurity.
Poverty also plays a role in diagnosis and treatment of the disease. The CDC estimates 1 in 5 Americans with diabetes don't know they have the disease. Dr. Arjun Sinha, a doctor who specializes in kidney care at IU Health and the VA Hospital, said poverty keeps people from receiving health care. Diabetes is one of the leading causes of kidney disease.
"A lot of the patients I see in late-stage renal failure, their health issues likely wouldn't have gotten as severe had they gotten care earlier," Sinha said. "Unfortunately, many people put off going to the doctor because of their finances."
Delaying treatment for diabetes can lead to long-term, irreversible health issues, including blindness and neuropathy, which can lead to amputations. The American Diabetes Association reports nearly 5 out of every 1,000 adults with diabetes will undergo an amputation, and Black Americans are over three times more likely than whites to need an amputation in their lifetimes.
Meeting people where they are
Health experts say it's not enough to expect people with diabetes and those at risk of developing diabetes to get to the doctor as often as they should and always have access to healthy food.
Adrianne Opp, a nurse who's part of the near west side neighborhood steering committee for the DIP-IN project, put it this way: Doctors can write a prescription for medication, but they can't write a prescription for healthy food the patient can't afford anyway.
DIP-IN is a yearslong project in partnership with Eli Lilly to address diabetes in specific neighborhoods. The long-term goal is to reduce diabetes-related complications and ultimately reduce the rate of diabetes. Community health workers assist people with not only their diabetes, but also other needs such as food access and even neighborhood conditions.
The broader approach to healthy living has made people more receptive to working with the program, community health worker Shakata Norwood said. Norwood said some workers have even delivered food during the pandemic.
Ida Allen, who was diagnosed with diabetes in 2004, credits DIP-IN for holding her accountable with her diet and exercise goals.
"If it wasn't for them, I don't know where I would be," she said.
Then there are efforts like the Diabetes Prevention Program at the YMCA of Greater Indianapolis, where participants who are at risk of developing diabetes can work on a healthy lifestyle to get ahead of the diagnosis.
Marjorie Gillard is adamant about attending her classes, working out multiple times a week and staying on top of her diet. She even times her walk to the Jordan YMCA — about a mile from her house.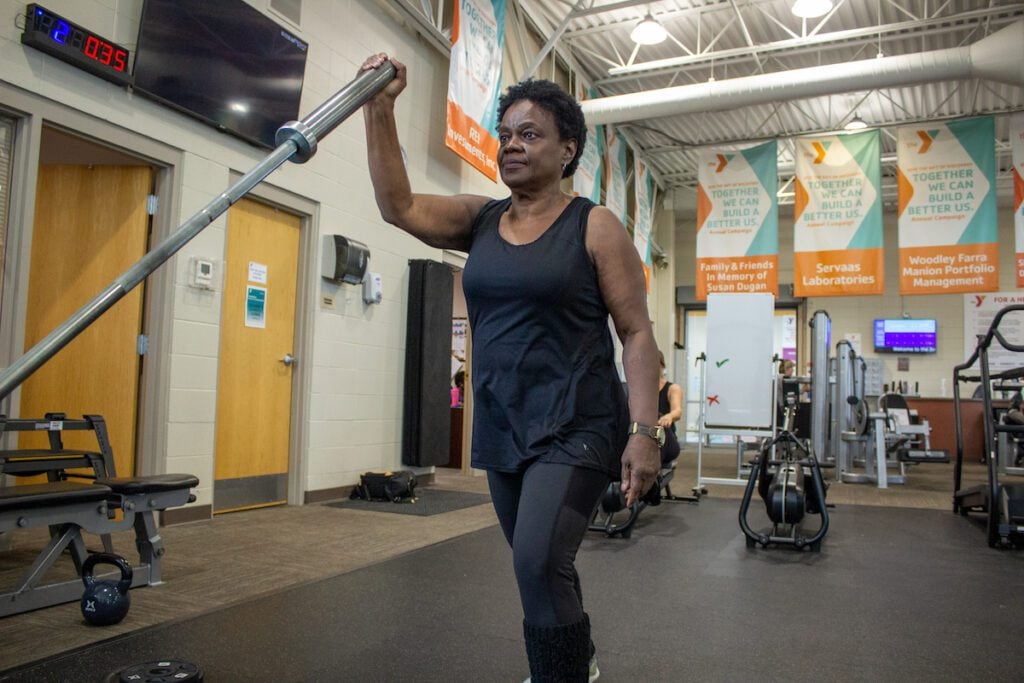 Gillard, 71, was first diagnosed when she was 62 but has since gotten her A1C level back to normal. (An A1C test measures how well the body controls the amount of sugar in the blood.) Still, she said she needs to keep the mindset that she has diabetes to stay motivated.
"It's a journey," Gillard said. "It doesn't stop."
Contact staff writer Tyler Fenwick at 317-762-7853 or tylerf@indyrecorder.com. Follow him on Twitter @Ty_Fenwick.
Contact staff writer Breanna Cooper at 317-762-7848 or BreannaC@indyrecorder.com. Follow her on Twitter @BreannaNCooper.