Kappa Alpha Psi Fraternity, founded in 1911 at Indiana University in Bloomington, will return home to its founding roots a year from now for its Centennial Celebration and 80th Grand Chapter Meeting.
A wide range of events and activities are planned for both Indianapolis and Bloomington that are expected to attract 20,000 Kappa Alpha Psi members, and their spouses and children from around the world.
At a July 5 press conference at the Indianapolis ArtsGarden, Kappa Alpha Psi officials proclaimed their excitement for this special centennial celebration in Indianapolis. With activities centered in the new wing of the Indiana Convention Center, plus events in the Kappa's headquarters hotel, the new glass walled skyscraper JW Marriott Hotel, the Kappa centennial celebration is expected to generate more than $15 million in revenue for local businesses.
The Kappa celebration isn't just for Kappa members. Kappa's national Grand Keeper of the Records and Exchequer Al White said, "We want to invite all Greek letter organizations to participate with us."
Organizers also have invited the Indianapolis community to the six -day convention, which will feature numerous activities that the entire community can participate in, including a health fair, a job fair, a gospel concert, R&B concert and comedy concert. National celebrities and newsmakers are also expected to attend.
Kappas will also participate in a partnership with IPS School 42, named after Kappa Alpha Psi founder Elder Watson Diggs. The partnership includes refurbishing the school's playground.
During the celebration, Kappa members and their families will travel 60 miles from Indianapolis to Bloomington for activities and events, where the fraternity was founded by Diggs in January 1911.
In fact, the fraternity plans ceremonies Jan. 5 in Bloomington and Indianapolis honoring the actual founding day of the fraternity, which has some 64,000 members worldwide.
As the headquarters to many national fraternities and sororities, Indianapolis Greek organizations are excited about the Kappa Alpha Psi centennial celebration.
Peter Smithhiser, president and CEO of the Indianapolis-based North American Interfraternity Conference, saluted Kappa. Alluding to Indianapolis hosting the 2012 Super Bowl, Smithhiser told the couple of hundred people attending the kickoff event, "When Kappa Alpha Psi meets here that will be the interfraternity Super Bowl for Indianapolis."
The Kappa Alpha Psi Centennial Celebration and 80th Grand Chapter Meeting begins with pre-activities July 2 through July 4, with official activities taking place July 5 through July 10. The event precedes next year's 2011 Indiana Black Expo.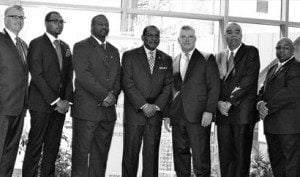 Kappa Alpha Psi Fraternity Inc. announced the fraternity will be celebrating its 100th anniversary July 2011 in Indiana. Pictured are speakers during the celebration kick-off and press conference. Left to right: Peter Smithhisler, president and CEO of the North-America Interfraternity Conference; Geordan Coleman, member; Eugene Murray, Indianapolis alumni chapter polemarch; Al White, grand keeper of records & exchequer for Kappa Alpha Psi; Don Welsh, president and CEO of the Indianapolis Convention and Visitors Association; Michael Owens, north central province polemarch; and Eugene Anderson, member.