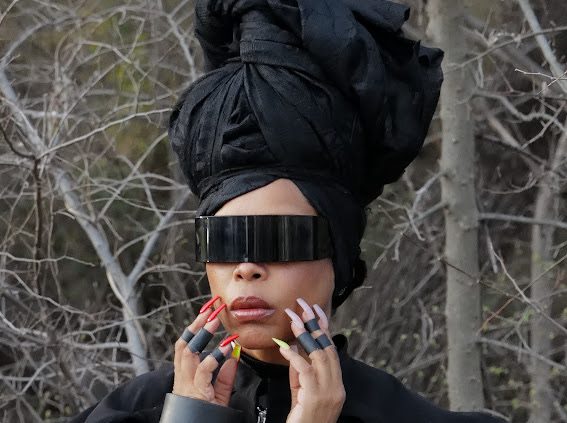 Music takes listeners on journeys of the mind through space and time. Like nothing else, music and lyrics can soothe, energize and invoke wondering and dreaming. Erykah Badu and yasiin bey accomplished all of the above on their recent St. Louis stop of Badu's 25 city summer tour, Unfollow Me.
Since blossoming onto the music scene in the late 1990's with her first album, Baduizm, this soul flower has staying power with music still relevant and in demand today. Unfollow Me tour is coined as a celebration of art, culture, light and love by the four-time Grammy winner.
With her earthy and eclectic style, the stage's backdrop featured alternating flashes of images of Badu adorned with bright colorful warmth inducing artwork. Badu ascended from the stage floor in her signature dramatic fashion adorned with a metallic silver hat, a cross between a top hat and a witch's hat, appearing first. Known for her stylized head dressings, Ms. Badu did not disappoint.
She lit up the stage in her white floor length coat with a ruffled, flowery top and sleeves and a full flowing wedding dress train-like bottom. She looked 20 feet tall like the song she opened her set with from her 2010 project New Amerykah Part Two (Return of the Ankh). African drummers beat cadences and breaks to welcome energy and excitement into the performance. Her signature incense and/or sage burning permeated the air of the Enterprise Center which added to the sense arousing environment.
Familiar favorites made up the show's playlist including "On and On," "Love of my Life," "Window Seat," and of course, "Call Tyrone." Throughout the show Badu interacted with the crowd as if talking to aunties, uncles and cousins in the living room. She clearly understood the reach she has amassed with her multi-generational audience. She told the audience she didn't want people to follow her, she instead encouraged people to set their own paths and blaze their own trails, hence the tour name Unfollow Me.
Her flare and drama come quite naturally. Over the years, Badu has exercised her thespian muscles accumulated a respectable filmography with roles in films like "The Cider House Rules," "What Women Want," and "The Hand of God." Her talent as an artist is clearly not bond to singing and songwriting
Like Badu, bey's work spans nearly three decades kicking off in 1999 with his first album, Black on Both Sides. With collaborative work as one half of Black Star with Talib Kweli, bey has been an impressionable force on Hip Hop and Rap music with nine solo albums and numerous collaborations under his belt. Last year he teamed back up with Kweli after a long hiatus for Black Star's second album, No Fear of Time.
And let's not forget his forays onto the silver screen and television in numerous films such as "The Italian Job," Spike Lee's "Bamboozled," "Brown Sugar," "Next Day Air," and the prolific "Something the Lord Made." Their music set ablaze a new focus on musicality and storytelling that focused on cultural and political in the late 90s.
As the opening act for the Badu's "Unfollow Me" tour, yasiin bey set the party off with a minimalistic approach. The songs performed were not as recognizable as his audience is used to hearing. Like many artists his rearrangements, key and tempo changes made figuring out some songs a bit like solving a puzzle. Still intriguing and engaged, bey connected with his audience with humor and through common ground and experiences.
His eclectic and intellectual cadence of rhythmic flow garnered bey a steady and loyal fan base over the years. Much of his work includes protests of political and racial oppression and unjust economic and societal structures.
The seven-time Grammy nominated bey, performed on stage with a DJ with various musical instruments concealed with black coverings decorated with white writing or painted seemingly random words and phrases like Oysters and Lokal Talent which he referred to periodically throughout his performance. Throughout the performance bey added more words on the black coverings and periodically sprinkled what appeared to be flower petals on the stage as performed. The backdrop of the stage featured a photo negative of a silent film which looked like a black and white film with reversed images. A bit indecipherable, however, it may have been from his Negus project.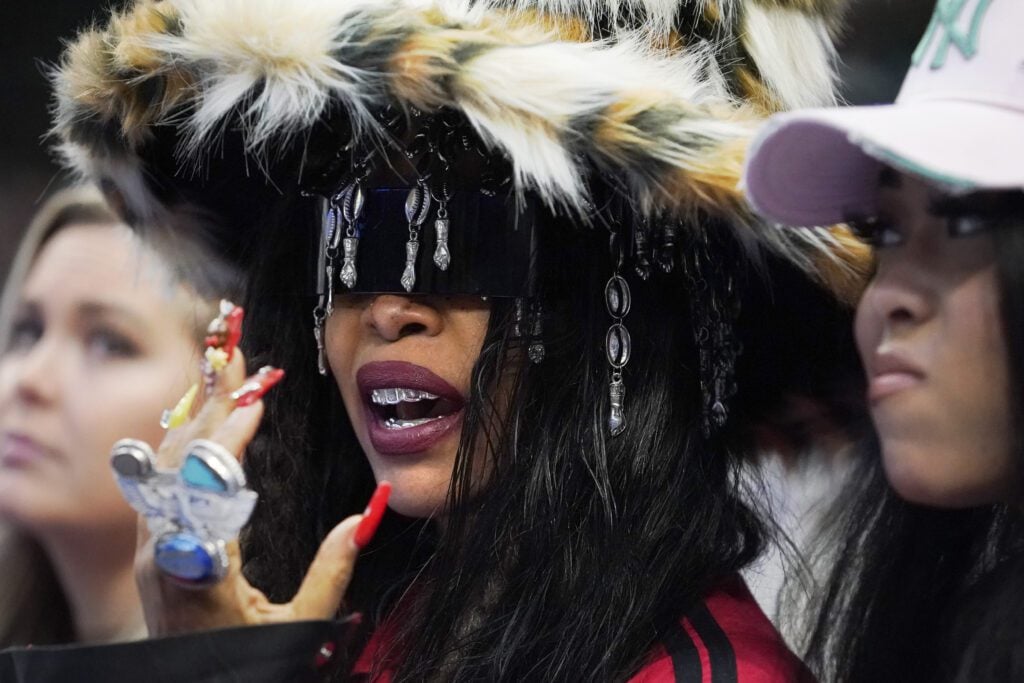 The Brooklyn, New York native released his most recent solo music in a nontraditional way in late 2019. Presented as a listening installation at the Brooklyn Museum, yasiin bey: Negus consisted of eight musical tracks in a 28-minute recording. According to the Brooklyn Museum's website, bey took the exhibition's name, Negus, from the word for "king" or "ruler" from Ge'ez, an ancient Semitic language of Ethiopia. The exhibit which ran for three months included art work from a number of artists created in collaboration with bey.
The two-month national concert tour throughout June and July skips around Indianapolis and lands in other cities throughout the region including St. Louis, Chicago, Nashville and Memphis. It is interesting that the tour diverted to other cities, including similar size and smaller market cities such as Nashville, Memphis. While Indy is climbing the tiered list of cities, its spot at #25 lies smack dab in the middle of the top 50 markets.
Another thing to consider is Indy's heavily populated live music concert schedule this year with a numerous shows this summer. Agile Indy music lovers don't shy away from road tripping to catch a great show. With the location in the middle of the country, travel to other major cities takes a mere two- to four-hour jaunt. Despite an extremely respectable reputation as a town which can handle and attract large events like conventions and sporting events including the NFL, NBA and NCAA Final Four competitions, Indianapolis still finds itself fighting for attention to attract some events. But with a full summer concert season, Indy's doing pretty well.
To check out more tour dates and cities go to www.unfollowmetour.com.
---
For more local news, click here.