Yesterday, Congressman André Carson (D-Indiana) joined other members of Congress in co-sponsoring a resolution urging President Trump to strongly condemn white nationalists, the Ku Klux Klan and others hate groups that make up the 'alt-right'. The resolution, introduced by Rep. Pramila Jayapal (D-Wash.), also calls on Trump to remove White House and Administration officials who support white supremacists, including Steve Bannon, Stephen Miller and Sebastian Gorka.
"The President of the United States and his advisors should serve as an example to the rest of the country," said Rep. André Carson. "As the country unites against this violent and hateful movement, people who fail to stand up to white nationalism and neo-Nazism should not be in a position of power."
This legislation:
Condemns the role of white supremacist, neo-Nazi, KKK and other hate groups in the "Unite the Right" rally and domestic terror attack in Charlottesville, Virginia

Denounces the increase in organizing, fear-mongering, racism, anti-Semitism, bigotry and violence perpetrated by white supremacists, neo-Nazis, the KKK and other hate groups

Offers condolences and sympathies to the families of Heather Heyer, Lt. H. Jay Cullen and Trooper-Pilot Berke M.M. Bates, and urges a quick recovery to those injured

Strongly urges the president to:

Fire individuals in the White House and Trump administration who have supported or encouraged support for white supremacists;

Quickly and publicly repudiate and denounce white supremacist, neo-Nazi, KKK and other hate groups;

Use all available resources of the Office of the President and the Cabinet to address the growing prevalence of such hate groups domestically;

Use his office to unite all Americans against hate.
Currently the resolution has 40 sponsors, and counting. Carson took to Twitter today saying: "The President should model American values for our nation. We shouldn't have to pass legislation for him to reject hate."
Yesterday afternoon, during a press conference at Trump Tower on infrastructure, Trump delivered controversial remarks on Charlottesville and the alt-right's involvement.
"I think there is blame on both sides," he said of the alt-right and counter-protesters, which he dubbed the "alt-left."
He went on to say the removal of Confederate statues is akin to "changing" history and culture.
"This week it's Robert E. Lee. I noticed that Stonewall Jackson's coming down. I wonder, is it George Washington next week? And is it Thomas Jefferson the week after?"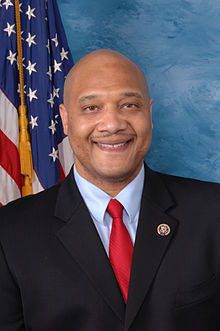 ANDRE CARSON