With these next weeks projected to be the worst in terms of the coronavirus pandemic, neighborhoods are hunkering down in preparation. The Martindale Brightwood community is no exception, as organizations are working feverishly to inform neighbors of the importance not only of practicing appropriate social distancing guidelines but are staying home for their own safety and that of the community at large. 
With a population of approximately 90% African American residents, the need to follow these guidelines is particularly critical, as national statistics are demonstrating a disproportionate impact form this scourge on Black Americans. In extreme cases, this disparity has borne out as African Americans have accounted for almost 70% of all COVID-19 deaths in cities such as Chicago in states like Louisiana. 
With disproportionate obesity rates, coupled with diabetes and hypertension, African Americans in general face increased risk of death should they contract the virus. These devastating impacts are a reminder that pervasive health indicators exacerbate the challenge neighborhoods such as Martindale Brightwood face in crisis mitigation. Simply put, the time to shutter in home has seldom been more critical, if ever.
To assist neighbors to adjust, several Martindale Brightwood organizations have aligned around a broad-based collective impact model that meets emergency basic needs, while also keeping residents abreast of activities and efforts to reduce the adverse impacts of the pandemic. Armed with two backbone agencies, the Edna Martin Christian Center and Public Advocates in Community Re-entry (PACE) Inc., and supplemented by community partners, including neighborhood CDCs, churches and schools, neighborhood residents are being afforded lifelines to maintain as the pandemic worsens. Under this strategy, adopted under the neighborhood's broader Martindale Brightwood 7 (MB7) initiative, the effort collectively addresses financial assistance, food access and broader communication via virtual case management, online programming and virtual newsletter updates.
The recipients of recently deployed resources as part of the COVID-19 Community Economic Relief Fund (C-CERF), EMCC and PACE purposefully aligned assets in the effort to gain broader community awareness and strategic resource allocation. As a result, this week, the partners launched an online application process that allows EMCC and PACE to assess household needs and deploy necessary supports. 
But from crisis, there is also opportunity. In fact, one of the unique strategies to be engaged beginning next week includes investment in community entrepreneurs that have adapted their enterprises or ministries to engage the neighborhood effort. Led by EMCC's Microenterprise Director Immanuel Ivey, the MB7 initiative will conduct a virtual workshop with community-based entrepreneurs to share information on resources designed to assist. Entitled SWOT this COVID-19, the workshop will also feature business enterprises that have found innovative ways to sustain and serve. 
The true character of a community is how it demonstrates resiliency in the time of crisis. No stranger to adversity, the Martindale Brightwood neighborhood is settling in for the fight of its life. 
Community individuals in need are encouraged to connect via the MB7 website, https://ednamartincc.org/martindale-brightwood-7/ to apply for assistance or for additional information. 
Barato Britt is the President/CEO of the Edna Martin Christian Center and a former Indianapolis Recorder correspondent.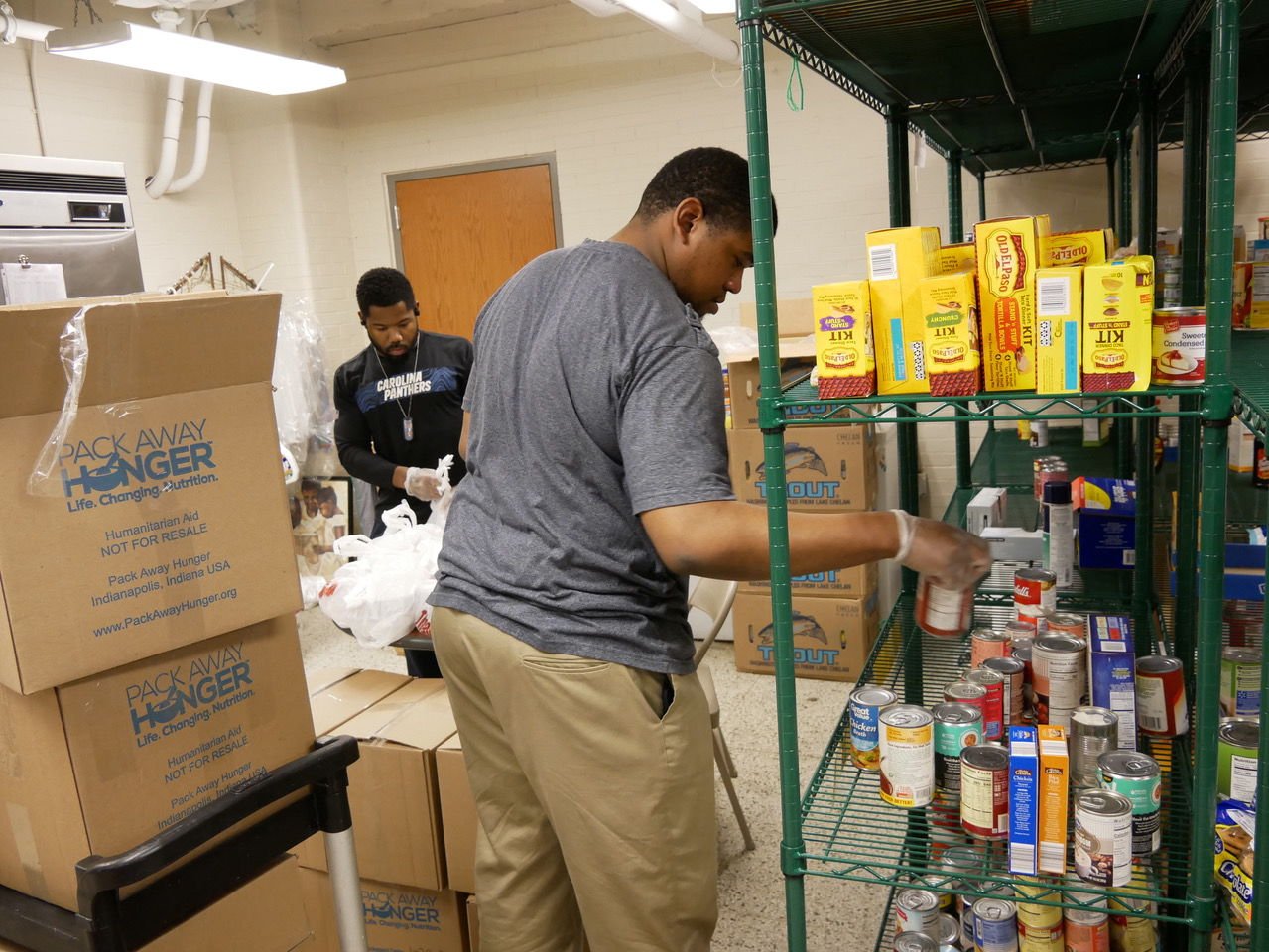 A food pantry at Edna Martin Christian Center provides necessities for Martindale Brightwood residents during COVID-19 health crisis. (Photo provided)