Artist Ian Weaver's The Black Knight Archive, Chapter I: Migration creates a fictional version of history of one black community.
Weaver's Black Knights are part medieval knight, part Black Nationalist – who have, ostensibly, lived within the "Black Bottom" community, circa 1940s.
The work centers on the Near West Side of Chicago, a large multi-ethnic community, and, specifically, the "Black Bottom" section of the Near West Side where black residents once lived. Much like Indianapolis's Indiana Avenue District, various parts of the Near West Side of Chicago and the Bottom were destroyed to construct an expressway and a university; as a result, the community lost much of its history.
 "The works will reinforce the role of the object as iconic, a conduit for memory and history," says Weaver. Opening August 1, 6-11 p.m. at The Indianapolis Museum of Contemporary Art (iMOCA) The Black Night Archive will run through October 18, with the hours of Thursday-Saturday 12-7 p.m.
 Weaver is constructing a fictive history for the Black Bottom community using a variety of fake elements: handmade museum vitrines, handmade maps and documents of the community, various faux sculptures and textiles, as well as installation and audio components.
Weaver's Black Knights used political, social, and guerrilla tactics to fight for the survival of the community. "The project speaks not only to the nature of the loss of this particular community's history, but also to the larger concept of how we, as individuals, communities and societies construct our own narratives, identities, and memories through our commemorations," says Weaver.  "These histories tell stories that occupy specific time periods, but (because of the subjective nature of memory and history) also travel backward and forward into and out of our own time."
The first chapter commission by iMOCA in this installment will explore the migration of the Black Knights to Black Bottom, U.S.A.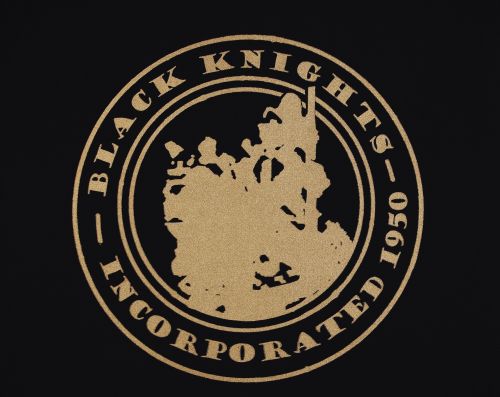 "Black Knights Incorporated" Crest