John Hurst, the Recorder's former art director who was known for his graphic design skills and love for art, died May 16. He was 67 years old.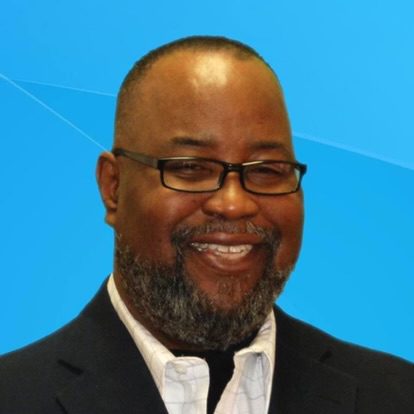 Hurst worked at the Recorder from 1986 until he retired in 2019. He also held the titles of senior graphic designer and photo editor.
When Hurst started his career, the paper still used a darkroom. His daughter Charity Hurst Lewis remembers going into the darkroom as a child, and Hurst would prop her up on the counter so she could watch him develop photos.
Lewis and her two sisters were Recorder babies, she said. They would sleep on the floor, eat dinner at the office — all to see their dad work.
Hurst also had his own business, Graphics to Go, which he used for his illustration and design work. Hurst either solely designed or helped design logos for organizations such as Indiana Black Expo, Joyful Sound Productions, Steward Speakers and The Write Lady, among others.
Hurst graduated from the Herron School of Art and Design at IUPUI and got a master's degree from Ball State University.
His children remember plenty of late nights, whether it was Recorder work or his own, but those didn't come at their expense.
"Saturday morning he's letting us pull on his face so we could wake him up, and he'd go play basketball with us for hours," his daughter Jocelyn Hurst said.
Along with his three daughters, Hurst had four grandchildren. He was a basketball coach, he used his art skills to help with school projects, he collected Marvel comics, and he loved music — everything from James Brown to Tupac.
"He was a very loving father and grandfather," said Jacqueline Hurst, his wife of 43 years. "His children and grandchildren loved him dearly, and he'll be missed by all of them."
Hurst was also a deacon at It Is Well Ministries, where he played the drums.
Hurst was known at the Recorder for his depth of knowledge about Indianapolis. He often served as a resource for reporters.
"I will miss John so much," former Recorder president Shannon Williams said. "He was a colleague, but also a teacher to me. I learned so much about design and photography from him. I will also miss his deep historical knowledge of Indianapolis and specifically the Black community. He was a treasure."
There will be a public viewing from 10 a.m.-noon May 25 at Kingdom Builders Community Church, 5502 E. 36th St., followed by a private family service.
Contact staff writer Tyler Fenwick at 317-762-7853 or email at tylerf@indyrecorder.com. Follow him on Twitter @Ty_Fenwick.
Remembering John Hurst
"I loved listening to John tell stories about growing up in Indianapolis or talk about the history of Black neighborhoods here. He always painted such vivid pictures and made life sound so much fun back then. He truly was a wealth of information about this city." -Recorder editor Oseye Boyd
"There was never a dull moment. He was creative, intelligent, funny and loved his music. John had us listening to everything from Jean-Luc Ponty to Snoop Dogg. And to listen to his stories, John was wild. I am so glad I was able to learn newspaper design from working with him. He was the best and will be missed." -Recorder production manager Jeana Ouattara
"I've known John since 1973 when I first began deejaying. He has always been available for me whenever I needed him. Every business card I have ever had except one, John Hurst designed. He has also designed every flier and ticket I've ever used. He was a great friend." -Thomas "Sparkle Soxx" Griffin
"When I first met John, I could tell he would be a great friend. And because he was a photographer too, our conversations were really great and full of experience-sharing. I will miss his conversations the most. John was a very sincere man. He was sincere about everything. He said what he meant and you could believe it." -Recorder photographer Curtis Guynn
"John and I worked together for decades. We both loved the Recorder. Our work had us there sometimes throughout the night. As we worked, we loved listening to music and talking about events. We watched our families grow. He was part of my family and will always be in our hearts." -Former Recorder production manager Jeffery Sellers