In our pre-pandemic world, the first Friday of each month in Indianapolis meant live music in Fountain Square and art galleries throughout the city were crawling with people. That changed when COVID-19 forced venues to close and Hoosiers to shelter in place. The Circle City Industrial Complex (CCIC) — a hub for local artists and vendors — is bringing First Fridays back, starting at 6 p.m. Jan. 7.
"I'm just hoping people can get back out," Anthony Armstrong, an artist at CCIC, said. "It's fun to see faces."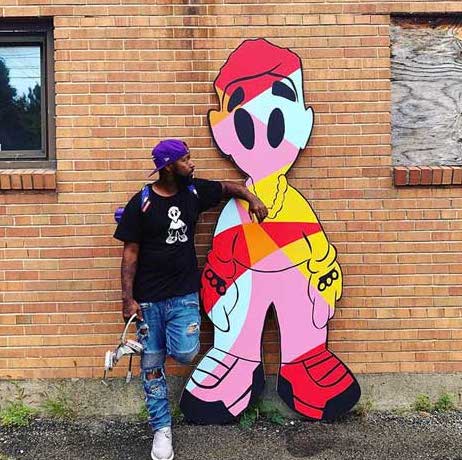 Armstrong is one of roughly 100 artists who will open his gallery at CCIC on Jan. 7. Armstrong does the bulk of his work, which consists of abstract paintings and photography, in his rented studio in CCIC, Studio B11. His pieces will be available to purchase during the First Friday event, as well as art of woodworkers, jewelry makers and more. To check out Armstrong's work, visit his Facebook page, Arts and Images by Anthony Armstrong, or his Instagram page, @aeaimages1.
Indianapolis native Kwazar Martin will showcase his work in the Schwitzer Gallery on the second floor of CCIC. Featuring acrylic and aerosol work, the exhibit, "Kwiz," is named after himself and his grandmother, Liz, who inspired him to pursue art.
First Fridays at Circle City Industrial Complex
To learn more about the CCIC and its First Friday events, visit circlecityind.com.
Visual art isn't the only pull for First Fridays at CCIC. Throughout the year, music, dance and other live entertainment can be enjoyed at First Friday events, and there's plenty of food and drink options if you're looking to grab a snack in between galleries. Visitors can grab a pint of the El Gato Mexican lager from Centerpoint Brewing in suite B01, or a hard cider from the New Day craft tasting room in suite D01. Those with a sweet tooth can get a scoop of balsamic dark chocolate ice cream or a root beer float from Lick Ice Cream Indy, located on the near eastside of the complex.
Another pull for people looking to have some fun in Indianapolis without breaking the bank? There's free parking right across from the CCIC building.
"It's a fun building to walk through and get lost in," Armstrong said. "There's a host of different artists, and we welcome the traffic. People can really make a night of it."
Each artist can decide whether they want guests to wear masks in their galleries, but CCIC strongly recommends everyone in attendance wear masks and socially distance as much as possible. Doing so will not only help curb the spread of COVID-19, but also help local artists get back on their feet after a stressful two years. Another way to help artists at the CCIC is to venture out beyond First Fridays.
"There's a large contingent of full-time artists who work there throughout the week," Armstrong said. "I'm there on weekends and evenings. We're always happy to have people come out and see us."
Contact staff writer Breanna Cooper at 317-762-7848 or email at BreannaC@indyrecorder.com. Follow her on Twitter @BreannaNCooper.