Indianapolis Public Schools is slowly rebounding from the effect COVID-19 has had on enrollment, but that's not the case at the K-6 level, where almost every grade is still below pre-pandemic numbers.
The culprits could include gentrification and housing instability.
Low-income and Black residents in Indianapolis have two things working against them when it comes to housing stability: Landlords evict more people here than almost anywhere else in the country, and neighborhood demographics have shifted as more communities experience gentrification, leading to displacement in some cases.
"We're not isolated from those realities," Superintendent Aleesia Johnson said.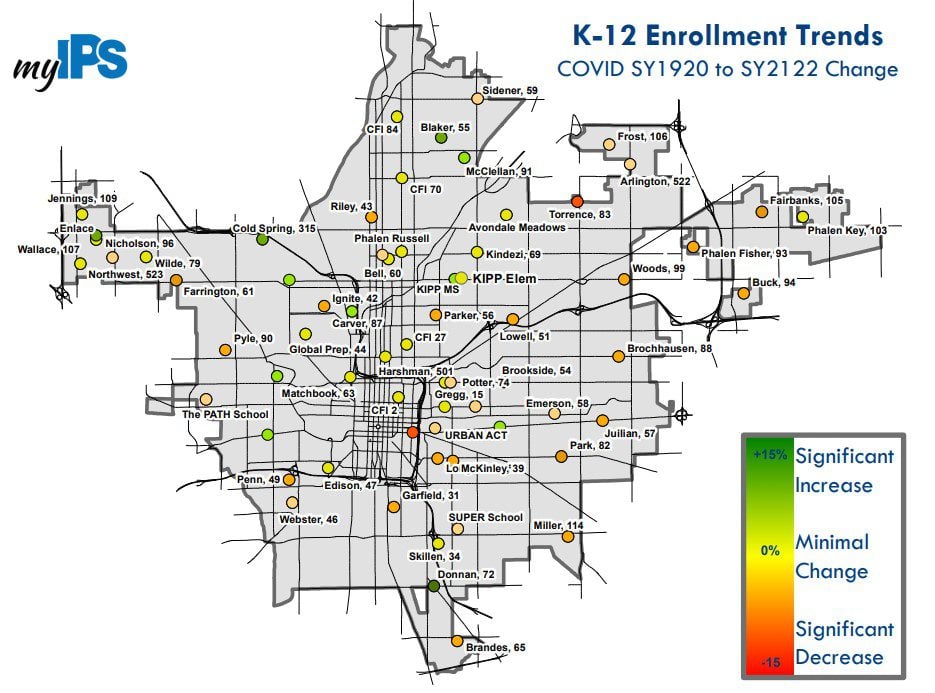 The fallout from those realities plays out in two ways. Just because a family needs to move because of an eviction or rising housing costs doesn't mean they'll leave IPS boundaries. Those students may stay in the district but at a different school. That would impact retention rates at specific schools but not necessarily the overall enrollment number for the district.
IPS provides transportation for choice schools anywhere within district boundaries, but if a student moves outside of the boundary for his or her neighborhood school, transportation could be an issue, especially for low-income families.
Other times, a family may move out of the district into a township school, or they may enroll their student into a private or charter school not affiliated with IPS. That would impact overall enrollment numbers.
Maps prepared by Patrick Herrel, the district's director of enrollment and options, show how housing costs have changed within IPS boundaries with two maps — one over the last one-year period and the other over 10 years.
The 10-year map shows the near east side and southeast side experiencing the highest spikes in housing costs. The one-year map shows virtually the whole district has seen at least a 10% increase.
The fact that housing costs have risen almost everywhere in the district over the last year makes it more likely that when families have to find somewhere else to live, they're looking outside of the district, Herrel said.
The only grade in K-6 to recover from the pandemic effect is first grade. Fifth and sixth grade are farthest behind.
The picture is much different in grades 7-12, where enrollment has increased across the board compared to pre-pandemic numbers. The largest increase is in 12th grade.
Teachers get a new contract
The school board approved a two-year contract with the teachers' union that includes a roughly 3% raise for the current year and another 3% next school year.
The agreement increases first-year teacher pay to about $49,000 this school year and $50,000 next school year. The district will also increase its 403(b) retirement fund match.
Contact staff writer Tyler Fenwick at 317-762-7853 or tylerf@indyrecorder.com. Follow him on Twitter @Ty_Fenwick.