That long wait is finally over. The Georgia Bulldogs, 41 years removed from their last national championship, rose to the top again with a 33-18 win over Alabama in the College Football Playoff national championship Jan. 10 at Lucas Oil Stadium.
The images that will show up in Georgia (14-1, No. 3 seed) lore for years to come are obvious: cornerback Kelee Ringo racing 79 yards down the sideline for a game-sealing pick-six late in the fourth quarter, and before that quarterback Stetson Bennett finding receiver Adonai Mitchell for a 40-yard go-ahead touchdown.
But those moments couldn't mean anything without Georgia's defense avenging itself against an Alabama team that racked up 536 yards and 41 points against it a month ago in the SEC title game.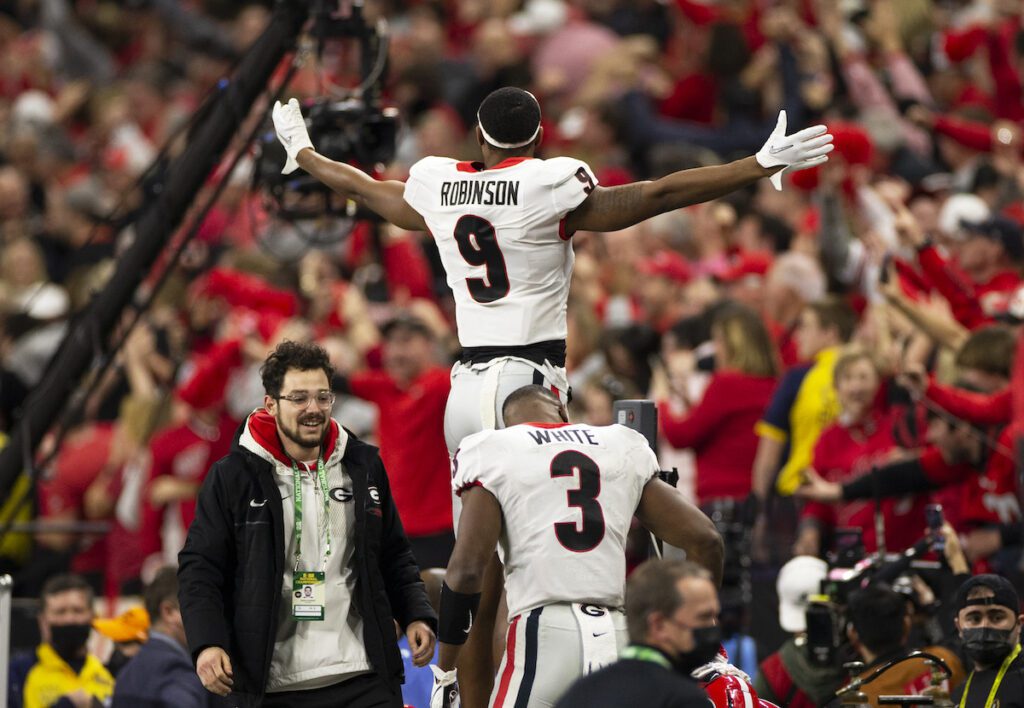 This time around, the Crimson Tide (13-2, No. 1 seed) managed just 4.7 yards per play and 30 rushing yards. Most importantly, the Bulldogs held Alabama to one touchdown in four red zone trips, including a fourth-quarter stand inside the 5-yard line, and created two turnovers — both second-half interceptions by Heisman quarterback Bryce Young.
"We talked about putting it on our shoulders and it being on us," All-American linebacker Nakobe Dean said. "We knew when we took the lead, we knew that if they don't score no more, they don't win. That's the only thing that was going through our mind."
The first 15 points of the game came from field goals as Georgia spent most of the first half struggling to find a rhythm because of penalties (seven for 49 yards in the first half) and Alabama couldn't finish its drives with touchdowns. Georgia led 9-6 at halftime.
Georgia created some of its own good fortune on special teams by blocking an Alabama field goal in the third quarter that would have extended the Tide's lead.
The Bulldogs found the end zone first late in the third quarter on a one-yard rush from running back Zamir White, who finished with 84 yards on 13 carries.
Alabama answered with another field goal to cut Georgia's lead to 13-12. The Tide caught a break on Georgia's next drive with an odd fumble recovery deep in Bulldogs territory on a play that initially looked like an incomplete pass from Bennett.
Alabama turned the ensuing drive into its only touchdown of the night, a three-yard dart Young threw across his body to tight end Cameron Latu.
Georgia claimed the game's final three scores, all touchdowns, including Mitchell's 40-yard grab and a 15-yard score from tight end Brock Bowers to stretch the lead to 26-18 with about 3:30 to play. Ringo's pick-six was the exclamation point.
"When that ball was in the air," head coach Kirby Smart said, "I said, 'He's going to catch this thing and we're going to win this game, and he did.'"
For Bennett, his national championship performance was analogous to a career that's taken time to develop and hasn't boasted many believers until recently.
The first completion for the former walk-on came with 2:20 to play in the first quarter. Alabama's defense, led by All-American linebacker Will Anderson Jr., rarely gave Bennett enough time in the pocket to make a play.
The Bulldogs' offense opened up late in the first quarter when wide receiver George Pickens made a 52-yard diving reception for his only catch of the game.
Bennett finished 17 of 26 for 224 yards and two touchdowns.
"It hadn't hit me yet," he said when asked what it's like to bring joy to a fan base starved for a national championship. "I guess it hit me a little bit on the sideline. But no, I can't articulate it. I'm not that smart."
Alabama struggled to create explosive plays; Young was 4 for 14 on throws more than 15 yards downfield.
The vertical passing game took a hit after wide receiver Jameson Williams left the game with an apparent knee injury following a 40-yard catch in the second quarter.
Georgia's defense had four sacks and kept Young uncomfortable and on the run most of the night. He finished 35 of 57 for 369 yards with a touchdown and two interceptions. That ties the most passing attempts in a championship game in the CFP era and is one shy of the completions record.
It was clear Young felt the weight of Alabama's season hanging on him as he got more and more greedy looking downfield in the fourth quarter. Whether the throw was accurate or not, the Bulldogs' secondary kept making plays and ended with eight passes broken up.
Young said after the game he felt like he let his team down.
"We had a lot of opportunities, moved the ball relatively well," he said. "We did some stuff well. We didn't execute. And at the end of the day, that's on me."
Contact staff writer Tyler Fenwick at 317-762-7853 or email at tylerf@indyrecorder.com. Follow him on Twitter @Ty_Fenwick.