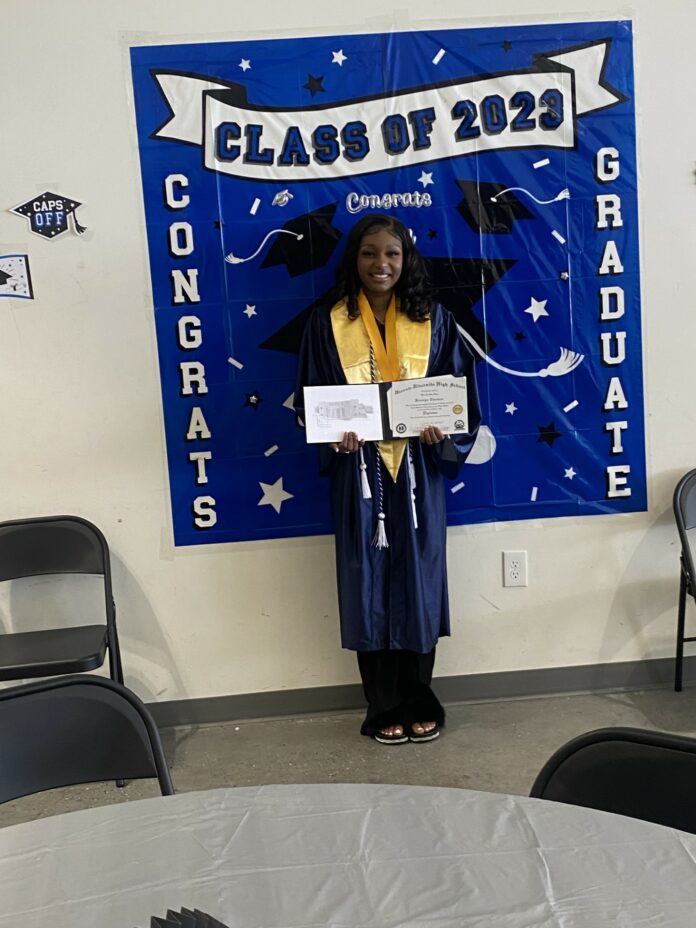 For many high schools across the state the academic year is coming to a close. While some students will be back in the fall, this is the end of a chapter and the start of a new journey for others. This is the case for recent Herron- Riverside High School graduate, Janaiya Thomas.
Thomas graduated from HRHS on May 20 with high honors and the graduate was not the only person excited about her recent accomplishment.
Patricia Thomas, Thomas' mother, described the feeling when Thomas walked across the stage as a proud moment.
"She has really worked hard all four years through the ups and downs to meet her goals," Patricia Thomas said.
Over the past four years Thomas created countless memories while in high school with her favorite one being HRHS' black history month events. During this time the school would come together to celebrate the different stories and history of the black diaspora.
"We would celebrate with dancing, food and acting," Thomas said. "The school would showcase Black businesses we could support. These events every year always made me feel appreciated and proud to be Black."
Over the course of four years Thomas participated in several extracurricular activities including the National Honor Society and basketball, where she created strong relationships with her teammates.
"I'm going to miss my basketball teammates," Thomas said. "We had a lot of fun memories… whether on the court, in the locker room, or on the bus, we always found a way to laugh and joke about anything. Our team bonding and memories are priceless and will be missed."
One of Thomas' biggest takeaways from high school is "you reap what you sow."
"Whether on the basketball court or in the classroom, I've learned to put in extra work and time outside of what I've been taught, sowing a seed into my future and reaping the benefits later on in life," Thomas told the Recorder.
It is safe to say the hard work the recent graduate has put in throughout high school has manifested itself and, starting this fall, Thomas will be attending Ball State University where she plans to major in communications in hopes of starting a career in digital marketing. Thomas chose BSU due to its high-ranking communications program.
"I'm mostly looking forward to learning more about my study of communications and the networking connections," Thomas said. "I'm very excited to go to college to experience new people and to explore new activities. I'm excited to make lifelong bonds and memories."
Contact staff writer Timoria Cunningham at 317-762-7854. Follow her on Twitter @_timoriac.