Mayor Joe Hogsett will not loosen capacity restrictions or the mask mandate for Marion County, differing from Gov. Eric Holcomb's recent move to end the statewide mandates April 6.
In a press conference March 25, Hogsett said Indianapolis is "close to the finish line" in the fight against COVID-19, but the city isn't there yet.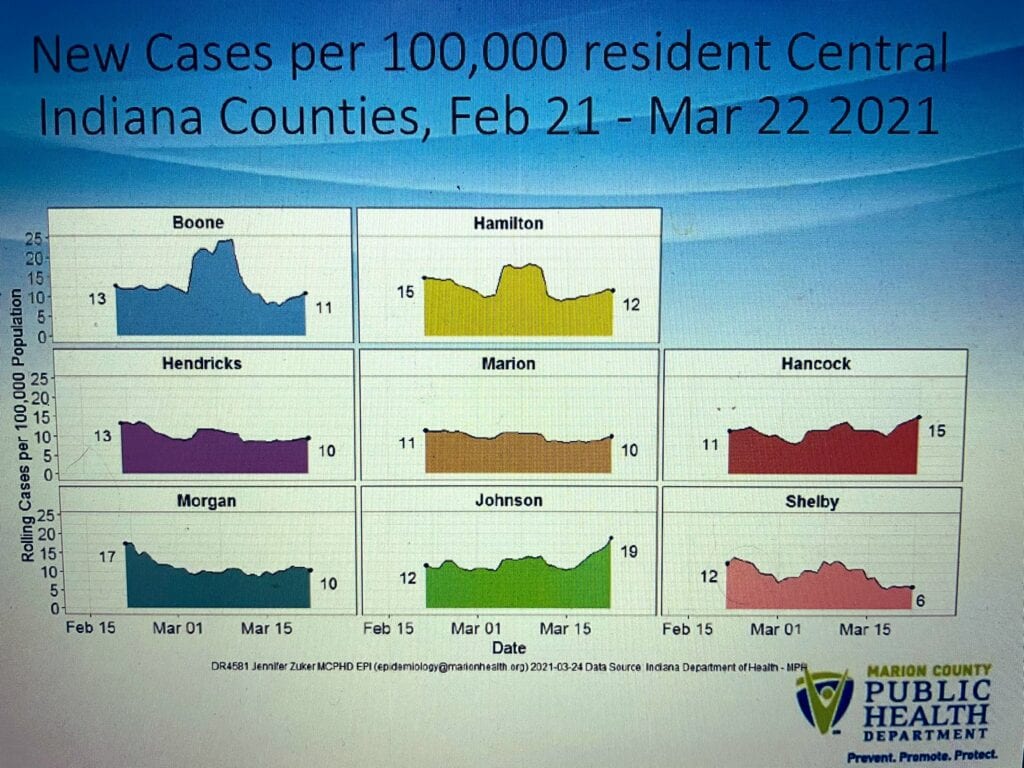 "I want to thank Gov. Holcomb and the State Health Department for getting us to that major milestone," Hogsett said in regard to Hoosiers 16 and older being eligible for vaccinations starting March 31. "I'm personally grateful he is allowing Dr. [Virginia] Caine and other leaders in Marion County the flexibility to address the risks that are unique to our particular community."
Hogsett and Caine, director of the Marion County Public Health Department, said due to the population density of Indianapolis compared to other cities throughout the state, continuing to wear masks, social distance and limit capacities in businesses is the safest way to prevent a surge in cases.
Caine said she wants to see at least 70% to 80% of Indianapolis residents vaccinated before we begin loosening restrictions. Right now, roughly 12% of residents are fully vaccinated. To help people — particularly those in historically underserved populations — get vaccinated, the city and Marion County Public Health Department will work with various partners to get mobile vaccination clinics in communities of color.
On March 26 and 27, Eastern Star Church will host a vaccination clinic for those eligible to be vaccinated. Currently, Hoosiers 40 and older are qualified to get vaccinated, as well as those with health issues, those who are pregnant and teachers. To find out if you're eligible, click here.
Caine said more clinics will be announced soon, all of which will be partnered with IU Health and Eli Lilly and Co.
Hogsett and Caine announced a $1 million grant for community-based organizations to promote the wellness and recovery of minority communities who have been hit the hardest by the pandemic. The funding comes from a partnership between the Marion County Public Health Department and the global nonprofit Sought. Applications will be reviewed by an advisory committee after the website launches April 1.
"For our city to truly thrive, it means that every neighborhood must also thrive and emerge from the pandemic as one city," Hogsett said. "It remains critical that each and every one of us continue to do our part, that means getting your shot as soon as you are able and continuing to mask up until we reach that critical mass of people who are immune. We'll get there. We're on the way to getting there, but it will take time."
Contact staff writer Breanna Cooper at 317-762-7848. Follow her on Twitter @BreannaNCooper.