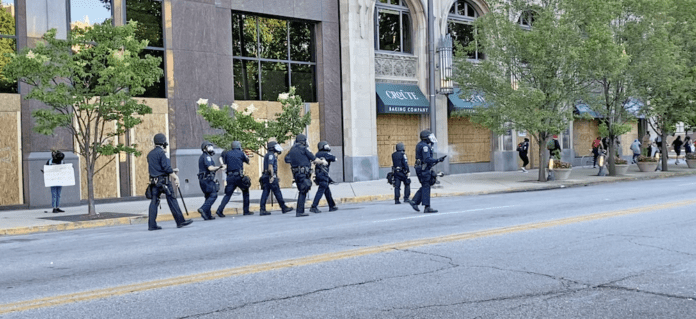 The Indianapolis Metropolitan Police Department (IMPD) has reached an agreement with the American Civil Liberties Union (ACLU) of Indiana to change its policy regarding the use of chemical weapons against protesters.
In June, the ACLU of Indiana filed a lawsuit against IMPD on behalf of Indy10 Black Lives Matter for the use of chemical weapons during protests in May following the deaths of George Floyd and Dreasjon Reed.
In a press conference Oct. 29, Ken Falk, legal director for the ACLU of Indiana, said this contract prohibits the use of tear gas and other chemical agents on individuals engaged in peaceful protests or to prevent protesters from going elsewhere in the city during a demonstration.
This agreement does not prohibit IMPD from using tear gas or other chemical agents in the events of riots or potentially dangerous activities.
Bre Robinson, who was tear-gassed during a protest downtown May 29, said she and other protesters were chased by IMPD officers while they were running to avoid the chemical agent.
Indy10 representatives Kyra Harvey and Jessica Louise said protesters weren't warned tear gas would be used and said IMPD confiscated medical supplies from the group before tear gas was deployed. Louise said the seizure of medical supplies, which was confirmed by several eyewitnesses, put protesters with pre-existing conditions at a higher risk for complications and even death from the chemical weapons.
"The tear gas crept up on us," Louise said during the press conference. According to Louise, the tear gas used expired in 2002. "We didn't hear any orders to disperse … and we were encouraging people to go home when police began to approach us. We could smell something in the air, and our eyes began to water, we had people deep coughing, and there were people in the crowd with respiratory issues … so we had to deal with that as well."
Both Harvey and Louise said exposure to tear gas caused long-lasting respiratory issues, as well as changes to their menstrual cycles. Bre Robinson, a plaintiff on the lawsuit, said she was physically ill for days after being tear gassed.
While Falk said he can't guarantee chemical agents won't be used on protesters in the future, he's confident the contract signals a change in IMPD policy, and said it will be brought up in training for officers in the future.
"People could have died from that expired tear gas," Louise said. "… The right to protest has been a fundamental principle of Indy10 since its founding day. This agreement … underscores the power of the people. It is a right to have safe and secure places to protest without the threat of state-sanctioned violence."
While Indy10 and the ACLU of Indiana are hopeful this agreement will prevent future protesters from being subjected to tear gas, both will continue to hold city and police officials accountable if the contract is breached.
"It's our duty to fight for our freedom," Louise said. "It's our duty to win, by any means necessary."
Contact staff writer Breanna Cooper at 317-762-7848. Follow her on Twitter @BreannaNCooper.