A school police officer in Franklin Township accused a Black teacher of lying about being a faculty member to get into a soccer game in 2019 and put the teacher in handcuffs when he tried to walk away.
The teacher, Craig Jordan, said the district hasn't taken the incident seriously. He went on family medical leave in March and has been going to therapy because of the stress.
Jordan, a special education teacher in the district's alternative school, said he went to a Franklin Central High School soccer game Aug. 28 after coaching cross country practice.
According to a police report provided by Jordan, the officer, James Wheatley, was standing next to the ticket booth and saw Jordan walk past the ticket taker without paying.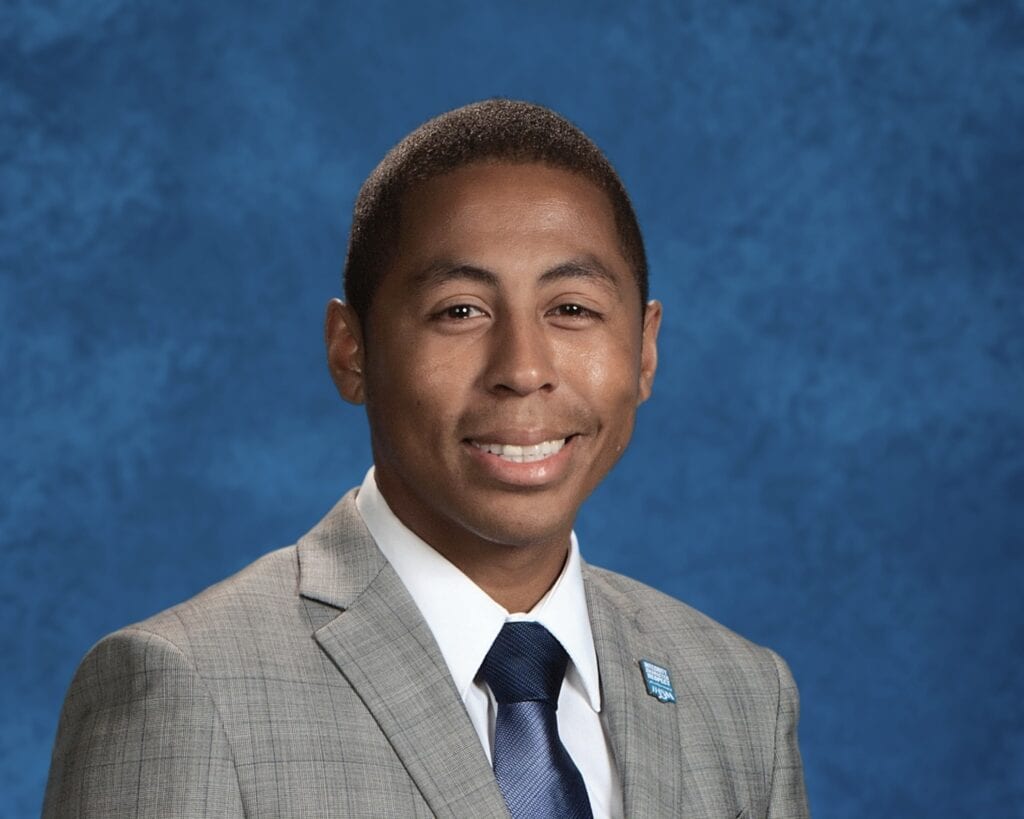 The ticket taker asked Jordan if he would pay or if he was a teacher (staff don't have to pay), according to Wheatley's report, and Jordan said he was a teacher. Wheatley commented that Jordan, who was 29 at the time, looked young enough to be a senior and told him to show his ID to prove he's a teacher.
Jordan ignored him three times and walked away, the report says, before telling Wheatley he worked at Franklin Township Learning Center.
The district denied the Recorder's request to release body camera footage from officer Wheatley because it is believed the video depicts someone younger than 18, and the technology used at the time doesn't allow edits to blur faces.
The Recorder was allowed to review the footage, which starts after Jordan said where he works.
"I'm detaining you right away," Wheatley said as Jordan walked away.
Wheatley then grabbed Jordan's shirt. In the report, Wheatley wrote he grabbed the shirt "gently," but the video shows him pull Jordan's shirt over his shoulder and down his arm.
"You're getting out of hand," Wheatley said.
There is a delay between the audio and video, making it difficult to match the audio to what the video shows.
Wheatley continued: "Whenever an officer tells you to do something, you tensed up. That's resisting."
Wheatley, seemingly referring to the ticket taker, said he was asked to verify that Jordan was a teacher. The ticket taker's statement, provided by Jordan, did not mention that. She said she didn't ask to see Jordan's badge because she usually knows everyone.
"Wheatley said he was lying and that's all I know," the statement said.
In the video, Jordan said he was embarrassed and felt harassed. He told Wheatley to let go of his shirt. Wheatley put Jordan in handcuffs shortly after that.
The athletic director confirmed to Wheatley that Jordan was a teacher, and Jordan was able to get his ID out of his pocket for Wheatley to see. Wheatley said he would remove the handcuffs "as a professional courtesy," according to the police report, and said the situation "would have played out different" had Wheatley been an Indianapolis Metropolitan Police Department officer rather than a district officer.
Wheatley wrote in his report that he explained to Jordan that "he mentioned harassment but that I am a minority too."
In an interview, Jordan said the way he was treated is indicative of the way teachers and even students of color are treated throughout the district.
In a statement, district spokesperson Kent Pettet said the district "celebrates and values inclusion and diversity. We are proud that we have grown over 1,300 students in the last four years, and 100% of the growth is in our minority populations." He said the district created an Inclusive Leadership Team last year to "continue to grow in our celebration of diversity."
Pettet said the district police department would not participate in media interviews, "particularly regarding incidents that occurred in years past." Wheatley is still employed, according to Pettet.
Jordan struggles to talk about the incident almost two years later, in part because he said he felt he went through all of the proper channels to resolve the issue and didn't feel the district took his complaints seriously.
Jordan provided a statement written by the alternative school's principal, John Eckerle, about a meeting Sept. 6, 2019, between himself, Jordan, Jill Britt, the district's human resources director, and Ken Short, the district's chief of police.
Britt said she wanted Jordan to be able to "move on" from the incident, according to the statement. Short wasn't originally part of the meeting but was called in to answer Jordan's questions about why he was detained. Short said Wheatley followed district guidelines and state law, according to the statement.
"As time went on, I started seeing that they didn't view everything that had been done as an issue," Jordan said in an interview.
Jordan said it has also been difficult to process what happened in light of police violence and protests in 2020.
"The whole thing made me very stressed and anxious," he said. "A lot of anxiety."
Contact staff writer Tyler Fenwick at 317-762-7853. Follow him on Twitter @Ty_Fenwick.