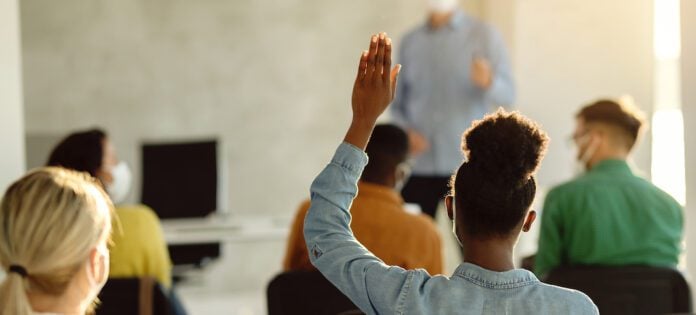 By ALEKSANDRA APPLETON and JADE THOMAS
 This story was originally published by Chalkbeat. Sign up for their newsletters at ckbe.at/newsletters.
Indiana students' reading scores have been virtually unchanged for three years, according to new test data, underscoring fears about students' struggles to recover from the pandemic.
More than four out of five third graders — just under 82% — passed the Indiana reading exam, the IREAD, in 2023. Yet that's approximately the same rate as in 2021 and 2022, and several percentage points below the passing rate from 2019, when 87.3% of all students passed the test.
The results, released by the state on Wednesday, tell a similar story to scores released last month from the statewide assessment for grades 3-8, the ILEARN. Both exams showed student performance has stagnated in reading over the last three years.
The IREAD scores come as the state undertakes an overhaul of literacy instruction to implement the science of reading — a body of research that emphasizes five pillars of literacy that help students decode words — in an effort to improve students' reading skills.
Indiana Secretary of Education Katie Jenner said at Wednesday's State Board of Education meeting that the increase in IREAD scores of 0.7 percentage points since 2021 is not insignificant.
"If we increase that small amount, year over year, it will be years and years and thousands and thousands of kids," Jenner said. "So, you're going to hear it over and over, the sense of urgency that we feel in supporting our schools and supporting our parents and families who we need at the table with us in order to make sure all kids can read."
Nearly 15,000 third graders didn't pass the exam and will need additional support to meet reading standards, per the Indiana Department of Education.
IREAD scores for most student groups changed by less than one percentage point this year, with a few notable exceptions.
Black students' scores appear to be recovering faster than many other groups, with their proficiency rates rising by 1.5 percentage points from 2022 to 2023. Scores for students in special education also rose by 2 percentage points.
Scores for Native Hawaiian or other Pacific Islander students — a group of around 86 students total — rose 7.5 points in 2023. The group is the only student demographic or socioeconomic category to have recovered to pre-pandemic proficiency rates.
No student groups posted precipitous drops this year, though scores for both Hispanic and American Indian students declined by just under one percentage point each.
Last year, English learners' IREAD proficiency rates dropped 8.5 percentage points from 2021, prompting Department of Education officials to raise the alarm about their performance. The group's scores showed virtually no change this year, and remain around 20 percentage points below their non-English learner peers.
Charity Flores, the state education department's chief academic officer, told Chalkbeat that schools will need to reflect on and discuss their IREAD data, especially regarding English learners. This process includes program evaluations and in-depth collaboration between general education teachers and English language instructors regarding the science of reading.
"That can unify some of those conversations that happen locally between educators to make sure whether they're students in the general education classroom, or receiving specific services in another classroom, they're using the same strategies in both of those environments," Flores said.
In Indianapolis Public Schools, the state's largest district, 60.6% of students tested proficient this year, a decline of 2.2 percentage points from last year. The district had rolled out its own tutoring programs to focus on math and reading skills in 2022, including offering free virtual tutoring for all students.
That decline reinforces the need for continued investments in literacy by IPS, said district spokesperson Marc Ransford. Those include in "curriculum, educator training, and professional development programs," he said.
Science of reading push informs curriculum, teaching shifts
The state has this year pushed to align its curriculum and teacher training methods to the science of reading.
As part of that effort, a pilot program placed literacy instructional coaches in 54 schools during the 2022-2023 school year, in order to help teachers train on reading science principles.
The pass rate among those schools was 71.8% — approximately a 1.8 percentage point increase from 2022.
One of the first districts to adopt the instructional coaching model, Anderson Community Schools, showed a 1.4 point increase in proficiency rates over 2022; however, there were fewer students tested in 2023. (That was due to a drop in student enrollment, said Brad Meadows, director of district and community engagement for the district.)
Meadows said the district was "very encouraged by the higher pass rates this year" and that it expects scores to continue rising in future years.
Anderson Schools has literacy instructional coaches at all its elementary schools. The coaches focus on working with students in kindergarten to second grade, but are also helping to bring the science of reading to all elementary school students, Meadows said.
The state education department said 200 schools have opted to work with those literacy coaches via the Indiana Literacy Cadre for this academic year. For the 2024-25 academic year, Jenner said all schools with an IREAD passing rate of 70% or lower will join the cadre. By 2025, she said the goal is to have 600 schools in the cadre that receive support from coaches.
The department is also partnering with the Center for Vibrant Schools at Marian University to offer a new course for teachers across the state to receive science of reading instruction, announced Wednesday.
These different efforts to improve literacy instruction follow recently released rules for teacher prep programs that would require new teachers to be capable of implementing science of reading practices by 2025. Jenner said the department and the Indiana Commission for Higher Education will communicate their expectations on this requirement to college and university leadership across the state.
Chalkbeat reporter Amelia Pak-Harvey contributed to this article.
Jade Thomas is a summer reporting intern covering education in the Indianapolis area. Contact Jade at jthomas@chalkbeat.org.
Aleksandra Appleton covers Indiana education policy and writes about K-12 schools across the state. Contact her at aappleton@chalkbeat.org.