The city of Indianapolis will expand a pilot program meant to help tenants facing eviction, even as a new federal eviction moratorium is in place through early October.
The Tenant Advocate Project (TAP) — a partnership with Indiana Legal Services, Neighborhood Christian Legal Clinic and the Indianapolis Legal Aid Society — will place a tenant advocate in participating Marion County township small claims courts.
Advocates will work with tenants who are facing eviction and go to court without legal representation by connecting them to the city's rent assistance program, providing legal advice and/or representation, and offer to negotiate with landlords on tenants' behalf.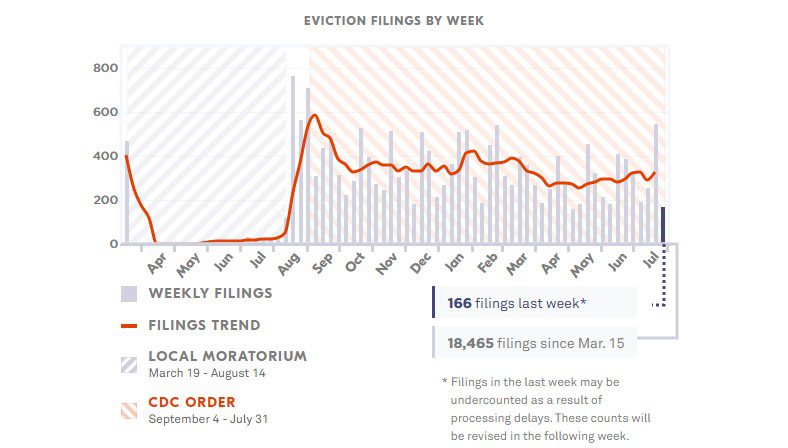 The program — currently in a pilot stage in Warren and Lawrence townships — will initially be in six of the county's nine townships, city officials said July 29. Officials are still working with Center, Perry and Franklin townships on final details, but the expectation is the program will be in every township.
Tenants who need help paying rent can still use the city's rent assistance program at indyrent.org.
City officials announced the program in anticipation of the federal eviction moratorium expiring at the end of July. It did expire, but the Centers for Disease Control and Prevention announced a new moratorium Aug. 4 that will prevent evictions in counties with "substantial or high levels" of transmission. That is expected to cover about 90% of the population, including Indianapolis. The new moratorium ends Oct. 3.
According to Princeton University's Eviction Lab, which tracks evictions in various cities, there were 251 eviction filings in Indianapolis in the week of July 11-18. The most since the start of the federal eviction moratorium went into place in September 2020 was 541 during a week in February.
Some evictions have still been allowed since the moratorium had certain qualifiers, such as making less than $99,000 a year.
In a statement, Brandon Beeler, housing law center director of Indiana Legal Services, said the organization had received more than 3,900 requests statewide for legal assistance related to evictions since April 2020.
"We think this is an indication of the pent-up need that will come after July 31, and we're preparing to defend as many people as possible in court," he said.
The city will fund TAP with $800,000 to $900,000 from the most recent federal COVID-19 relief package. That will fund the program for one year.
Contact staff writer Tyler Fenwick at 317-762-7853. Follow him on Twitter @Ty_Fenwick.