The Indianapolis Urban League opened a new food pantry in Downtown Indianapolis Nov. 8. The new facility aims to address the issue of prevalent food insecurity in the area.
"As of August of this year, over 208,000 residents in our city live in food deserts," CEO of the Indianapolis Urban League Tony Mason said. "The economic situation of a family and neighborhood can cause food insecurity. Twenty-two percent of the population served by the Indianapolis Urban League lack access to reliable transportation and live in a food desert."
The food pantry will provide nutritious food to residents facing hardships. The pantry will offer various options, including fresh produce, canned goods and other non-perishable items. 
CEO of Gleaners Food Bank Fred Glass commended the Indianapolis Urban League's leadership on the project.
"Make no mistake, this initiative would not have happened without the Indianapolis Urban League," Glass said.
The new food pantry also installed thousands of dollars of new appliances, such as refrigerators and deep freezers. The appliances help ensure that all of the donations remain in tip-top quality.
Chief Executive Officer of Second Helpings Linda Broadfoot praised the organization for reducing food insecurity.
"Second Helpings and Urban League together have [already] provided 415,000 meals to the community," Broadfoot said. "We are proud to be a part of this multi-pronged partnership. We want to give out as many meals as we can."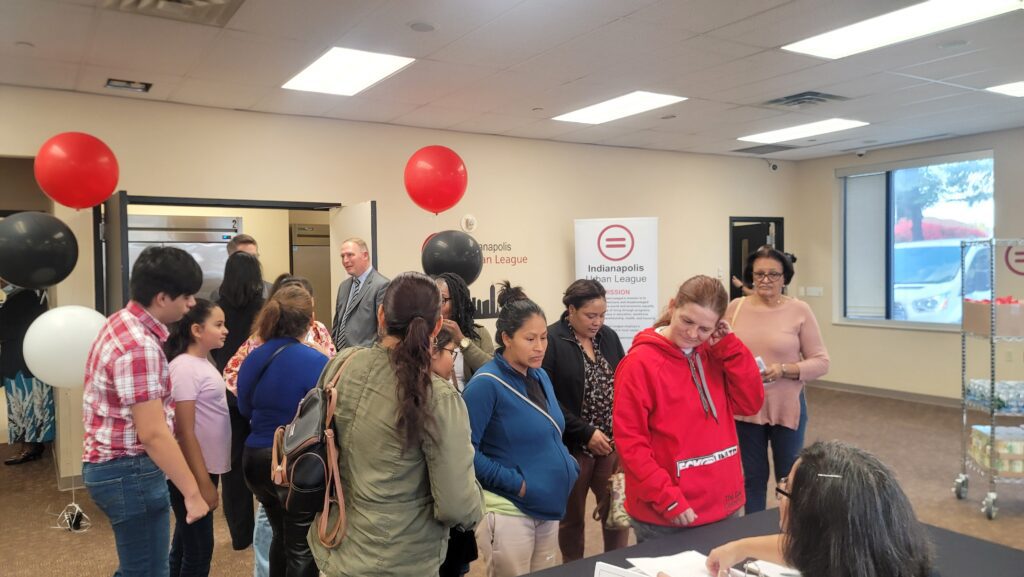 Vice President of Merchandising at Kroger Michelle Phanthavongsa and President and CEO of Roche Diagnostics North America Brad Moore were also in attendance for the unveiling of the new food pantry. After the ceremonial ribbon cutting of the new pantry, inaugural families were served. 
A member of one of those families, Ebonee Rice, 42, shared how impactful the Indianapolis Urban League has been in her life.
"I first came to the Indianapolis Urban League a couple of years ago because that is how I obtained my Class A CDL," Rice said. "The Indianapolis Urban League has helped me with transportation, job leads, basically everything that I need to be successful."
After receiving many items from the newly opened food pantry, Rice continued to express her gratitude to the Indianapolis Urban League. 
"I would encourage everyone, whether you are in need or out of need, to reach out to the Indianapolis Urban League because they are a source for various things," Rice tearfully said. "Whether it is food, shelter, education, or finances, the Urban League is here to help."
---
Contact multi-media staff writer Noral Parham III at 317-762-7846 or via email at noralp@indyrecorder.com. Follow him on Twitter @3Noral. For more news courtesy of the Indianapolis Recorder, click here. You can also check out the Indiana Minority Business Magazine by clicking here.