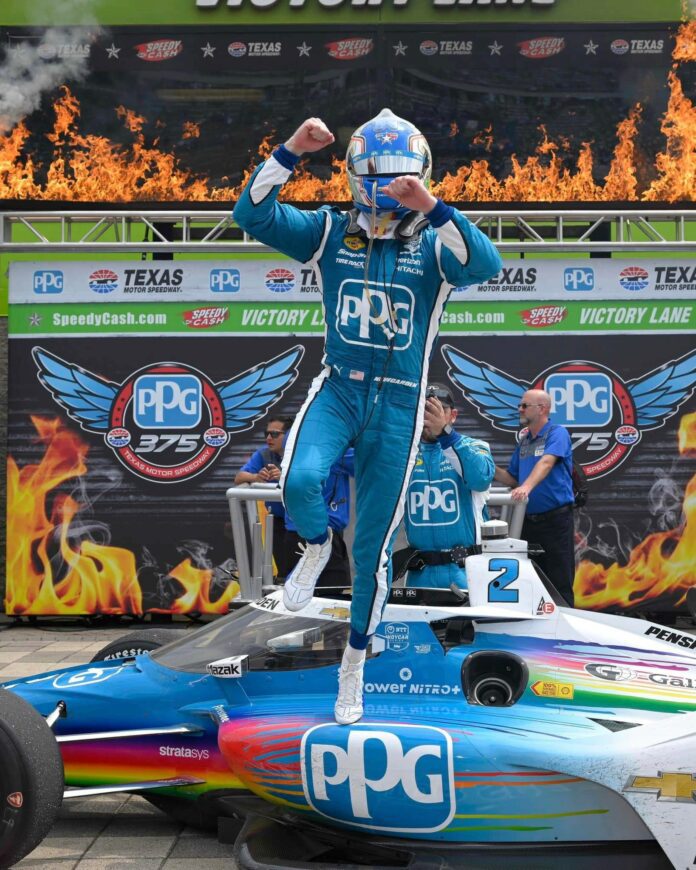 Josef Newgarden is used to close finishes at Texas Motor Speedway. After all, last year he snatched a victory away from his Penske Racing teammate Scott McLaughlin on the last lap, so it came as no surprise he was able to hold off both Pato O'Ward and Alex Palou on the last stint to win the Indycar-centric PPG 375 on a day when the series reminded us of how exciting the racing can be on this bullring of a track.

"We were getting beat significantly at the midway point today" stated Newgarden who won for the twenty-sixth time in his Indycar career, piloting his Chevrolet powdered Dallara to victory lane for his third Texas win.

"The initial changes l called for on the car were in fact not what we needed, and my crew did a great job of sorting things out, giving me a great car from that point on."

The field experienced increased tire grip due to the erosion of the PJ1 compound that was previously applied to the racing surface in an attempt to enhance the Nascar competition at the 1.5 mile track, and coupled with increased downforce provided an additional racing lane allowing for exciting side by side racing, with numerous passes for position throughout the entire day for the field.

Notes: Team McLaren's Pato O'Ward appeared to be on his way once he got out front leading ninety-one laps on the day in route to a runner-up finish. O'Ward also registered the quickest lap of the race when he blistered the track on lap 118 at 221.090. Ganasdi Racing's Alex Palou rounded out the podium in third place leading twenty-two laps in the highest finishing Honda powered entry.

A total of eight drivers led the race with Newgarden running out front for nearly half the event which unfortunately for those in attendance featured fifty-two caution laps stemming from five accidents. Seven drivers finished on the lead lap in a race that had twenty-six lead changes and an average speed of 169.917.

O'Ward now leads the Series point standings with Marcus Ericsson in second followed by Scott Dixon, Newgarden, and Palou rounding out the top five after two rounds of racing.
The next stop for the NTT Indy Car Series is April 16 when the Acura Grand Prix of Long Beach unfolds in California.

You can watch the legendary street course event on NBC at 3 p.m. Eastern time or by tuning in to the IMS Radio Network.

Tune in to Community Connection with Tina Cosby at 1310 AM or 92.7 FM every Thursday at 2:30 as we talk Indycar, Colts, Pacers while of course taking your calls.
Danny Bridges who witnessed a truly epic Indycar race at Texas Motor Speedway, can be reached at (317) 370-8447 or at bridgeshd@aol.com.