Everyone wants to talk about what the Indiana Hoosiers did last season, and for good reason. The program seemed to finally turn a corner to become a legitimate threat in the Big Ten, falling a win short of playing for a conference championship.
Head coach Tom Allen and his players are happy to talk about what that season meant, but they only do it in the context of what it means for 2021 and beyond.
"Everything you did last year is awesome," Allen said at Big Ten Media Days, which were in Indianapolis this year instead of Chicago. "It's great, but it's in the past."
Indiana started the pandemic-shortened 2020 season with a surprise win over Penn State thanks to one of the best plays of the college football season from quarterback Michael Penix Jr. The Hoosiers then beat Michigan for the first time since 1987 and also notched wins over Michigan State and Wisconsin.
The only regular season loss was by seven to Ohio State on the road in a game where Penix threw for a career-high 491 yards.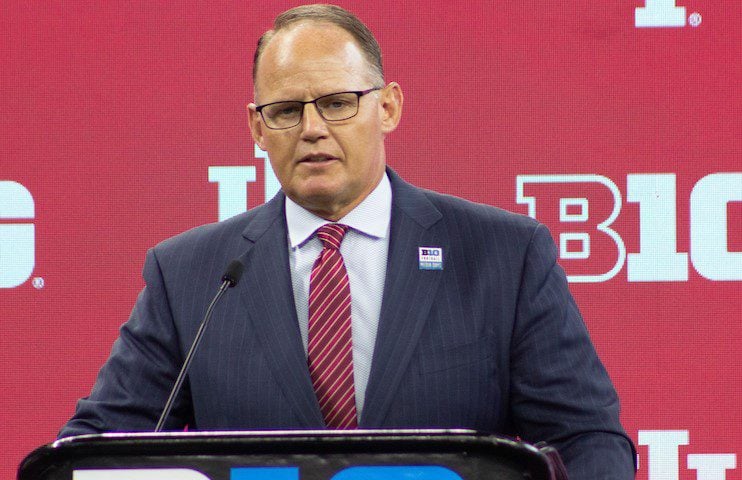 In a span of about two months, Indiana went from a team that was usually entertaining (but not quite good enough) to playing like one of the top teams in the Big Ten.
"You can talk about wanting to learn how to finish and take your program to another level, but your players have to experience it, and that's what happened for us," Allen said.
Senior linebacker Micah McFadden said it's not about trying to recreate anything that happened in 2020, but continuing to build off of that momentum.
"There's a different look when you see Indiana on your schedule," McFadden said.
Much of the credit for Indiana's surge goes to the defense, which led the conference with 18 interceptions last season. The Hoosiers picked off Ohio State's Justin Fields, last year's conference Offensive Player of the Year, three times (he threw a combined three interceptions in every other game).
Related: Jeff Brohm says Purdue football is 'close,' but close to what?
Penix, a redshirt junior and Big Ten Offensive Player of the Year hopeful, is still healing from an ACL injury but said he'll be ready for the start of the season. He's a little more blunt than others when it comes to his optimism.
On getting to the conference title game in December: "That's just something we expect to happen," he said. "That's something we talk about a lot."
Allen, Penix and everyone else with the program who made the trip to Indianapolis stood in Lucas Oil Stadium for media days, the same venue that will host the conference championship game. To get there, Indiana will need to overcome that one obstacle that just barely escaped its grasp last season: Ohio State.
The Buckeyes are the "gold standard" of the Big Ten, Allen said, which isn't an exaggeration. Ohio State represents five of the conference's six College Football Playoff appearances.
"We're trying to chase that greatness every single day," Allen said.
Indiana's season begins with a conference game Sept. 4 at Iowa.
Contact staff writer Tyler Fenwick at 317-762-7853. Follow him on Twitter @Ty_Fenwick.