Actress Keirsten Hodgens is reflecting on her time spent on Broadway.
Hodgens, who was an alternate in the Broadway musical "Six," was born and raised in Indianapolis and said performing in Warren Central High School's production of "Godspell" was a catalyst for her dream to be onstage.
Hodgens draws a lot of her inspiration, both on and offstage, from seeing other Black queer women in the theater industry. She said it means a lot to her as a performer to see people like her represented onstage and to know there is a space and a desire for her there.
"A huge inspiration for me are artists who look like me … especially in theater," Hodgens said. "Black queer women who look like me; who help me realize there's space for people like us to make art."
She said another large component stems from seeing young Black children in the audience at shows and watching how excited they get to see people who look like them represented on a Broadway stage, dressed up and singing like a popstar.
"It wasn't every day that we saw Black kids and young Black kids in the audience, so going out there in all of my blackness and queerness … and being able to represent, it felt amazing," Hodgens said. "It was a reminder that we were able to take up that space."
Hodgens said she spent a few years in Chicago before landing her first Broadway gig with "Six," the new musical by Lucy Moss and Toby Marlow that's centered on the lives of King Henry VIII's ex-wives and performed in the form of a pop concert. Hodgens moved out to New York to work in the production full-time for about 15 months, from September 2021 to December 2022.
Hodgens alternated for the roles of Catherine Parr, Anna of Cleaves and Jane Seymour — a role in which she was the first woman of color to originate. During her run, Hodgens said she went on for 78 performances, sometimes with as little as 20 minutes notice.
"When you book a show on Broadway, it's so wild," she said. "I also like the challenge of making it new every day, cause when you do the same thing every single week for a year, it gets kinda repetitive, so I like the challenge of making it new every day, every week, every month."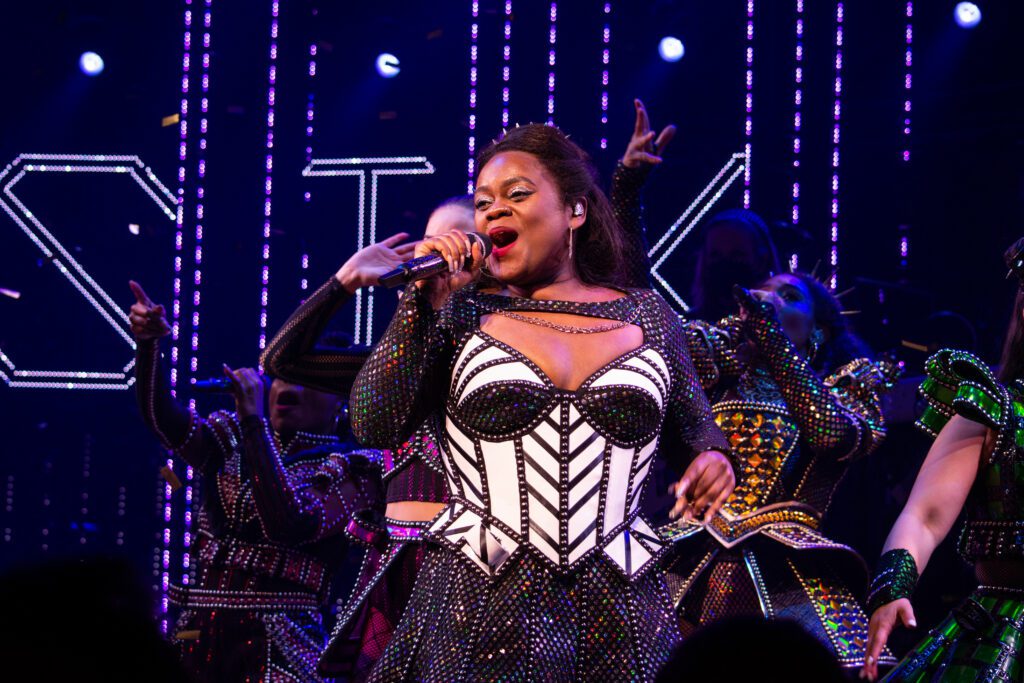 However, performing in "Six" was the hardest thing Hodgens has ever done in her career, and she said the experience of alternating three different roles for more than a year has made her feel like Wonder Woman. Hodgens said she loves all three of her former queen characters equally, but for different reasons — Catherine Parr has the best costume, but Hodgens gets to be kind of goofy with Anna of Cleaves, she said.
"Truly they are all so special," Hodgens said. "Catherine Parr holds such a special place in my heart because it was the first one I learned. It was my first cover, and she wraps the show up and brings everybody together, and her role is just so empowering."
Having spent some time reflecting on her run in "Six" since her contract ended, the Ball State alumna said her next steps are centered on expanding her reach as an actress. Moving away from Broadway for the moment, Hodgens said she has a few TV and film auditions lined up and will return to her hometown to perform at the Black Rose Gala and work on a collaboration with The Cabaret in July.
"I'm shifting a little bit," she said. "I want to work on a lot of new things … like new musical theater, and I want to do TV and film. So, that's the new direction I'm headed in with my new managers."
Contact staff writer Chloe McGowan at 317-862-7848 or chloegm@indyrecorder.com. Follow her on Twitter @chloe_mcgowanxx.