Representatives from Ice Miller unveiled the findings from Indianapolis Public Library's (IndyPL) climate study during a committee meeting March 23. Roughly 22% of Black IndyPL employees report receiving offensive comments or harassment from their colleagues related to their race in the past year.
"I have dealt with micro/macro aggressions," one anonymous comment included in the report reads. "Questioning my credentials or experience. Questioning if I'm an employee when going to the employee entrance with a badge (not seeing Black people as librarians is a real issue). Asking if I had a nickname and inferring that my legal name was too difficult to pronounce."
Originally announced in the summer of 2021 – and delayed due to infighting amongst the board of trustees – the survey was distributed to IndyPL employees last December. The climate study comes, in part, after several former and current employees came forward with allegations of racism against IndyPL administration.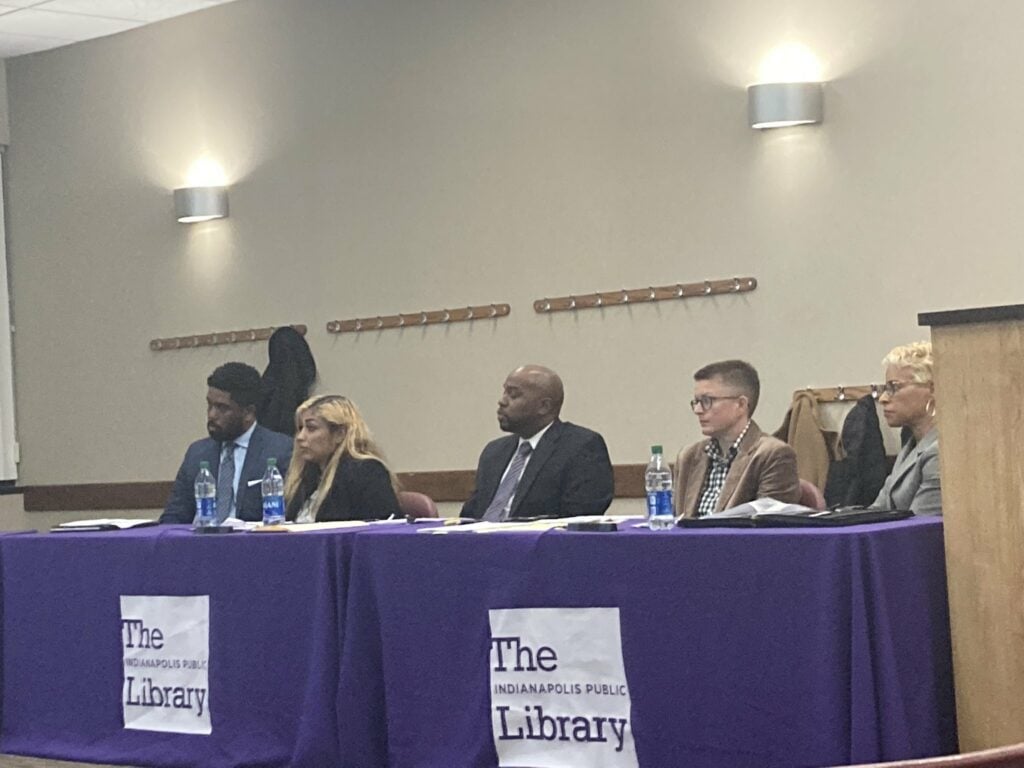 Members of Ice Miller's Racial Equity Solutions Team worked with members of the Go Team – a handful of IndyPL employees – to create the survey. The study also included interviews with employees, board of trustees members and focus groups.
Employees were asked to answer whether they strongly disagreed, disagreed, neither agree nor disagree, agree or strongly agree with a series of questions relating to their experiences and perceptions within IndyPL. Ice Miller representative Myra Selby said roughly 79% of employees participated in the survey.
Fifty-seven percent of survey respondents – including 56% of Black respondents – feel that complaints of inappropriate behavior in the workplace will be effectively investigated.
Further, the report found that 57% of Black employees who responded to the survey disagree with the statement that there is "active support for diversity, equity, inclusion and accessibility among the Board of Trustees."
"The board of trustees seems to be involved in a power struggle that is bringing the whole library down," another anonymous comment included in the report said. While the board didn't take public comments during the committee meeting, employees will have a chance to share their feedback with the findings during a board meeting March 28.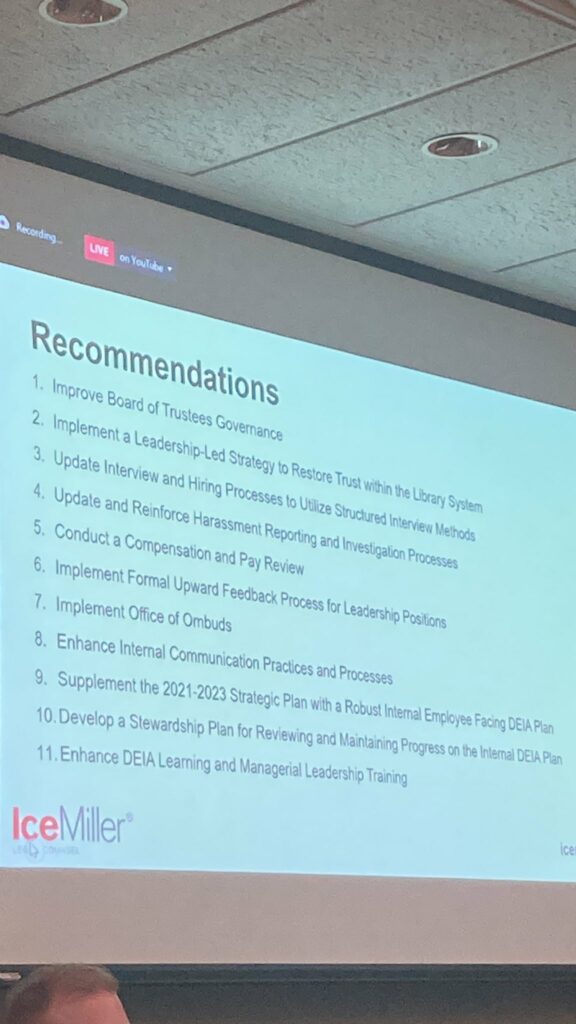 After former CEO Jackie Nytes stepped down last year, the library's Executive Committee to further diversity, equity and inclusion (DEI) initiatives within the library system changed significantly. Since his began his tenure as interim CEO in September 2021, John Helling has been leading town halls in IndyPL branches. According to the report, many staff members view this as a positive change. 
"I think the recent changes in leadership gives a new opportunity for issues to be heard and addressed in an appropriate matter, and the retention of a DEI professional will only assist with that," one anonymous comment read.
The recommendations
Along with sharing the findings of their report, Ice Miller representatives also provided the board with 11 recommendations for how to improve the library's climate. Among the list is to improve the board of trustees governance, update the interview and hiring process, the enhancement of internal communication practices and to enhance diversity, equity, inclusion and accessibility learning and managerial leadership training.
"I'm grateful for the opportunity to have a basis for our direction as we move forward," board member Hope Tribble said, noting there is a lot of work that lies ahead.
Contact staff writer Breanna Cooper at 317-762-7848. Follow her on Twitter @BreannaNCooper.