Leaders with Faith in Indiana continued pushing for criminal justice reform during the Fund Our Futures Summit on March 8, winning commitments from the mayor and chief of police to pilot a clinician-led crisis response team and make more demographic data available for police stops.
The summit, led by Faith in Indiana's Black Churches Coalition, drew a large and boisterous crowd at New Era Church on the northwest side of Indianapolis.
Mayor Joe Hogsett and Indianapolis Metropolitan Police Department Chief Randal Taylor nodded and clapped along with speakers who told stories about how violence in the city has affected them and demanded more progress in public safety.
Shonna Lipscomb spoke about an experience she had with police when her son was having a mental health crisis that she needed help managing.
"Although I was reluctant," she told the crowd, "I had no other option but to call for the police."
When police arrived, Lipscomb said, they treated her son like a threat and not someone who needed help. She said police put her son in handcuffs and were putting him in the car when he started screaming. Only then did police determine he needed medical help.
Lipscomb also has a son who has autism and is nonverbal.
"Right now, I must question whether my children will be safe in this community," she said. "Who will protect my children when I'm no longer alive or not available during an emergency?"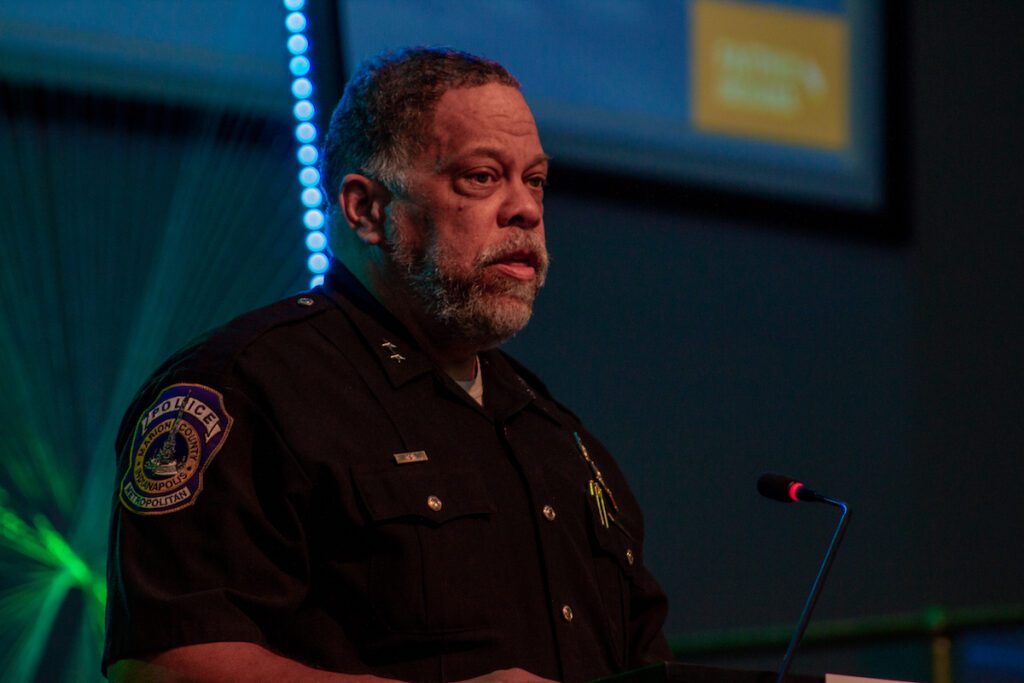 City officials often point to a program called the Mobile Crisis Assistance Team, or MCAT, as a solution to events like what Lipscomb described, but Faith in Indiana wants the city to take it a step further.
An MCAT team consists of a police officer, paramedic and licensed mental health professional. Faith in Indiana's demand is essentially to remove the police's presence altogether, opting for a clinician-led mobile crisis team. They used as an example a program in Denver that has a two-person team of a medic and clinician.
Hogsett said he would ask the city-county council to fund a pilot program in Indianapolis as early as the next budget in 2023. Council President Vop Osili was at the summit and said he supports a pilot program in theory, though he noted there aren't any details yet.
Hogsett spoke for nearly 14 minutes and kept the audience's attention, garnering shouts and applause. He talked about MCAT — which has a 96% non-arrest rate, he said — and the Assessment and Intervention Center at the new Community Justice Center.
Hogsett talked about the struggles people face when they go to jail or prison but don't get enough help with underlying issues that got them caught up in the criminal justice system.
"Why do we expect them to return to our community better off than when they went into jail in the first place?" he said.
Faith in Indiana is also concerned with data transparency. IMPD currently doesn't produce demographic data on police stops, and Chief Taylor explained that's partly because of logistical issues.
Indiana does not require race or ethnicity to be displayed on driver's licenses. Taylor said that would leave officers to either guess or ask when they make a stop.
"If we go down this path, I don't want you to be offended if they ask you that," he said.
Taylor and Hogsett both agreed to meet with Faith in Indiana in the coming weeks to talk more about the clinician-led response team and how to improve data transparency.
Shawn Walton, a community chair with Faith in Indiana, said afterward the summit was everything the group expected.
"As the name of the organization says — Faith in Indiana — we have faith that what we want will come into fruition," he said.
Contact staff writer Tyler Fenwick at 317-762-7853 or email at tylerf@indyrecorder.com. Follow him on Twitter @Ty_Fenwick.