The Mid-North neighborhood will receive $3.5 million in investments for housing, education and food access over a three-year period as part of the city's Lift Indy program.
City officials and neighborhood leaders announced the investment Nov. 5 at Tarkington Park.
Projects include a 56-unit supportive housing development with 14 units reserved for people experiencing, or at risk of, homelessness. People who live there will have access to services such as health care.
An early childhood education center will include a new day care and scholarship fund for low-income families to access child care.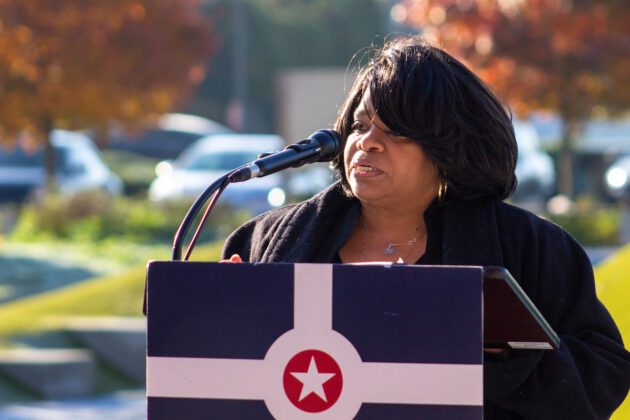 A food equity and access initiative will develop a grocery operation at 38th and Illinois streets, and a rental housing program will include 11 affordable units of new construction.
Neighborhood leaders identified five areas of need, Crown Hill Neighborhood Association President Danita Hoskin said, and three were related to food because the area is considered a food desert.
"I can proudly state that even in the midst of a pandemic, we came together to breathe life into our community," said Hoskin, a lifelong resident of the area.
Lift Indy is meant to target what Mayor Joe Hogsett called underappreciated neighborhoods. Past program areas include Martindale-Brightwood and East 10th Street. Hogsett also said it's important to preserve economic and demographic diversity because with new development like this comes the possibility of gentrification and displacement.
Elan Daniel, CEO of the Mapleton-Fall Creek Development Corporation, said the organization can keep housing affordable by owning and managing units, hopefully into perpetuity. That includes the 11 new-construction units and the 56-unit development called Central@29.
Daniel said that's the only way the development corporation can preserve affordable housing, especially in the area east of Meridian Street and south of 38th Street, as the housing market continues "heating up quite fast."
"We're not saying that upper-income people coming in is completely bad," he said. "We're just saying we want to make sure that we're protecting the people that live in the neighborhood that couldn't otherwise be there if all of the real estate prices and rent were too high."
The city has expanded Lift Indy from one neighborhood each year to two, thanks to federal pandemic relief funds. The city will announce a second neighborhood for 2022 soon. Mid-North is the sixth Lift Indy neighborhood since the program started in 2017.
Contact staff writer Tyler Fenwick at 317-762-7853 or tylerf@indyrecorder.com. Follow him on Twitter @Ty_Fenwick.