The emotions had been boiling up inside of Lena Harvey for a few days by the time she attended a vigil for Herman Whitfield III, the man who died in police custody April 25 during an apparent mental health crisis.
It was there, on the courtyard outside of City Market downtown, where everything came spilling out. Harvey sobbed into the shoulder of Shoshanna Spector, the executive director of Faith in Indiana, which organized the vigil April 27.
"I'm so tired of it," she said through tears as others nodded and laid hands on her. "What am I supposed to tell my son? He's only 9."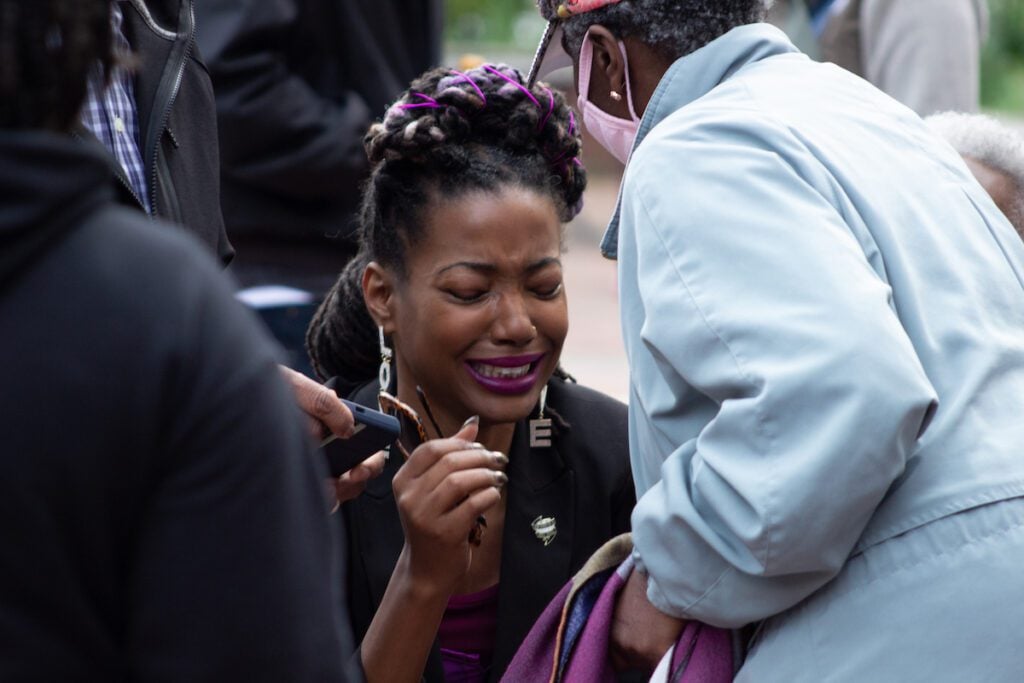 Harvey said she was in a state of shock. She can't make sense of how someone in Whitfield's position could end up dead.
"That creates a sense of craziness that makes me want to scream and cry," Harvey told the Recorder as the crowd of a couple dozen people dispersed with sprinkles starting to fall.
She walked over to a bench, wiped her tears and embraced her son. It was a hug she needed.
"It recharged me," she said.
Whitfield's death in police custody was especially painful for those whose loved ones have a mental illness. During the vigil, attendees were invited to write the names of friends or family they were thinking of on a sticky note and place it on signs that held messages such as "SEND HELP NOT HANDCUFFS."
Shauna Lipscomb, with Faith in Indiana, said she has a son with mental health issues and hadn't spoken to him for several days when she learned of Whitfield's death. At the time, she didn't know who had died.
"My heart instantly dropped," she said at the vigil. "I immediately wondered if it was my son."
According to Indianapolis Metropolitan Police Department, Whitfield was "naked and sweating" and "bleeding from the mouth" when officers arrived at a home on the northeast side in the early morning hours of April 25. Whitfield's father told officers his son was "having a psychosis" and requested an ambulance.
According to police, Whitfield "moved quickly towards an officer," who used his electronic control device, more commonly known as a Taser. At least one prong hit him in the chest, and officers placed him in two pairs of handcuffs.
Whitfield was pronounced dead at a local hospital. He was 39 and known in the Indianapolis music scene as a talented pianist.
Police have not yet given more information about the incident, including who called police and what exactly they requested.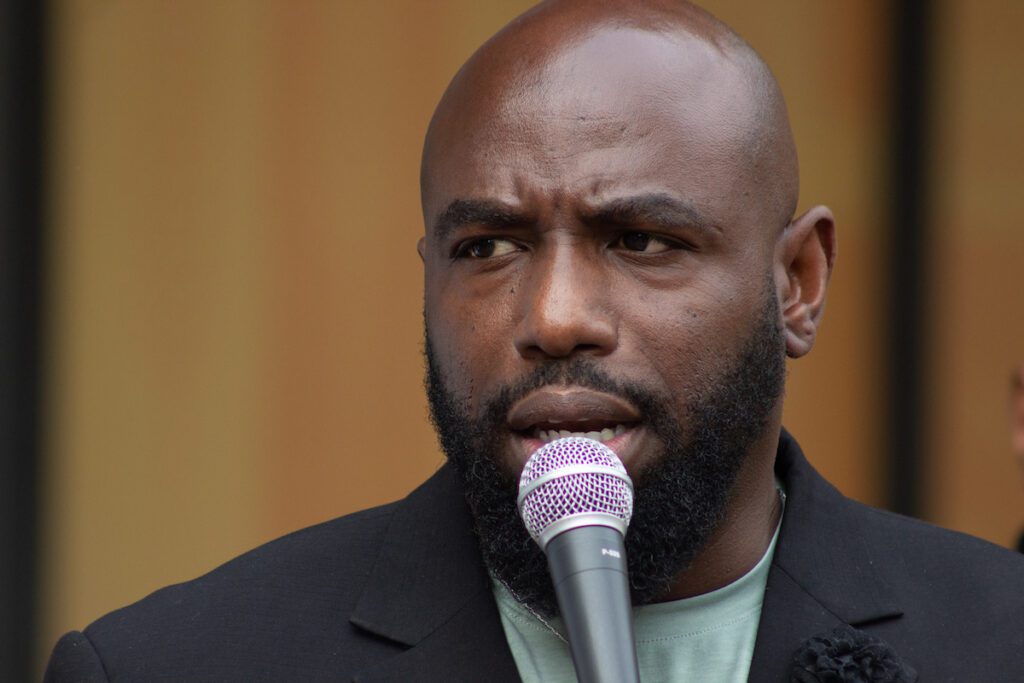 The vigil was meant to be a space for people to mourn, but it was also an opportunity for Faith in Indiana to give an update on its efforts to start a clinician-led crisis response team in Indianapolis. In March, at its Fund Our Futures Summit, the group won a commitment from Mayor Joe Hogsett to fund a pilot program.
According to Faith in Indiana, the mayor's office said it will commit $2 million to a pilot program that could start in early 2023 and agreed to travel this summer with the group to Denver, which has a program that uses a two-person team of a medic and clinician.
A spokesperson for the mayor confirmed the office has agreed to send someone to Denver but offered a more watered-down update on funding.
"We are still identifying the source and size of that funding but remain committed to innovative, comprehensive solutions to support those experiencing mental health challenges," spokesperson Mark Bode said in a statement.
The city already has a similar program called the Mobile Crisis Assistance Team, or MCAT, which pairs an officer trained on crisis intervention and a clinician. But the team only operates from 8 a.m.-6 p.m. Monday through Friday, IMPD said, so they wouldn't have been available when the call was made the morning Whitfield died.
Carlos Perkins, pastor at Bethel Cathedral AME, said the issue of mental health and police is only getting more urgent.
"We stand here as a burdened community to say we cannot wait," he said at the vigil. "We must act now."
Contact staff writer Tyler Fenwick at 317-762-7853 or email at tylerf@indyrecorder.com. Follow him on Twitter @Ty_Fenwick.