A new exhibit at the Benjamin Harrison Presidential Site details the role Black activists played in Indiana and the nation during the 23rd president's lifetime. Opening Jan. 28, "No Compact of Silence" features national icons such as Ida B. Wells, as well as local figures, including Kathleen Flossie Bailey.
Put together by IUPUI graduate student Kelly Poston, the exhibit examines voter suppression, anti-lynching laws and activism, as well as modern day social justice movements, including the Black Lives Matter protests of 2020.
"I think this exhibit is really going to bring in people from both parties (Republican and Democrats) in the community to see that these major events that were happening in the 1890s are still very much happening in today's time. We still have white mob violence, lynching and voter suppression," Poston said. "By uplifting these voices, I'm hoping when people come, they themselves think 'What can I be doing to be a civil rights advocate?' I want this to be an eye-opening exhibit."
Jennifer Capps, vice president of curatorship and exhibition at the Benjamin Harrison Presidential Site, said "No Compact of Silence" is an extension of the museum's previous exhibits about Harrison's relationship with abolitionist Frederick Douglass.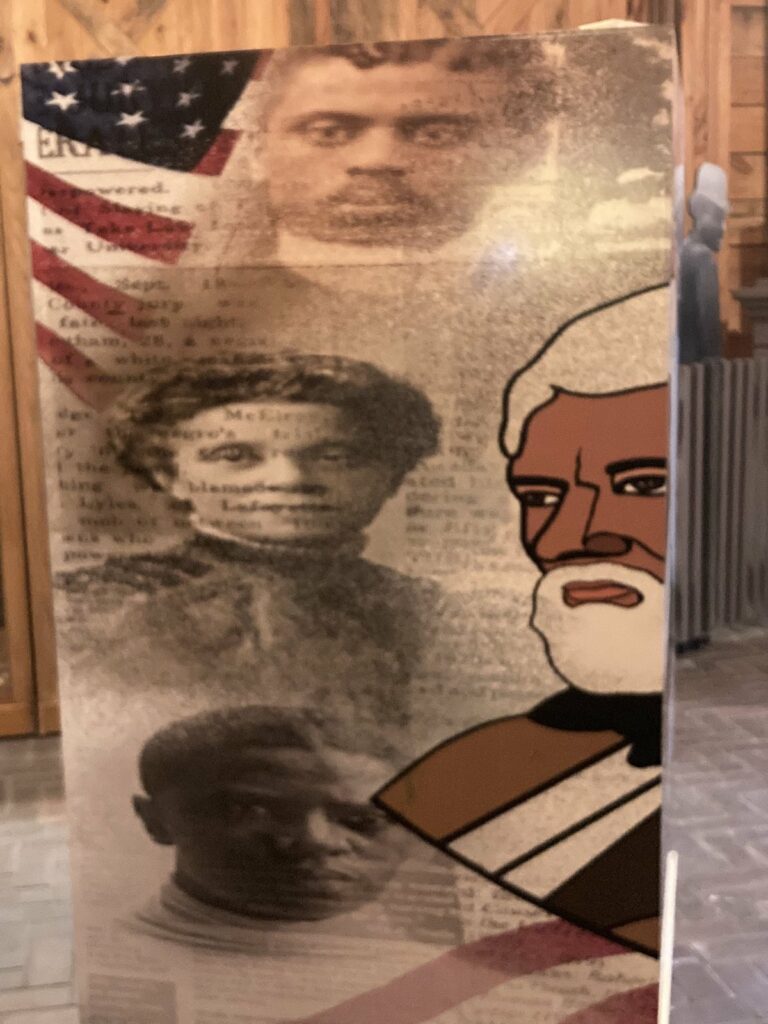 "We wanted to take a deeper look into the issues of Harrison's time period and other nationally and locally prominent advocates of that time," Capps said. "By sharing those stories, we hope to make people more aware of what was going on during Harrison's presidency."
The name, "No Compact of Silence," refers to Harrison's response to the question of Black suffrage, posed by Harrison's 1888 running mate, Whitelaw Reid.
"I would not be willing myself to purchase the Presidency for a compact of silence upon this question," Harrison wrote, meaning he would rather lose the presidency than falter on civil rights issues. Capps said this dedication to civil rights and justice led Harrison through his one term as president. Though unsuccessful, Harrison was the first president to propose a federal anti-lynching law, a cause that was championed locally by Flossie Bailey decades after Harrison's presidency.
In August 1930, two African American men — Thomas Shipp and Abram Smith — were lynched by a white mob in Marion.
Determined to put an end to lynching in the Hoosier state, Bailey, a Kokomo native, lobbied in the Indiana General Assembly to pass stricter anti-lynching laws. Thanks to Bailey, then-Gov. Harry Leslie signed a more comprehensive anti-lynching bill into law in 1931. By that time, Bailey was president of the Indiana chapter of the National Association for the Advancement of Colored People.
See "No Compact of Silence"
When: Times vary, Jan. 28-Nov. 1
Where: Benjamin Harrison Presidential Site, 1230 N. Delaware St.
Cost: $12 admission; $7 seniors; toddlers, free
Along with Bailey, the exhibit also includes information on William McCoy, who was born in Cambridge City before settling in Indianapolis. McCoy was principle of Indianapolis Public Schools (IPS) 23 and 24 from 1879 until 1890. Though it's since been demolished, IPS School 24 was named for him after his death. McCoy served as Harrison's council general to Liberia, a post he held until his death in 1893.
For Poston, who did the bulk of her research through newspaper articles and obituaries, Lillian Thomas Fox's story stuck out to her the most. While living in Indianapolis, Fox became the first Black columnist to write for a white newspaper in Indiana. She joined the staff of the Indianapolis News in 1900 and frequently wrote about lynching in her column, "News for the Colored People." She later went on to create the Indiana State Federation of Colored Women, as well as the Women's Improvement Club, the latter started with Beulah Wright Porter, who was the first female African American physician in Indianapolis.
"No Compact of Silence" comes at a time when voting rights are still discussed, with members of the U.S. Senate blocking the John Lewis Voting Rights Act of 2021 last week. While the timing wasn't intentional, Capps said the exhibit serves as an important reminder that we have to understand our history to understand modern-day issues.
"We have to learn more from our history, and this exhibit is very relevant in that respect," Capps said. "What you learn about in the exhibit, whether it's the 13th Amendment or the 1965 Civil Rights Act, it's important today because there's still concern about voting rights and civil rights protections."
The exhibit opens Jan. 28 and will run through Nov. 1. For more information, visit bhpsite.org.
Contact staff writer Breanna Cooper at 317-762-7848 or email at BreannaC@indyrecorder.com. Follow her on Twitter @BreannaNCooper.