A new partnership between the city of Indianapolis and Marian University will place one professional — a site coordinator — in 12 schools on the city's far east side to help students navigate issues such as mental health and hunger. Site coordinators will have a master's degree level expertise in either school counseling, social work or mental health.
Announced Dec. 16, the City Connects initiative is set to begin early next year. The plan, administered by Marian University's Center for Vibrant Schools, allocates $7.5 million to the 12 schools over the next three years. Funding comes from federal dollars allocated to the city by the American Rescue Plan.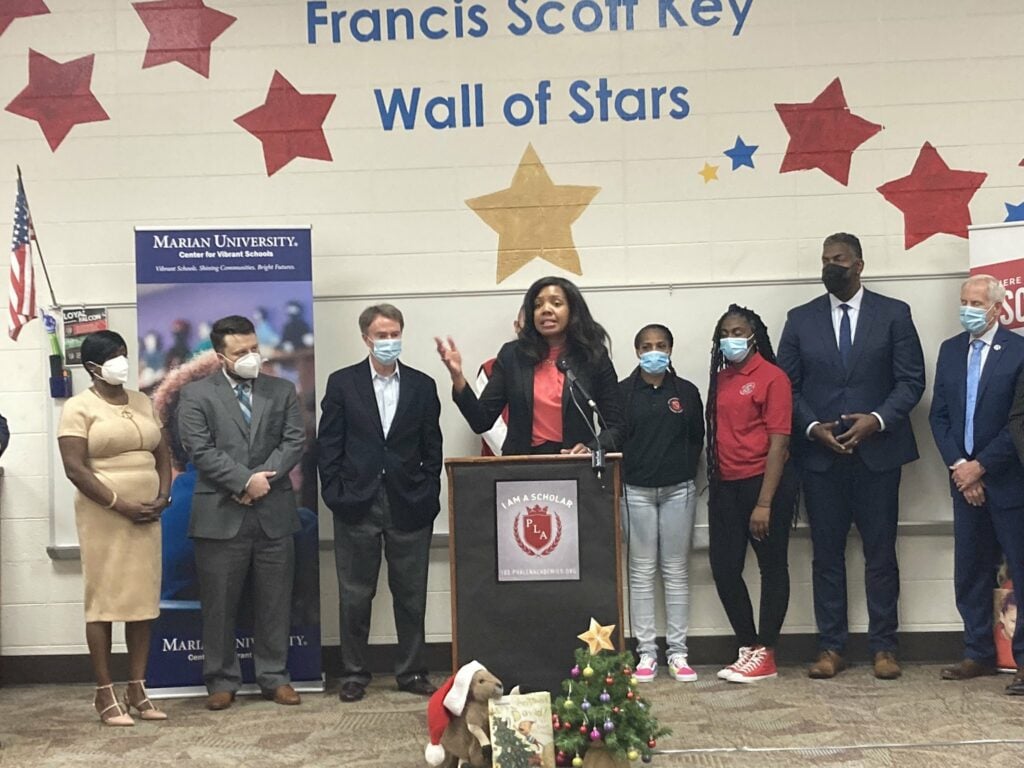 The participating schools are:
Andrew J. Brown Academy
Sankofa School of Success at Arlington Woods School 99
Charles Warren Fairbanks School 105
Circle City Prep
George S. Buck School 94
James and Rosemary Phalen Leadership Middle School
James and Rosemary Phalen Leadership High School
Phalen Leadership Academy at Francis Scott Key School 103
Phalen Leadership Academy at George H. Fisher School 93
Promise Prep
Rooted School Indianapolis
MSD of Warren Township
Aleesia Johnson, superintendent of Indianapolis Public Schools, said each student will have an individualized plan to help them and their families overcome systemic barriers. Doing so, she said, can help students succeed in the classroom. The program includes five IPS schools.
"Those of us who are in education witness firsthand how societal issues — everything from homelessness, poverty, food insecurity to mental health issues — affect students daily," Johnson said. "Inside classrooms, locally and throughout the country, it shows up in students who may struggle to focus or concentrate, who may have poor academic performance, or who may struggle to have confidence and belief in the future that's ahead of them."
The program, founded in Boston, has a successful 20-year track record. In Boston, Mayor Joe Hogsett said, City Connects has raised state test scores, increased attendance and decreased dropout rates in participating schools. After two years of COVID-19 and remote learning, Hogsett said Indianapolis students have endured a lot, both in and out of the classroom.
Daniel Elsener, president of Marian University, said the initiative is an important reminder that teachers and school administors — often pressured to improve test scores — lack the resources and time needed to help students in all the areas they may need assistance in. That's where City Connects comes in.
"They say it takes a village to raise a child," Elsener said. "Every school, every teacher, and every counselor require additional support to fully meet the needs of their students. It is not an undertaking intended to be done alone."
Contact staff writer Breanna Cooper at 317-762-7848 or by email at breannac@indyrecorder.com. Follow her on Twitter @BreannaNCooper.