Coming out of Women's History Month, many have their eyes on the important women making a difference around Indy, from CEOs to local business owners, artists and authors.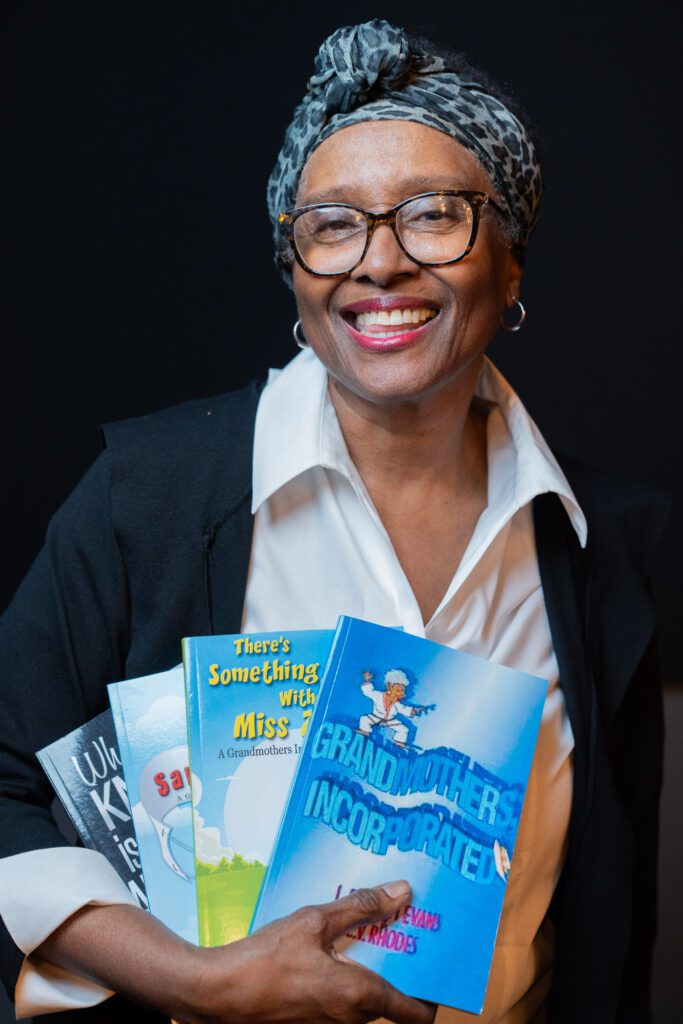 Crystal V. Rhodes, Leah Johnson and Dr. LaWanda Jobe are just three of the local Black women whose books aim to inspire, empower and celebrate Black women, girls and children. Though their paths to publication may not have been easy, each agreed writing was what they were born to do.
"Around the 1980s, I went out to California … I moved out to the San  Francisco Bay Area and became a writer," said romance and suspense novelist Crystal V. Rhodes. "I just declared myself a writer, and nobody knew me out there, so nobody questioned it."
Rhodes said she knew she wanted to be a writer when she was eight years old — now having written, published and won awards for her 10 books and 11 plays, including the cozy mystery series "Grandmothers Incorporated," which is co-written with Lillie Barnett.
However, when she first started, Rhodes wanted to write for TV but didn't like LA. She said the "vibe" in San Francisco was better, so playwriting was as close as she could get to TV. 
Rhodes' first play, "The Trip," was produced by The Black Repertory Group Theatre in Berkeley, California in the early 80s and has since been produced 40 times around the U.S. and was nominated for a 2023 Helen Hayes Award for Outstanding Ensemble in a Play.
"Originally, it was a one act, and when I realized I could make more money, I added a second act," Rhodes said, laughing. "I quickly learned how to monetize my writing."
Rhodes said she wasn't as lucky with her books; they weren't picked up by publishers as quickly as her plays. Rhodes' first novel, "Sin," was published by Genesis Press in 2000. The story, which follows a Black female minister who is an anti-drug activist but inadvertently falls in love with a drug dealer, went into a second printing in 2008.
"It was quite interesting, I got letters from a few women ministers who really cheered me on," Rhodes said. "I thought that was kinda funny."
However, Rhodes ended up self-publishing many of her novels under CRYSTAL INK publishing.
"When I started getting rejected, I thought 'Oh well, I'll just publish it myself,'" she said. "I just never let anything stop me. I mean, who are these people to tell me no?"
Now, Rhodes said she's achieved almost every dream she ever had as a writer. All that's left is for "Grandmothers Incorporated" — which was adapted into a play that ran Off Broadway — to be turned into a TV series. 
"I wasn't asking for Oscars; I wasn't even asking for Broadway. I just wanted my stuff to be published and produced and it has," Rhodes said. "People enjoy my work — that's the most rewarding."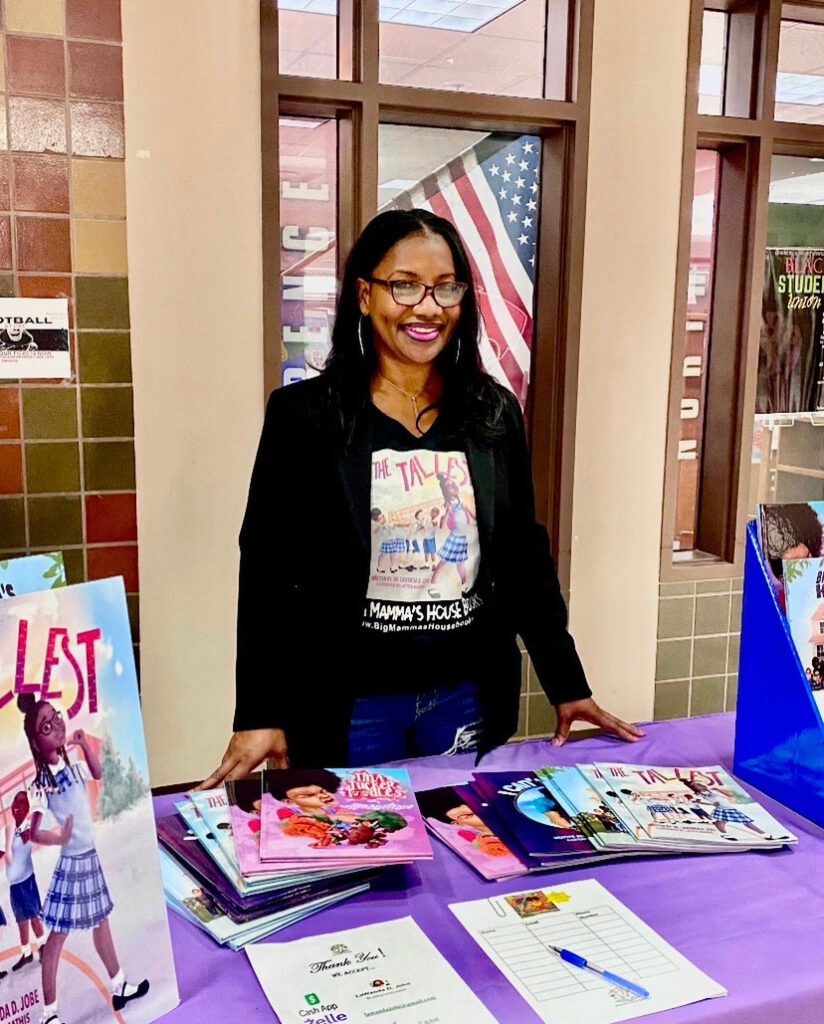 Urban children's book author Dr. LaWanda Jobe also chose the self-publishing route by creating her own publishing company Big Mamma's House Books in 2018.
The company — which is affectionately named in honor of Jobe's grandmother and focuses on literature for children of color — allowed her to learn all the behind-the-scenes work that goes into publishing a book in addition to giving her control and final say about her work. 
"There's so many children out here that need to have images and reflections of people that look like them as they turn the page, because I think that that taps into their self-esteem and their reading comprehension," Jobe said. "People are always more interested in reading stories when they see characters that look like this … that are relatable."
Jobe, who has a Ph.D. in education and previously served as interim Vice Chancellor for Student Success at Ivy Tech University, said she loved Dr. Seuss books as a kid. Jobe said she aspired to recreate his unique style of rhyming and adventure with stories and characters children of color would enjoy and relate to.
"I started thinking about just how kids deal with a lot and there's a lot of stories here," Jobe said. "Things that would be normal to an adult typically could be probably turned or shifted into an adventure for a kid."
She then teamed up with an illustrator and a printing company in Georgia and got to work.
Jobe's published work includes "Tina Tucker Toodles," "I Can't Wait," "Big Mamma's House,"
"The Tallest" and "Yum Yum Bubble Gum," and features diverse characters who experience an adventure wrapped in a life lesson whether it be healthy eating, anti-bullying or listening to your parents, she said.
Each of her books holds special meaning, and Jobe said two of her books are dedicated to her granddaughters, another is inspired by her grandmother and others incorporate storylines that are important to the Black community.
Though she's written 14-15 books already, the process of illustrating, editing and publishing takes anywhere from six months to a year. As the publisher and the author, Jobe found creative ways to get word out about her books, including donating them to schools and libraries. 
Eventually, Jobe said schools and libraries began to reach out to her to get copies and invited her in for book readings. She didn't realize just how popular her books were with kids until she walked into a classroom one day and all the students in the class were holding up her books.
"That's probably the most meaningful thing to me or to walk into a school and the kids are like, 'oh my God, she's the author, of the book!'" Jobe said. "Because I know that I'm getting through to the kids."
Jobe said she hopes to continue putting her books into the hands of kids who need them whether that's in schools, libraries or bookstores — a sentiment shared by writer and artist Leah Johnson.
Johnson became a well-known Indy-based author over the last few years following the release of her debut novel "You Should See Me in a Crown" in 2020 — which made TIME's 100 Best Young Adult Books of All Time and Kirkus Reviews' Best Books of 2020.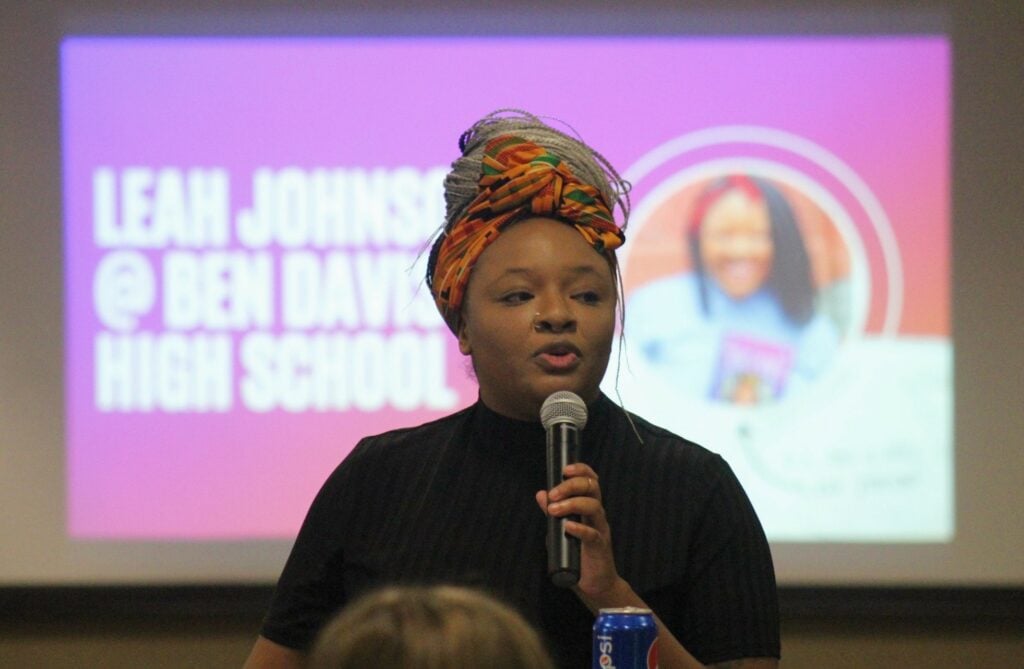 She's been writing since she was a child — even admitting to writing fanfiction in grade school. With a background in radio and print journalism, Johnson said she threw a "hail Mary pass" her last year of undergrad and decided to get her master's in fiction writing.
"I did not think that I had the fortitude to make it through 40 years of a career where I was constantly telling stories rooted in Black trauma," she said. "That sort of kicked off the rest of my life, but I knew I wanted to tell stories my entire life."
Although Johnson's path to publication was relatively easy, she said she began to see the cracks in the foundation of how Black and queer authors are marketed after the fact.
"The more you know, the scarier it becomes to put your heart in someone else's hands and ask them to care for it in the form of a book," Johnson said. "Which is why it was difficult for me to write my second novel, cause I was like, 'oh man, now that I know how this works, now that I know how people respond to this kind of work, it's terrifying.'"
Regardless of the challenges, Johnson said she's grateful for the success she's seen and for her readers — even after "You Should See Me in a Crown" was one of many books challenged in the state of Oklahoma for obscenity.
Johnson, a 2020 Indiana Authors award-winner, said it's heartbreaking because she's writing for children and young adults, and the books she's trying to give them access to, the books she believes can change and save lives, aren't reaching their target audience anymore. 
"It's really disheartening to try to sit down at the page and write books knowing that at some point somebody's gonna tell you that your book is obscene," she said. "It's heartbreaking, but I'm not the first, I won't be the last and I'm part of a long legacy of Black queer writers whose work has been the subject of controversy."
But Johnson isn't letting that stop her. She's been incredibly vocal about LGBTQ+ activism and reaching out to local legislators as Trans youth in Indiana, schools and public libraries face controversial bills this session.
"The thing about that kind of legislation is that it reminds me constantly that no matter how much progress I've made personally in my career, in my work, there are a lot of people in this state who are still interested in removing people like me from public life," Johnson said.
Johnson's third book, "Ellie Engle Saves Herself," comes out May 20 and follows Ellie Engle, whose biggest problem is her crush on her middle school BFF until she wakes up with the ability to bring things back to life. Johnson said it's funny, silly and her "favorite thing [she's] ever written."
Contact staff writer Chloe McGowan at 317-762-7848 or chloegm@indyrecorder.com. Follow her on Twitter @chloe_mcgowanxx.