Grab a neighbor and some ice-cold lemonade, "porching" season has officially begun.
"Porching," also known as porch parties, is a long-standing Indianapolis tradition where friends, family and even strangers gather on front porches during the warm months of the year for fellowship. These "hang outs" can be as small as a few people catching up over some baked goods and sweet tea or turn into neighborhood-wide parties.
"It's really an effort to maintain, and bring back, and spread an existing tradition for the area," said Cierra Johnson, local artist and creative placemaking fellow at the Harrison Center. "It's also kind of a frontline defense for crime prevention. Because if everybody's on their front porch, that's the first part of like a neighborhood watch; everyone knows each other, and is connected, and is bonded to their neighborhoods, so they care about the people who live there and work there and are active."
In 2016, the Indianapolis Motor Speedway partnered with the Harrison Center — since porching typically kicks off in the beginning of May — to expand beyond the city's limits and include the entire state of Indiana in the porching tradition.
"Obviously, people in the community know that the Indy 500 is around, but we were trying to find ways to really give a nod to the rest of our community," said Doug Boles, president of the Indianapolis Motor Speedway, "especially community leaders in different entertainment or other spaces around the city and the arts, and porch parties with the Harrison Center was a great way to do that."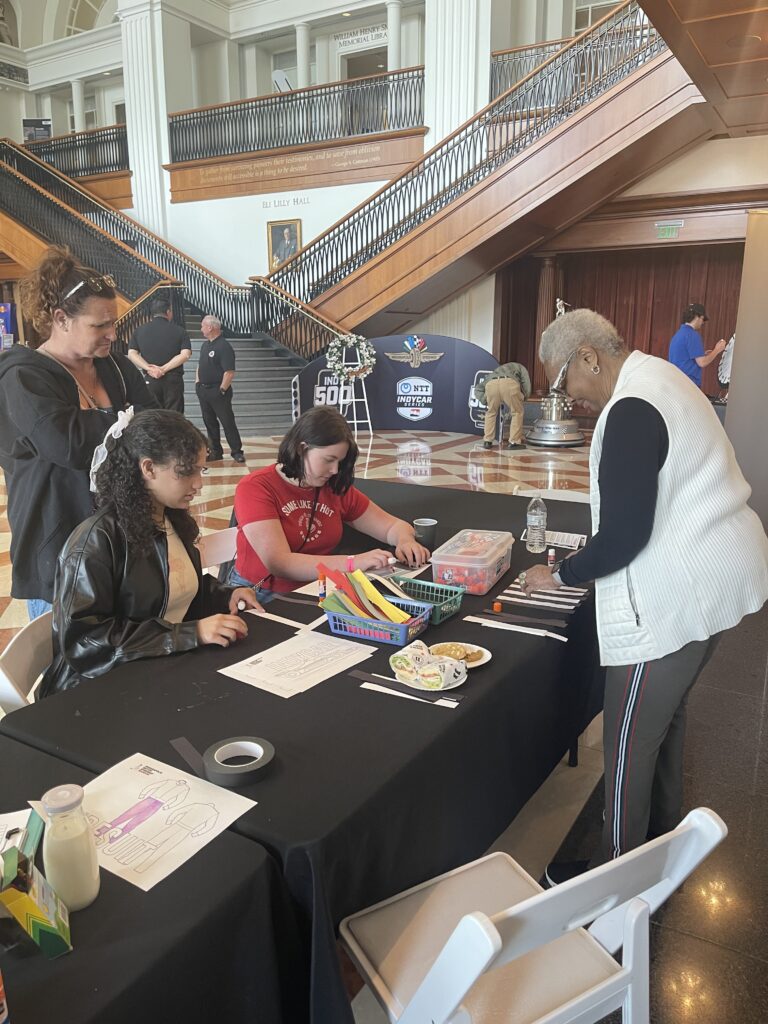 Many porch partiers in the community are not necessarily race fans, but they continue to go all out with decorating and hosting friends and family because they enjoy the fact that it brings people together after having been cooped up all winter, Boles said.
"It's just a way for our community to celebrate the fact that summer is right around the corner and then just spruce our neighborhoods up with some color and some excitement as we come out of the winter months," Boles said. "And for me, it's just a way to get our entire community excited about the fact that the Indianapolis Motor Speedway and the Indy 500 puts our community on an international stage."
Johnson, who is spearheading Porch Party Indy this year, said The Harrison Center's mission is to place an emphasis on the arts and also engage with the community they are in — and one of the ways they do that is by supporting the tradition of porching.
"My grandma was just the type of woman who would get to know her neighbors and have conversations on her porch and a lot of the other families that we grew up with did too," Johnson said. "But since I came to the Harrison Center, I learned kind of its importance and the reason why we want to spread it through the city."
Johnson said throwing a porch party is quite simple. First, choose a day or evening to host and then invite friends, family members and neighbors to come. Prepare snacks and drinks or have your guests each bring something to share. Then start talking — get to know new faces in the neighborhood or reconnect with older ones. The object of porching is to build and strengthen the bonds between the people around you.
Since 2014, the Harrison Center, led by executive director Joanna Taft, has been encouraging people to get together in the summer and host their own porch parties in an effort to foster a sense of community.
Taft said porching was a common, almost everyday thing for our grandparents' generation but became less popular with subsequent generations due to the emergence of centralized air conditioning, which kept people inside during the summer months. She said bringing it back helps strengthen the relationships community members have with one another. 
Sarah Peacock, arts coordinator for the Harrison Center, said she and her family have been porching since she moved to Indy in 2016 because they were initially living in an apartment with a balcony and wanted to get to know other people in the community and make connections.
"It doesn't need to be big. It doesn't need to be fancy. You don't need to have the right food. You don't need to have the right atmosphere, the right time, just friends," she said. "They don't have to be neighbors, but you know, like a mix of people that you like that you don't think may naturally, like, meet each other."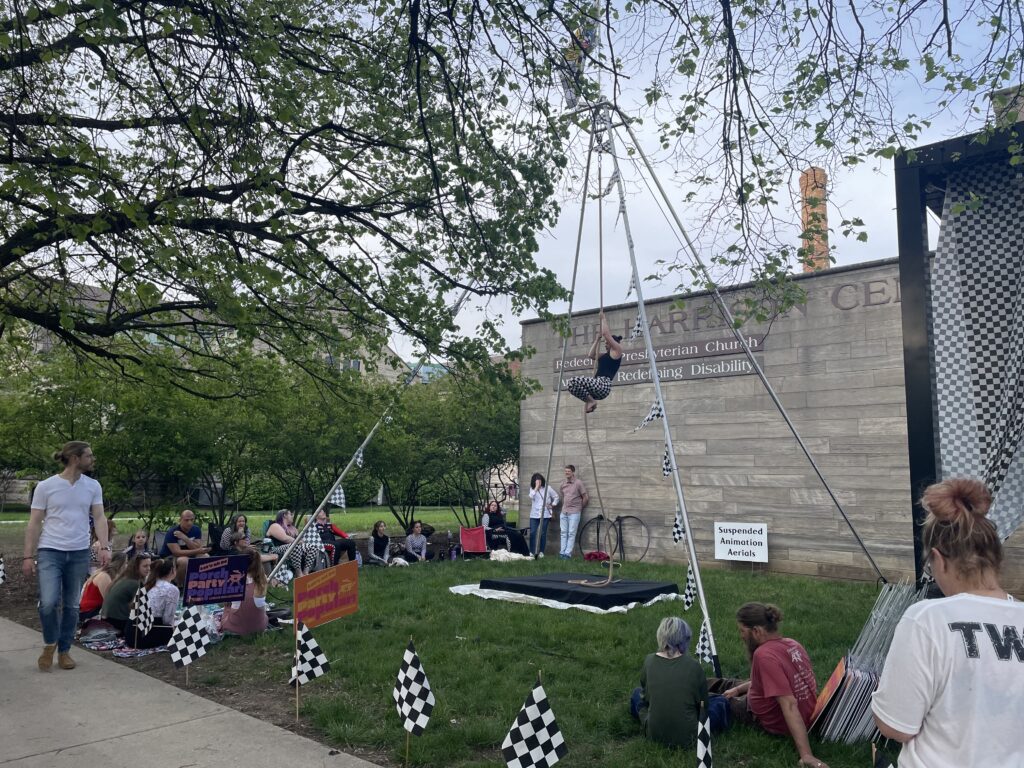 Just a few years ago, however, Johnson said porching took a bit of a hit as the city launched into lockdown during the pandemic. Although people continued to gather, porching had to be socially distanced and allow friends and neighbors to wave "hello" to one another.
"During the pandemic, we actually had social distance porching," Johnson said. "It was a whole campaign to, like, bring your bubble outside and just wave at your neighbors and say hello so that you can see each other's faces."
When the Indy 500 parade was canceled, Boles said IMS encouraged people to go all out with their porch decorations and drive around the neighborhoods, making their own parade of porch parties — almost like driving around to see Christmas lights. In the past few years, Boles said stock car racers have also driven around local neighborhoods to visit different porch parties, and after winning his race, even Hélio Castroneves celebrated at a porch party.
This year, Johnson said the Harrison Center kicked off its porch party season April 29 at the Indiana Historical Society. She said they built a "mock porch" where guests were invited to come celebrate, eat and drink and just get to know one another while making paper racing flags with the kids in the community. 
During First Friday, Johnson said they held their official kick-off with the Indy 500, where they gave out free porch decorating kits to those in the community, had a food truck and live entertainment.
Johnson said Martindale-Brightwood will host its 150-year Community Wide Porch Party May 19 from 11 a.m. to 7 p.m. All are welcome to attend but registration is required on Eventbrite. For more information on how to throw your own porch party, visit harrisoncenter.org/porch or indianapolismotorspeedway.com/porching.
Contact staff writer Chloe McGowan at 317-762-7848 or chloegm@indyrecorder.com. Follow her on Twitter @chloe_mcgowanxx.