The Indianapolis Recorder has been a leading voice for African Americans for 125 years. Now, a mural on the side of the building pays homage to its rich legacy.
The Recorder, International Marketplace Coalition and artist Amiah Mims unveiled the mural Nov. 2. The Recorder and International Marketplace Coalition partnered to commission the mural in August.
The mural — vibrant with red, yellow and blue — features a young Black man with a pick in his hair reading the paper. Painted on the paper is a list of past leaders, including founder George P. Stewart. There is also a picture of the late William "Bill" Mays, who purchased the paper in 1990.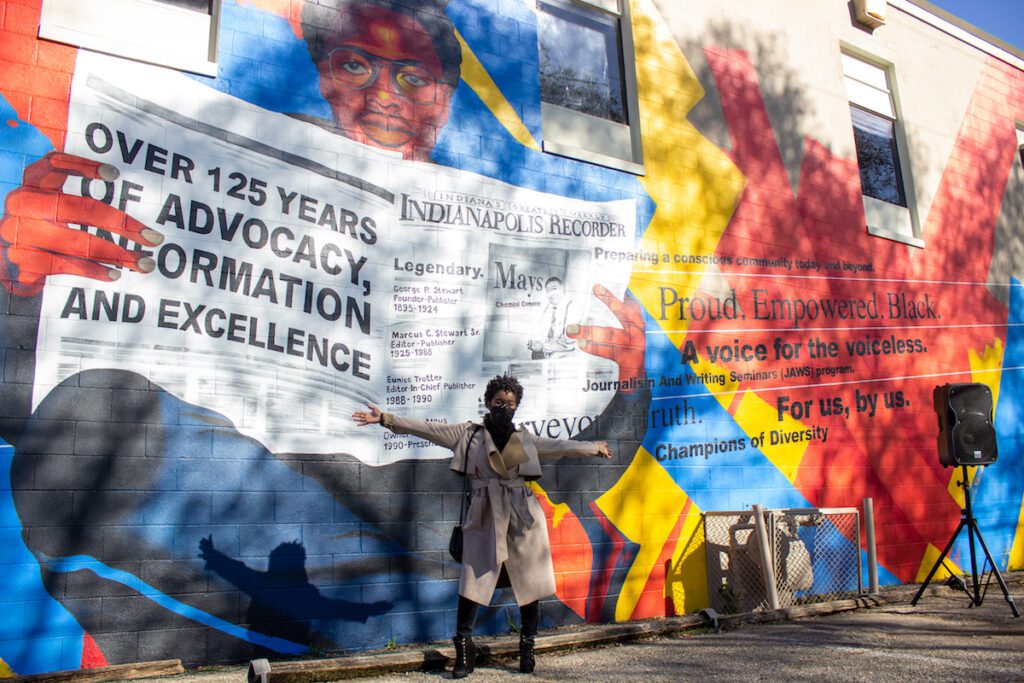 "I wanted to do something that represented generation," said Mims, who was also one of the artists for the "Black Lives Matter" mural on Indiana Avenue. "This is where we landed, having a younger-generation person reading this paper and just investing in it, showing that he's educating himself and being involved."
Mims, who had help from her father, worked on the mural throughout the fall, which included some cold days and rain.
Mims is a graphic designer at Indianapolis Motor Speedway but recently reconnected with her passion for painting as a way of expressing herself. This was her third (and largest) mural.
Robert Shegog, the Recorder's president and CEO, said it was good to be able to give a young artist this kind of spotlight.
"When the Recorder and International Marketplace partnered on this project, I knew it would be something special," Shegog said. "Not only do our efforts exemplify unity, but we were also able to highlight the work of a talented young local artist. The mural Amiah created honors the paper's legacy, its impact in the community, and its hope for the future. I am thrilled that so many people traveling on Keystone and Tacoma avenues will be able to see such a powerful piece of work."
Mims said it's an honor to have her work featured on the Recorder's building.
"I feel like this is making history," she said. "It's important to be a part of it."
Contact staff writer Tyler Fenwick at 317-762-7853. Follow him on Twitter @Ty_Fenwick.